News
Oct 26, 2023
Visit the Lords of the Fallen "Pumpkin Patch" today with the limited time Halloween Event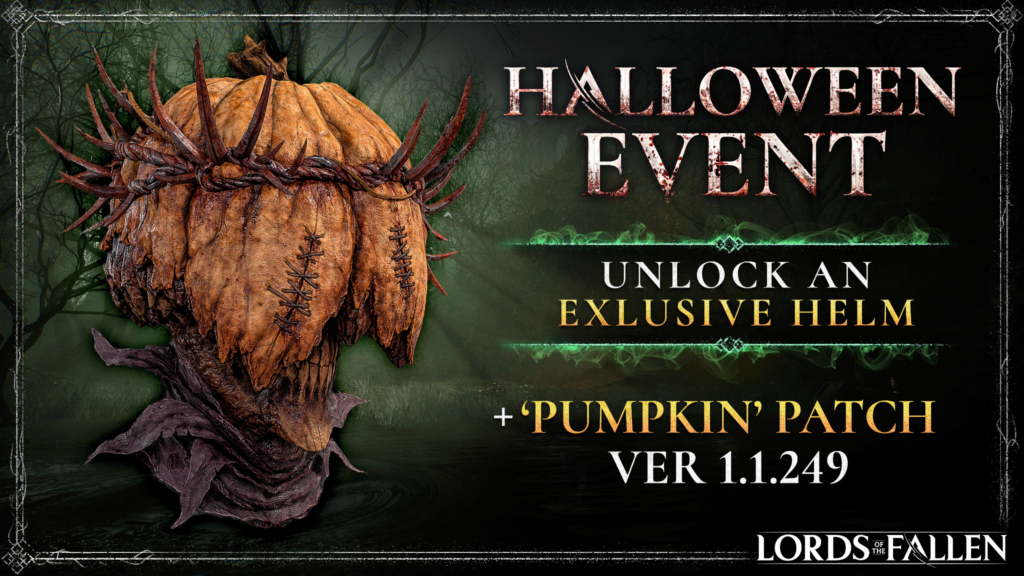 From Press Release:
Thursday, October 26th 2023 – HEXWORKS, a CI Games studio, has kicked off the spooky season with a free, time-limited Halloween event for Lords of the Fallen. Launching today at 2 pm PT/5 pm ET/10 pm BST/11 pm CEST and running until 2nd November, the game's world of Mournstead has been decorated with seasonal cosmetics. Players can also pursue a new questline to attain the Pumpkin Mask, a horrifying helm inspired by the iconic jack-o'-lantern.
The event coincides with the all-platform release of a significant update – The Pumpkin Patch – that brings a series of new gameplay mechanics developed following ongoing community feedback.
The Pumpkin Patch update includes:
Revamped New Game Plus (NG+) – A new tiered NG+ system introduces Vestiges to the game mode; each higher level of NG+ removes more Vestiges from the game, increasing player difficulty.

Full crossplay – Players can now experience full crossplay functionality between all PC and console platforms. This follows the introduction of crossplay between Xbox Series X|S and PlayStation®5 players for the first time earlier this week.

Reduced enemy density – A reduction of the enemy density in areas observed as being most challenging for players.

Performance & stability – Further performance and stability fixes across all platforms.
HEXWORKS is also inviting players to submit in-game photos created using Lords of the Fallen's unique 3D Photo Mode to be considered for display in one of the most prominent and well-known public spaces in the world: Times Square, New York City. The screenshot, which must encapsulate the player's experience of Lords of the Fallen – whether that's an epic adventure, a harrowing crusade, or a white-knuckle expedition through the nightmarish realm of the dead – will feature on the NASDAQ® Building for two weeks from 26th November.
For more information, visit: https://www.cigames.com/en/
Links:
Official Website: https://lordsofthefallen.com/
Purchase Link: https://lordsofthefallen.com/buy-now
Twitter: https://twitter.com/lotfgame
YouTube: https://www.youtube.com/c/cigames
#DareToBelieve