HOT WHEELS UNLEASHED 2 – Turbocharged takes what was loved about the first game, and gives us more of that and less of the stuff that was less than liked. Milestone have captured the essence of what it's like to be a kid and letting your imagination take you to fantastic places as you play with your Hot Wheels. The sequel here is a great compliment to the previous game, and has more than enough reason to move to the new game. HOT WHEELS UNLEASHED 2 – Turbocharged doesn't have any dramatic shifts in gameplay or presentation, yet it still remains an incredibly fun time for all ages.
I thought for sure the first HOT WHEELS UNLEASHED came out last year, but to realize two years went by threw me for a loop. It was easily the best way to experience Hot Wheels, and up until this release, was the case. HOT WHEELS UNLEASHED 2 – Turbocharged is the sequel you didn't know you needed or wanted.
The campaign, this time known as the "Hot Wheels Creature Rampage" is another eight or so hours of racing action. There are exactly 30 quick races, 11 drift masters, 16 time attacks, 10 waypoint races, 5 bosses, and 9 challenges to complete. New this time is a story of sorts, complete with cutscenes. They're superfluous but help tie things together, and for kids, are animated to keep their attention for a little bit longer.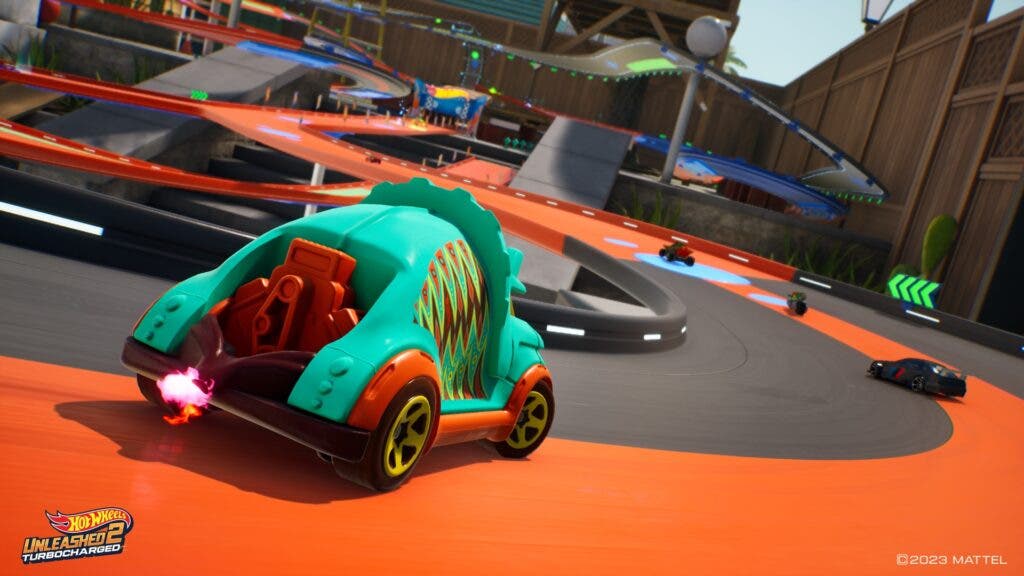 Returning from the last game are the boost pads, jump pads, grav pads, and even traps. Interestingly, the basement and customization aspect is gone entirely. In my review, I thought it was a neat feature but I admittedly felt it was under-baked. There's probably statistics that showed that it was not accessed or used once people made their initial customization. I think there was potential in making it better, but probably for the best to scrap it together.
What's new to the game are new vehicle types like bikes and ATVs, though admittedly these look pretty silly with no rider on them – though I can't say it was something I ever thought of when playing with Hot Wheels. There's a whole new upgrade system. Instead of a linear upgrade path, now there's branching paths and gameplay changes to go with it. You can now jump over obstacles and shunt left or right to be used against other racers to quite literally throw them off track. Lastly, there are five new environments to race on.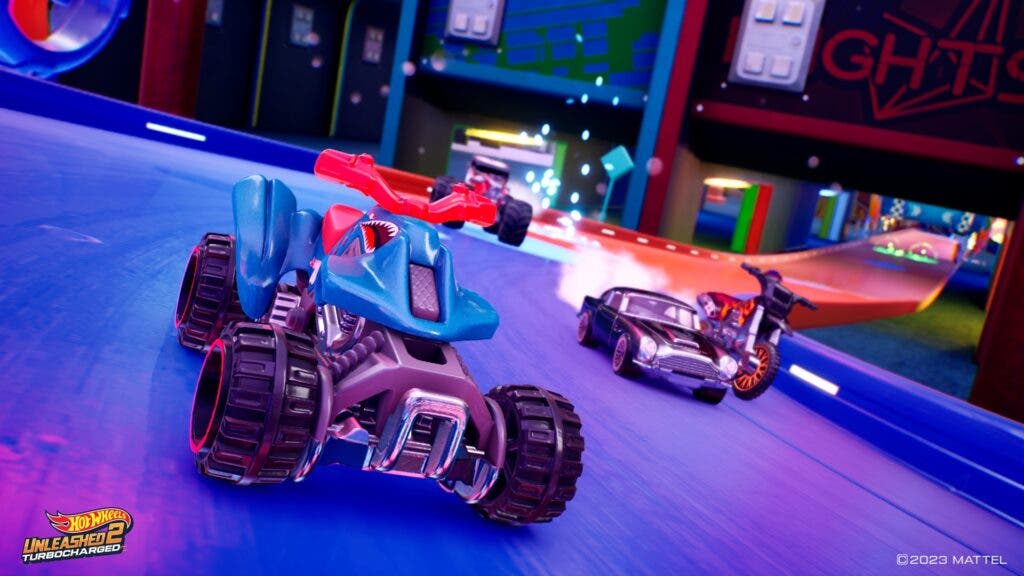 It seems to me that Milestone put a lot of working into the feel of driving cars around, as they feel more responsive. Controls are pretty simple, with gas, brake, and turning being the cornerstones. The game does rely on drifting as a core mechanic, and it's really easy to initiate one. The new jump feature is interesting, because there are some tracks or races that require you use it, and it's just not as smooth as you'd think. Executing a jump either requires boost or operates on a cooldown, and doesn't do a good job at communicating that. The jump doesn't come up a lot, but when it does, you have to be real careful with it. On the whole, the game feels better than ever to control.
Aside from the non-descript track room, you'll race in a Backyard, Mini Golf Course, Arcade Room, Gas Station, and a Dinosaur Museum. The environments this time around look a lot better from a variety standpoint, and them being focused a bit more outdoors makes the world seem really big. There's a lot to like here, and the track variety feels better.
The in-game shop returns, with a much more forgiving timer that operates while you're in or out of the game. It's a vast improvement over the previous game. And once again, because this is a game kids will play, there's no real money that can be exchanged. There is now also another way to earn new things, and that's the Hot Wheels Spin. Every 1,000 coins earned will give you one spin at the wheel. The result of a spin could net you a new toy car, upgrade tokens, or a return of coins. It's a fun, controlled system that I kept forgetting to engage with.
A car's attributes are broken down by: speed, acceleration, braking power, handling, and boost. Regardless of it being a car or a monster truck, they will largely behave the same when controlling them. Upgrades are a bit more complex this time around. As you have to have tokens and coins to be able to invest in them. Categories you can purchase upgrades for, go towards handling, boost, and obstacles. It's possible to upgrade a car to be able to not be affected by the spider's traps and not get caught in its webbing. I felt I was bad at avoiding it in the first game, and giving players a way to negate that altogether is a net-positive. Later progressions into the upgrades will require some decision-making as one upgrade will boost one aspect, but negatively impact another. It feels more thought out and complete than before.
The track editor returns, and allows you to utilize the environments. You can be as creative as you'd like, and then share them for the whole world to play on, both locally and online. It's a robust set of tools to let players make the track of their dreams within a given environment. Like the prior game, you are required to test and pass the track, so there aren't situations where impossible tracks exist. This is an impressive toolset that more people should interact with.
Another overlooked feature is the livery editor. It's here where you can customize most of the Hot Wheels, and design something totally unique, or more simply repaint a car to fit your style. You can then upload these and share them with the world to use on their cars. There's some really clever and cool designs out there that I found to be very impressive. The lengths people will go to recreate a certain type of vehicle makes the game feel like a mini-Forza.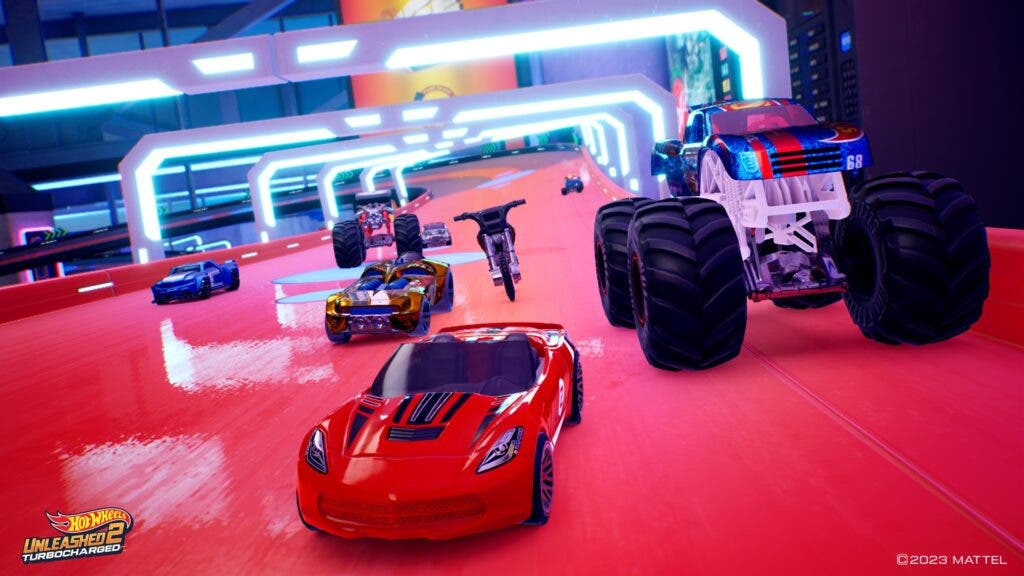 The way that Milestone has made the cars of these Hot Wheels games look so realistic is to be commended. Plastic looks like plastic, paint looks like paint, and metal looks like metal. I wish there was some "wear 'n' tear" on some of these for the authentic look, but having them all pristine all the time is the way to go. Graphically speaking, HOT WHEELS UNLEASHED 2 – Turbocharged is gorgeous and runs extremely well. It's a game that runs on Unreal Engine 4, and it performs great, but I would love to see the third game use Unreal Engine 5. This game has been designed to run on a variety of platforms and PCs, and should not be a problem for most.
My PC Specs:

– Microsoft Windows 11 Pro
– Intel Core i9 13900K @ 5.8GHz
– ASUS ROG RYUJIN II 360 ARGB AIO Liquid CPU Cooler
– G.SKILL TRIDENT Z5 6000MHZ 64GB (32×2) DDR5 RAM
– ASUS ROG Strix GeForce RTX 4080 16GB GDDR6X
– WD_BLACK SN850X M.2 (4 TB)
– LG UltraGear 34GP950B-G (21:9 Ultrawide @ 3440×1440)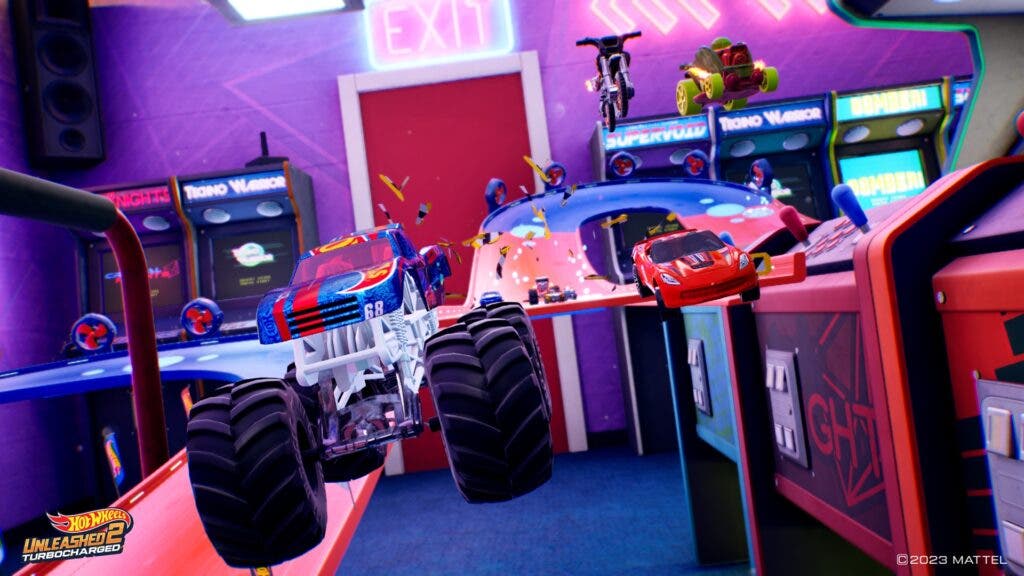 HOT WHEELS UNLEASHED 2 – Turbocharged is the kind of game to bring friends, siblings, or others together and play for hours on end. Then when they're done, go into their closets and start playing with real Hot Wheels sets. The sophomore entry hasn't changed much, so it's more of the same, but it's more of a great game. Milestone is a great fit as the developer of this series, and it's a good time for all. HOT WHEELS UNLEASHED 2 – Turbocharged features wonderful locations, action-packed racing, and a virtual collection to rival all collections – there's so much to love in the sequel.
A Steam code was provided by the publisher for review purposes