GUNHEAD comes from the minds at Alientrap, who've made memorable games such as Capsized and Apotheon , but I really took notice with CRYPTARK in 2017. It felt like a revelation for the roguelike genre and became one of my favorites as you went spaceship spelunking in 2D to take down systems and fight bosses while earning a paycheck. It was that same year GUNHEAD was announced, and after six long years I can't help but find it to be inferior to its predecessor. It still retains all of the engaging systems that made CRYPTARK so good, yet even as a fast-paced first-person shooter roguelike, GUNHEAD feels like a pale imitation.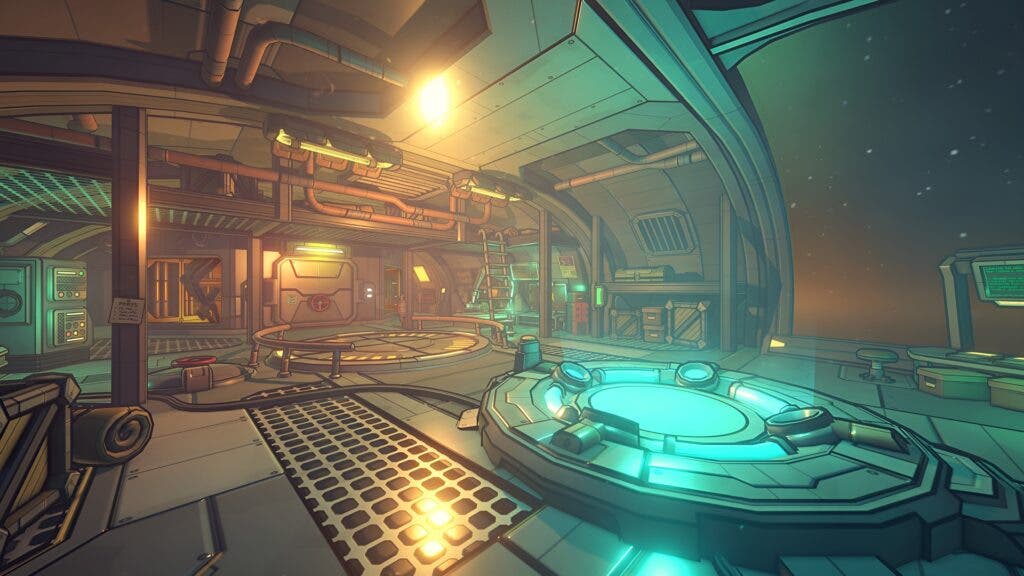 The story begins with you being a ship under contract to begin salvaging ships for xenotechnology. Now it's up to you to get this privateer outfit up and running and collect salvage while eliminating major threats. On your ship, you're able to purchase upgrades, check on progress, look at your trophies. Lastly, you can choose the difficulty for your missions between easy, medium, hard, or nightmare. The developers have said that this is a sequel to CRYPTARK , suggesting it's more than just a point-of-view shift. When you're ready, it's time to suit up for your next mission, where you can equip up to four weapons you've unlocked and stored in your inventory.
Once you've select the mech of your choice, you disembark into the coldness of space to find an entrance suitable to execute your plan of attack. Each ship is randomly generated, so systems, enemies, and power-ups won't be in the same place. Once you enter, you can move around quietly to avoid detection and alarms. I will say that one stark difference from CRYPTARK is that moving and shooting in a 3D space makes things far more challenging, for better or worse. The better is the tension and moment-to-moment gameplay is improved, but the downside is that you don't have that much awareness even though your mech can be quite agile. This results in fast and frenetic gunfights as you haphazardly dash, and maybe even escape to the vacuum of space for respite.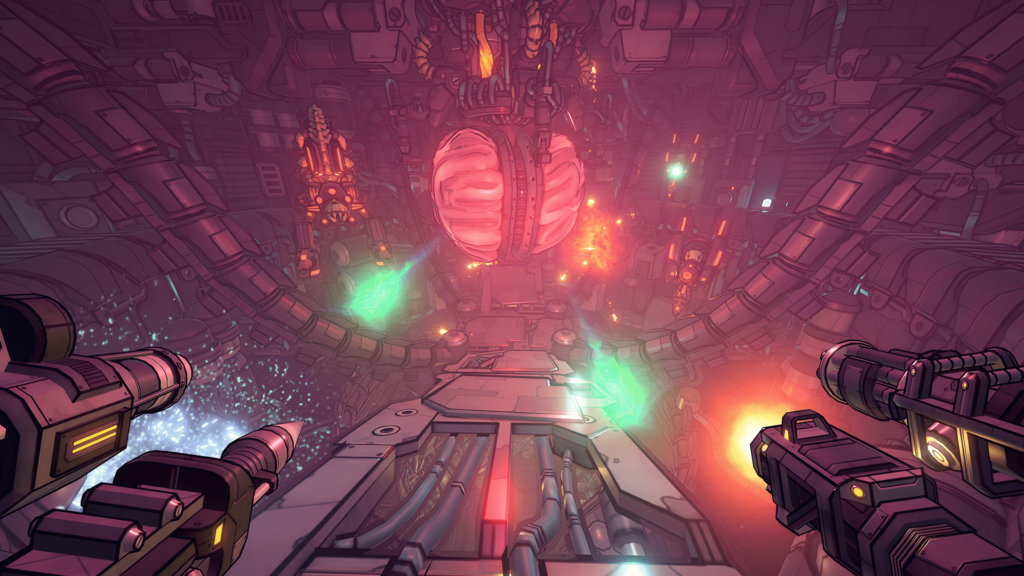 The goal of each infiltration of a ship is to disable systems and kill the brain, along with any side objectives along the way. After a successful or unsuccessful killing of the brain, you're brought back to the ship. It's here you choose your next assault, selecting one of three paths and each one will have its own rewards and objectives. Sometimes you'll be tasked with avoiding a certain number of alarms, not taking a certain amount of damage, or to disable all systems before returning home. Doing so will net you with bonus cash to bolster your arsenal and unlock items for how you want to play.
At the end of a mission, you'll encounter a boss, and with seven in total, they are all unique from one another. Finding their weakness and patterns are key, and is a bullethell to endure. However, once they are felled, you collect a trophy to bring home as you progress through more missions. Getting to a boss can be a chore on its own, but there's no greater feeling that defeating one. Anyone who's played MOTHERGUNSHIP , Tower of Guns , or Hypergun will find a lot of similarities here in terms of gameplay.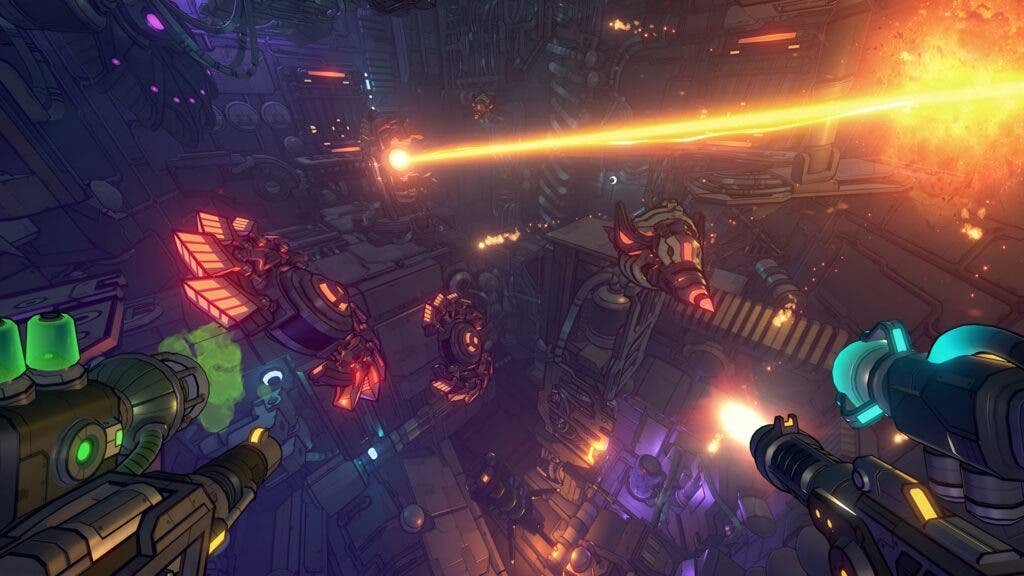 There are weapons and technology to be found on the ships that can be equipped or placed into your inventory. You then permanently unlock them at your computer, which costs money relative to its power. There are other unlocks that require boss completion before they become available. Weapons are wonderfully varied, from melee spikes that lunge you at the enemy to rocket launchers to flamethrowers to machine guns. There's versatility to the game's combat that feels good to shoot each type.
As you jump into your mech suit, you'll notice that there are five other suits to purchase. They each have their own stats and price, and comes down to preference on which one you purchase. There's no gating other than funding on which ones you buy. Simply having the choice to bring in different mechs for different situations is all part of the experience. It's fun to play around, but it won't be long before you settle into a set of weapons and a mech that fits you best.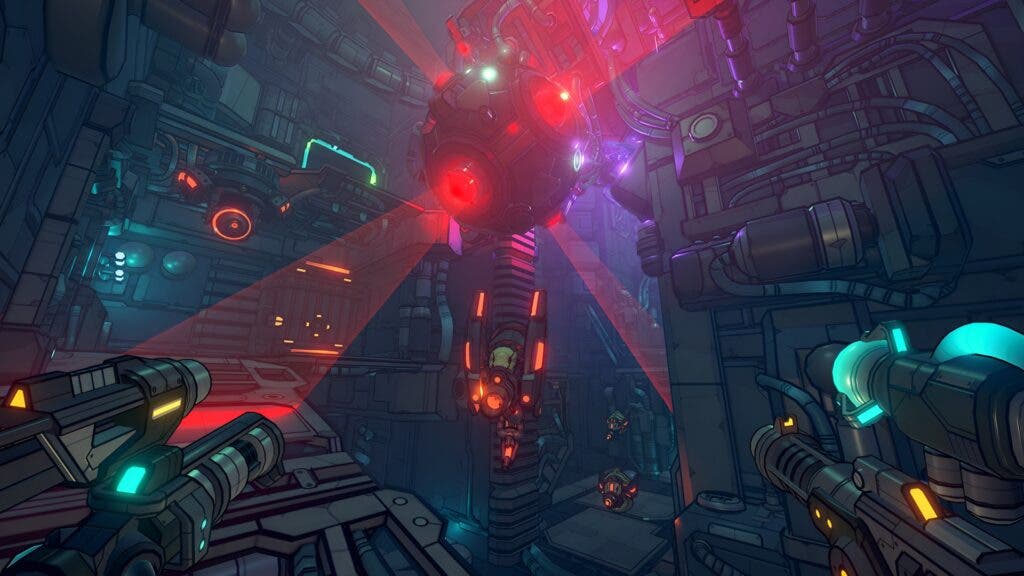 This game performs exceptionally well. You won't find a single performance issue here, and while I have a powerful PC, I was getting over 330fps during all gameplay. However, now that the game is in 3D, the texture work isn't there. Environments look plain and empty, and weirdly lifeless and dull. It wasn't the experience I had with CRYPTARK , but I've gotta say that GUNHEAD looks boring by comparison, yet is much more colorful and vibrant. I just wish it were more visually appealing.
My PC Specs:

– Microsoft Windows 11 Pro
– Intel Core i9 13900K @ 5.8GHz
– ASUS ROG RYUJIN II 360 ARGB AIO Liquid CPU Cooler
– G.SKILL TRIDENT Z5 6000MHZ 64GB (32×2) DDR5 RAM
– ASUS ROG Strix GeForce RTX 4080 16GB GDDR6X
– WD_BLACK SN850X M.2 (4 TB)
– LG UltraGear 34GP950B-G (21:9 Ultrawide @ 3440×1440)
GUNHEAD is a fine game on its own, because it contains all the pieces that made CRYPTARK so good. That said, GUNHEAD feels surprisingly unambitious as it plays just like its forebear, albeit through a different lens. I'll say that if you didn't like the 2D side-scrolling shooting of CRYPTARK , then the 3D first-person shooting of GUNHEAD is probably more appealing. It's unfortunate that the 3D space is hard to gain awareness of approaching dangers, and the fact it resembles the prior game so much that it doesn't feel new or fresh. GUNHEAD contains the formula of a great a tried-and-true roguelike that you should at least try before you buy.
A Steam code was provided in advance by the publisher for review purposes