Operation Supply Drop's 4th Annual "8-Bit Salute: Gaming for the Troops" kicks off May 16th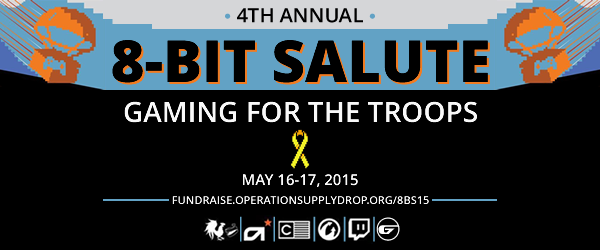 The world's largest gaming fundraiser for troops, 8-Bit Salute, enters year 4 and it's bigger than ever! Aligned with Military Appreciation Month and Armed Forces Day, the 4th Annual 8-Bit Salute: Gaming For Troops 24-hour marathon is back on May 16 & 17, 2015!
Anchored by partner organizations including Rooster Teeth, Astro Gaming, theChive, Wargaming, Polaris, Twitch and GAEMS, troopers and civvies alike will join forces to play video games and raise funds to support Operation Supply Drop and our mission to support the troops.  In this past year, with thanks to our supporters, we've been able to launch 3 new programs, one of which, The Teams,furthers our already existing international footprint.
As OSD has grown, so has this event. As of this announcement, 8-Bit Salute has more participants enlisted than we did for the entirety of 2014. We expect the community to come through in a big way and demolish a goal of $1,337,000 in this specific campaign which will allow OSD to continue to expand and scale what has become the most generationally relevant troop support organization around the globe.
Joining the fun is easy and free, though a $15 entry fee "ELITE" option provides more! The upgraded entry unlocks opportunities for prizes from partners of OSD, entry to win 1 of 2 personal "supply drops" and after reaching a personal donation goal of $200, the official tee shirt for this year's event.  All enlistees will have an opportunity to earn challenge coins for reaching various fundraising tiers.
Be on the lookout for some of your favorite OSD Ambassadors, Pro-Gamers, YouTube Stars, Twitch Partners and other special guests. As our partners announce their schedules, we'll continue to share them via social media. Additionally, we'll be posting tips for a successful event and more information as we get closer to May.  Are you doing something we should know about?  Just let us know!