Wargaming America Celebrates National Military Appreciation Month, and we appreciate it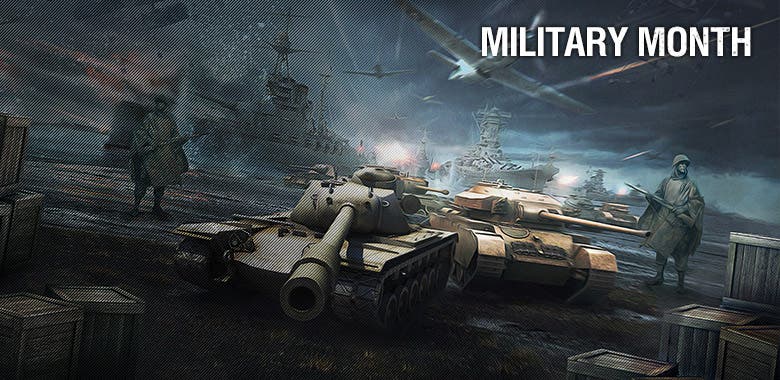 To recognize and honor veterans and troops during National Military Appreciation Month (NMAM), Wargaming America the exclusive North American publisher for Wargaming.net, today announced its May giving program in partnership with top veteran organizations for the fourth year in a row. Wargaming America has chosen four non-profit organizations for the four weeks in May to receive proceeds from sales within its award-winning games, World of Tanks, World of Warplanes, World of Tanks: Xbox 360 Edition, and World of Tanks Blitz: AMVETS, Wounded Warriors Canada, National Armor and Cavalry Heritage Foundation and Operation Supply Drop.
Each week in May, one of the veteran organizations will receive 25 percent of the proceeds from the $14.99, $22.99 and $23.56 dedicated gold and silver support packages purchased from the North American gift shop across all products. In addition, 25 percent of the proceeds of the all-encompassing "Military Appreciation Month Support Bundle" across each product (1,500 Gold + 1,500,000 Credits/2,000,000 Silver) purchased during May will be divided between the four organizations.
Weeks for donation:
AMVETS Support Bundle:

May 4-10

Wounded Warriors Canada Support Bundle:

May 11-17

National Armor & Cavalry Foundation Support Bundle:

May 18-24

Operation Supply Drop Support Bundle:

May 25-31

Military Appreciation Month All Charity Support Bundle:

May 4-31
"An amazing thing happens when we work together with our players to provide support to renowned military organizations in the United States and Canada; our commitments and communities grow stronger as we help those soldiers and their families" said Jay Cohen, General Manager of Wargaming America. "The organizations that we are working with this year allow us to continue to educate different generations on the historical impact of our military through Veteran assistance programs, preservation of our military history, and the support that video games can offer."
Wargaming America will also hold a four hour livestream on Friday, May 29th from 10 a.m. – 2 p.m. PST on Twitch.tv/Wargaming. During the livestream, players will get the chance to engage with Wargaming producers and developers, and get their hands on some exciting in-game items as well as prizing from Wargaming partners: Logitech, Razer, GAEMS and J!NX.