News
Jun 18, 2018
Cook, Serve, Delicious! 2!! "The Barista Update" is now available on PC for present and past owners of the game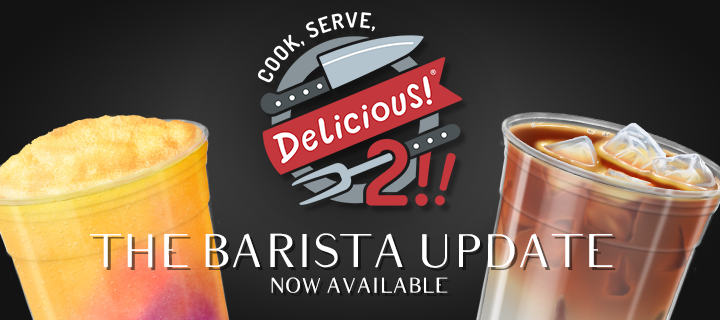 From Press Release:
June 18th, 2018 — Vertigo Gaming is excited to announce 'The Barista Update' for Cook, Serve, Delicious! 2!! – the first major content update to the intense restaurant management sim – is out now on Steam, and coming soon to GOG.com and Humble Store!
First showcased in April at PAX East 2018, 'The Barista Update' contains 36 new shifts, 119 new objects, 24 new foods, 3 new restaurants, and a higher level cap, and is completely FREE to all current and future Cook, Serve, Delicious! 2!! players.
'The Barista Update' centers around café-inspired treats and drinks such as coffee, lattes, and espressos, as well as all new foods from across the globe, ranging from upscale dining to twists on the classics. In addition to the mastering the new foods, players will test their skills against 36 new shifts in the new Contrast Coffee, Burrito Time and Planet BLUE restaurants in an effort to reach the newly increased 125 level cap, as well as further personalize their restaurants with 119 new decorative objects.. 'The Barista Update' gives players more of everything they love about Cook, Serve, Delicious! 2!!
Cook, Serve, Delicious! 2!! is the colossal sequel to the surprise best-selling original, and is one of the few games that gives players complete control over how they choose to build their restaurant. A console edition is currently in development and is targeting going into certification for PlayStation 4 in September.
Learn more at: http://www.cookservedelicious.com
Twitter: @chubigans
Discord: https://discord.gg/Y7GhgkG
---
Gallery: