From Press Release:
Calabasas, Calif. – June 10, 2020 – Bloodstained: Ritual of the Night players around the world can look forward to a remaining year filled with free content as publisher 505 Games and indie studio ArtPlay offer a sneak peek at the free DLC development roadmap for the million-plus unit selling game, a 2020 SXSW® Gaming Awards nominee for Best New Intellectual Property. Beginning with Boss Revenge Mode and increased character customization with the Chroma Wheel feature for players on PC, PlayStation 4 and Xbox One on Tuesday, June 23, players will be treated to a steady stream of free content and features throughout the remainder of the year developed to enhance the game experience and offer more ways to interact with Koji Igarashi's critically-acclaimed indie debut title.
A message from creator Koji Igarashi thanks fans and offers the player community a tease of what's to come: https://youtu.be/RlMe9PssWV4
Boss Revenge Mode: Players can thank the Kickstarter community for this new free gameplay mode in Bloodstained: Ritual of the Night – a direct result of community support in helping the game surpass its final $5.5M stretch funding goal. In this mode, accessible by entering the transition room in-game, players will face off against four in-game bosses fast and furiously to get the best clear time.
Chroma Wheel: The salon is back in business with more options than ever in color palette for character customization, including hair, clothing, and skin. Players can return to Todd the Barber, Bloodstained's demonic scissor-wielding hair stylist, and switch up their look with a true color selector and eliminating pre-set options previously available.
Boss Revenge Mode and the Chroma Wheel feature will be coming to Nintendo Switch™ players in July 2020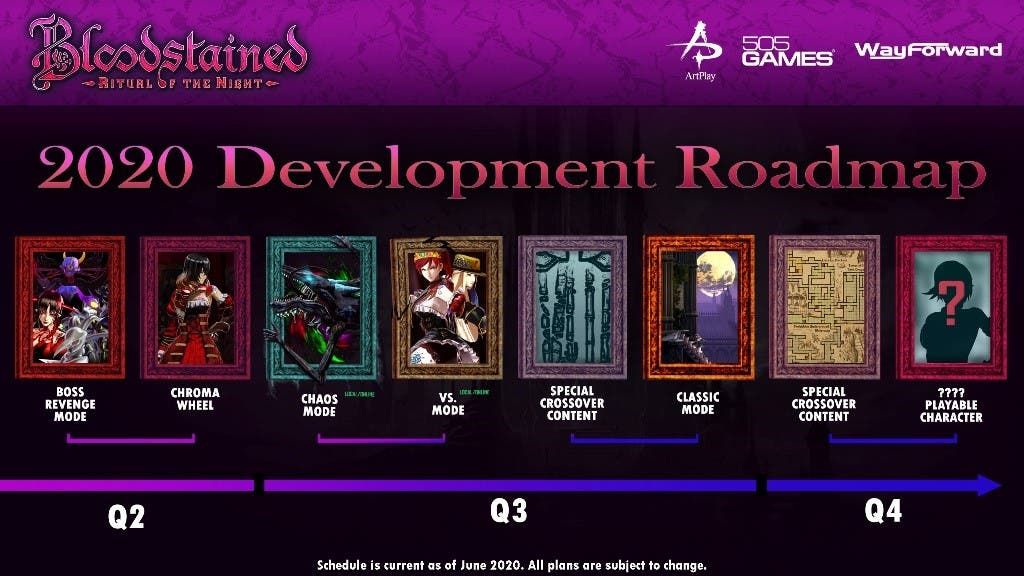 Bloodstained: Ritual of the Night is rated 'T' for Teen by ESRB. For more information about Bloodstained: Ritual of the Night, please visit: https://www.playbloodstained.com. For more information about 505 Games and its products, please visit www.505games.com.