News
Apr 25, 2022
343 Industries outlines the 2022 Roadmap for Halo Infinite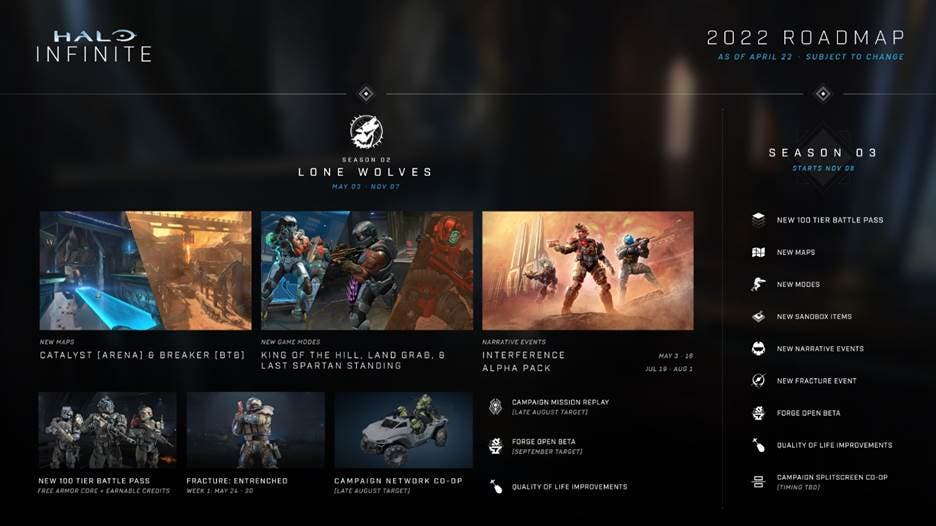 From Press Release:
In today's April Halo community update, 343 shared more about what's coming for Halo Infinite in Season 2 (dropping in 11 days!), as well as more on what gamers can expect from Halo Infinite throughout the rest of 2022. Key updates include:
Halo Infinite Season 2 – Lone Wolves, Coming May 3: Season 2 will come complete with a new seasonal storyline, new maps, new modes and a new battle pass to add to your collection alongside Season 1. Battle passes don't expire, so players can always choose to work towards whichever battle pass they choose.
Campaign Updates and Forge Open Beta, During Season 2:

Network Co-op and Campaign Mission Replay Targeted for Late August: Fans can jump into Halo Infinite's campaign with their friends in late August, alongside the ability to replay their favorite missions in the Master Chief's latest adventure.
Forge Open Beta Targeted During Season 2: 343 is eager to get the Forge experience into players' hands. During Season 2, that will kick off with an open beta, where we'll see what types of maps and modes the community builds in the world of Halo Infinite.

Ongoing Quality of Life Fixes: Beginning in Season 2, players can expect more frequent quality of life updates and fixes, as well as new content, delivered through "Drop Pods."
343 will have more to share about Season 2 including a deep dive into its battle pass rewards, events, game modes, and more during a community livestream scheduled for Wednesday, April 27 at 1:00 PM PST. They'll also be discussing what's coming to Halo Infinite later this year in more detail.
For the latest on Halo Infinite and all things Halo head to Halo Waypoint, and for the latest Xbox news stay tuned to Xbox Wire.