News
Jun 29, 2022
Retrovibe lays out the 2022 Roadmap for Project Warlock II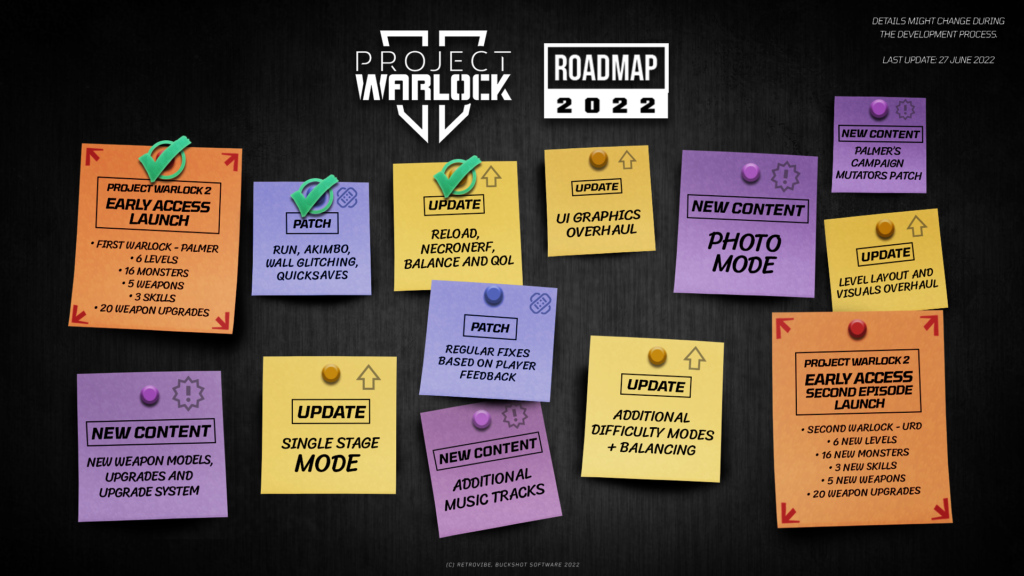 From Press Release:
29 JUNE 2022, WARSAW, POLAND – Early Access of Project Warlock II has only just started but the developers at Buckshot Software are hard at work on Chapter 2 and improving the game overall. Their main goal right now is to find the right balance between the new ideas, building upon the original game, and addressing some of the most voiced player requests. With that in mind, a 2022 roadmap for the game was conceived.
The developers want to complete this roadmap by the end of the year and then provide the next one. At the same time, they're keeping room for potential patches, fixes, and updates that might be needed along the way. The first two patches were already released since the game debuted earlier this month, adding a highly requested reload option, nerfing down the Necrogirl, and adding various visual and gameplay fixes.
A Single Stage mode, as well as two additional difficulty levels, will be introduced next, followed by weapons rebalancing and modifications. These will offer deeper customization options for the guns allowing players to upgrade their favorite tools of destruction further.
The developers want to run the most significant and impactful changes through players. They'll soon be able to access and comment on beta branch builds with experimental versions of changes like the overhauled weapons system, new game modes, and Photo Mode.
For more details about the game's launch and plans, please check the latest development update on Steam.
Project Warlock II is available in Early Access on Steam, GOG, and Epic Games Store.
---