News
Sep 19, 2023
Roadmap for upcoming updates to Jagged Alliance 3 revealed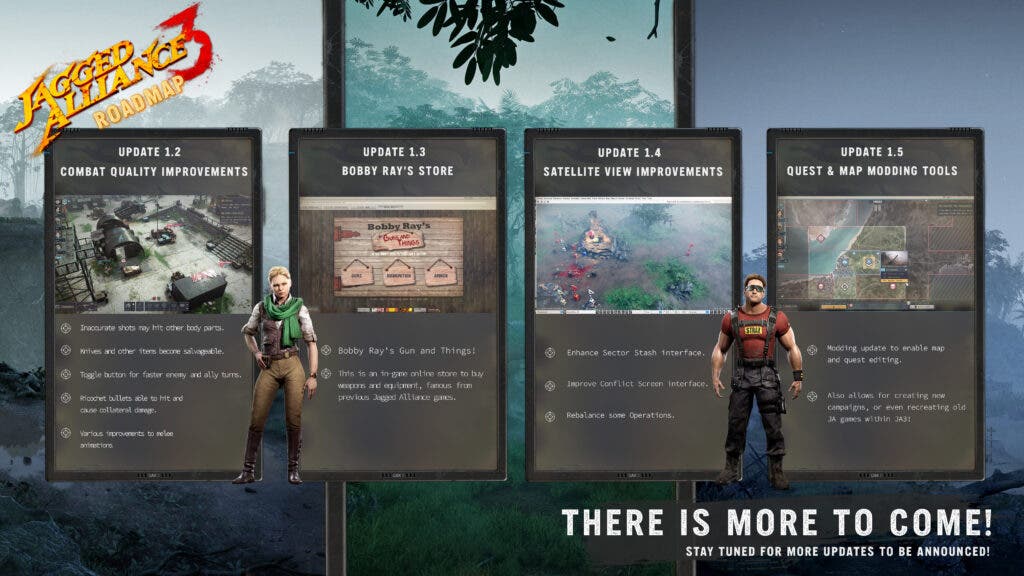 From Press Release:
Sofia, Bulgaria / Vienna, Austria, September 19th, 2023: Who doesn't love it when a plan comes together? Jagged Alliance 3 dropped on PC like a bomb two months back, and is hitting consoles on November 16th, 2023. The battlefield's been packed with players, and developer Haemimont Games has been soaking the feedback like sponges.
Now, they're lockin' and loading with a truckload of fresh updates, including quality-of-life features for the combats. Also on the agenda is to introduce a fan-favorite from the old games: "Bobby Ray's Guns and Things" online store will offer its services in Grand Chien, soon. New options for modding and some new challenges await, we are sure these updates will make Jagged Alliance 3 shine brighter than a diamond from one of Grand Chien's mines.
And here's the best part: it's all on the house. We're talking about free updates here, that will be published over the next few months. And don't you worry, whether you're playing on PC, PlayStation, or Xbox, we got your six. Stay frosty for more updates, because we're just getting started!
Console Pre-Order live – save 20%
The critically acclaimed turn-based tactics/strategy game, Jagged Alliance 3, is set to launch on PlayStation and Xbox this autumn, extending an enticing 20% discount to people who pre-order and are dedicated to liberating the nation of Grand Chien! And that's not all – by pre-ordering, you'll also gain early access: Jagged Alliance 3 starts 48 hours prior to the official release for all pre-orders.
Jagged Alliance 3 will be available on both PlayStation 4 and PlayStation 5, as well as on Xbox One and the Xbox Series S/X. The multiplayer functionality will be 'cross-gen', allowing PlayStation 4 players to team up with their PlayStation 5 buddies, and Xbox One users to join forces with those on Xbox Series S/X. The game hits the shelves on November 16th, with a suggested retail price of $59.99 / €59.99 / £49.99.
Pre-Order Now:
Xbox: https://www.microsoft.com/store/productid/9p1c5873zm3d
PlayStation: https://store.playstation.com/concept/10005890
Lead your mercenaries to victory from the comfort of your living room as Jagged Alliance 3 redefines strategic gaming on consoles!
Limited Tactical Box
We have retained a few units of the highly acclaimed Jagged Alliance Tactical Edition (which sold out within a few days) for the upcoming Console release. Once again, these are being offered in a strictly limited quantity of 550 pieces. Make sure to secure yours by pre-ordering the Jagged Alliance Tactical Box. This exclusive offer is available only through our online store at:
https://eu.store.thqnordic.com/en/241/jagged-allia…
… and at our THQ Nordic Vienna Store.
The exclusive Jagged Alliance 3 Tactical Box is encased in robust waterproof housing, safeguarding your gear from the elements. The Tactical Belt, complete with a convenient Belt Pouch, guarantees swift access to your crucial tools, and the A.I.M. pin proudly displays your dedication to the mission. Dive deeper into the world of Jagged Alliance with a collection of 36 character cards, offering insights into the professions and personalities of the mercs.
Kindly be aware: This edition does not include a copy of the game; please make a separate order for it.
Here's the full overview:
Outdoor case, 100% water- and dustproof & IP67 certified

Outer dimensions: 258 x 243 x 118 mm
Inner dimensions: 235 x 180 x 106 mm

Heavy Duty Tactical Belt for your pants
Tactical Belt Pouch for your gadgets
A.I.M. Pin
Set of 36 Character Cards
GAME NOT INCLUDED
The Tactical Edition will be available at an SRP of € 79.99 and is limited to 550 pieces.
PC Version
PC Players, check out the accolades trailer to see, what the press thinks about the game:
Jagged Alliance 3 is already available for PC at an SRP of $ 44.99 / € 44.99 / 39.99 £.
A free playable demo is available on Steam. It allows players to explore Ernie Island, the starting region of the game.
Check out the Demo: https://store.steampowered.com/app/2386860
Order here:

And if you visit our website, you can browse through all of our Mercs – check it out: https://www.jaggedalliance.com/
Already done with the Campaign and looking for new content to beef up the game? Check out what the amazing modding community has achieved in only a couple of days: https://tinyurl.com/JA3Modding
If you want to learn more about the game, make sure to follow on social media or discuss with other fans in the forums or on Discord:
Facebook: https://www.facebook.com/jaggedalliancegame/
Forums: https://community.jaggedalliance.com/
Discord: https://discord.gg/jaggedalliance