From Press Release:
Manchester, UK – 16th  October, 2023 – Today, Maximum Entertainment publisher Merge Games is excited to launch the third content update for Early Access multiplayer survival "Smalland: Survive the Wilds". 'Amber Valleys' introduces a brand-new desert biome, home to a host of venomous and deadly predators including tarantulas, scorpions and snakes. Scorpions can be tamed and mounted, also providing the update's striking new armour set.
Additionally, player emotes have been introduced in the latest update, the game's first ballistic weapon, new crafting items and more. 
Available now on Steam, the latest expansion dares players to venture beyond the forests to conquer new territory, while engaging with the following new and improved gameplay features:
'Amber Valleys' desert biome
Two new NPCs – Sarnak, Priestess of the Aetherin, and solitary rancher, Granger
Brand new story quests
Lethal enemies including Snakes, Tarantulas, Hawk Wasps, Horned Beetles and more
Scorpion mount and armour set
Ballistic Handcannon gun and Iron Ammo
Firesand Grenade
Fang Sabre
Telson Hammer
Pyrite Pickaxe
Aetherin Ground-to-Air Turrets
New Item Enhancement and Quality Tiers
Character emotes including waves, victory poses and more
Launching to PC, PlayStation 5 and Xbox Series X|S, 'Smalland: Survive the Wilds' is the multiplayer adventure that challenges players to survive at the bottom of the food chain in an oversized world.
Developed and published in-house, 'Smalland: Survive the Wilds ' launched to Early Access via Steam and Epic back in March, hitting a peak of over 52k daily players in launch week and garnering over 1.9 million Twitch watch hours to date.
Enter a hostile desert and continue the Smallfolk saga in the Amber Valleys, the latest unique biome with two new NPCs and brand new story missions in 'Smalland: Survive the Wilds'.
Face native creatures of the arid landscape from venomous snakes to great horned beetles, along with a brand new Scorpion mount and armour set.
Introducing the Smallfolk's first gun – the classic, lever action Ballistic Handcannon shoots devastating Iron Ammo, adding a brand-new level of weaponry and firepower to player's armouries.
Forage new resources to craft grenades, swords, tools and powerful armaments including the destructive Fang Sabre and Telson Hammer.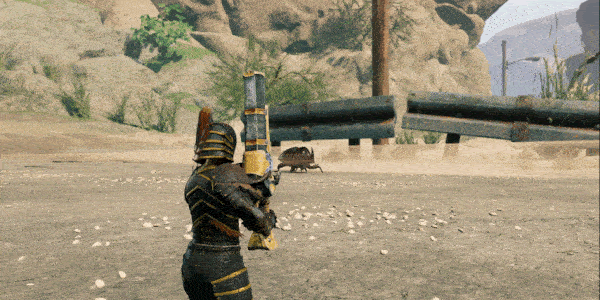 Communicate with friends in a whole new way with the introduction of character emotes, adding fun and fresh ways to interact in multiplayer.
New item quality and enhancement system gives players ways to craft equipment of higher tiers, providing greater damage or defence.
'Smalland: Survive the Wilds' Key Features:
Scale skyscraper sized trees, scramble through cavernous cracks in roads, and more as you experience the unique biomes of Smalland's huge open world.
Craft powerful armour sets to personalise your appearance, grant you resistance from the elements, abilities and more
Tame and ride wild creatures from Geckos to Scorpions, the world and its inhabitants are yours to conquer
Scavenge, refine and craft resources to build your encampment on the ground or in the canopy
Claim a Great Tree to design and build a base that will follow you to any world
Uncover ancient lore from hidden NPCs scattered throughout the world as you learn to survive in this hostile wilderness.
Play solo or with up to 9 additional friends in multiplayer with crossplay between Steam and Epic Games Store
Smalland: Survive the Wilds' is developed and published by Merge Games. Launching digitally on PC, PlayStation 5 and Xbox Series X|S. Physical versions will be available worldwide for PlayStation 5 and Xbox Series X|S. Fans can buy now on Steam and the Epic Games Store.
For more information please visit www.mergegames.com or follow us on our social media channels:
Discord: https://discord.gg/mergegames 
Twitter – https://twitter.com/MergeGamesLtd
Facebook – https://www.facebook.com/MergeGamesLtd
YouTube – https://www.youtube.com/c/Mergegames/videos
Instagram – https://www.instagram.com/mergegamesltd/
# # #