Taiwan developer A4TECH has developed the Bloody brand, a series of mice geared towards first person shooters. While it certainly works for other types of games, it absolutely excels in games where you pull a virtual trigger. This ambidextrous mouse is lightweight and features gilled grips that accommodates claw and palm styles of handling, perfect for anyone given it's modest price.
Core3 is the technology inside the mouse. You may be wondering how the Core3 system actually works. After you install the Bloody2 software either from the CD or the Web, you'll be be able to activate one of three cores. The multiple cores are designed to handle different game scenarios and situations.  Core1, is just a traditional mouse, where the center buttons are of no consequence. Core2 activates Gun3, button "1″ is for single shot, "N" is for 2 burst fire, and "3″ is for 3-burst fire. With Core3 is enabled, Ultra Gun3 is activated, pressing "N" provides auto recoil suppression for strafe firing, and adjusts the gun for you.
Unfortunately though, after you've bought the mouse, the Core3 option is locked behind a one-time purchase of $20 to even be able to access it. It's not the worst thing in the world, given this mouse's price. But the last thing you'll want to do is spend more money. The software allows you to edit macros and adjust profiles for how the "N" and "3″ buttons will behave. It isn't the "cheat mouse" I had assumed. In fact, when running in N (green) or 3 (yellow), you'll probably learn bad habits for if you ever get a different mouse than this one.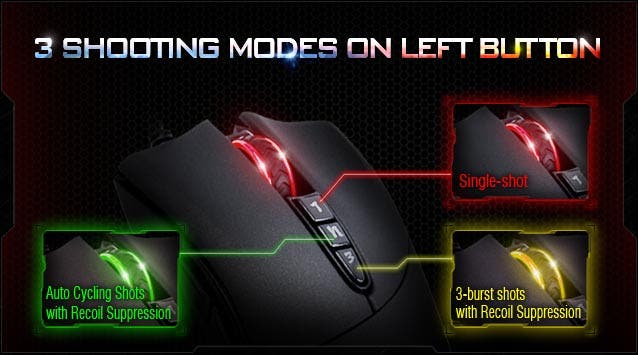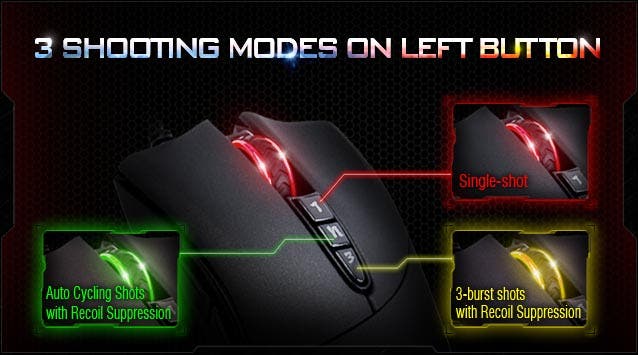 Gaming Applications of the Core3:
I tested the Bloody Ultra Core3 in many different games: Crysis 3, Battlefield 3, Counter-Strike: Global Offensive, Mass Effect 3, and Call of Duty: Black Ops II. There was quite a difference using the mouse with Auto Cycling Shots (N) and 3-burst shot (3).
Weapons that are single shot, like a pistol, either mode increased its firing rate while ensuring minimal recoil. It essentially made it an automatic pistol. For semi-automatic weapons, it had negative or negligible effects, and be best not using those modes for it. However, for fully automatic weapons, it greatly reduces recoil and firing patterns, making for short bursts to control it all. It takes a while to get used to, but makes you ultimately more accurate.
With just a double-tap of one of "1″, "n", or "3″ you'll have access to on-the-fly DPI. Then scrolling the mouse wheel adjusts it up or down with a small GUI pop-up. For effect, the mouse has a pulsing bloody hand that glows along with the mouse wheel for visibility in the dark.
Upon pulling the mouse out of the box, I immediately noticed the Teflon-coated USB cord. As someone who loves wired mice, seeing the USB cord given so much care pleased me. My desk has hard edges and didn't destroy the mouse cord on previous mice, but certainly rubbed down over time. Here, it is impenetrable and durable.
The mouse touts many impressive technical features. For example, the HoleLESS HD Engine, it appears to be a tinted piece of glass that refracts and protects the intense optical laser that normally blinds anyone who turns it over. It's precise and incredibly accurate for up to 3200dpi. The mouse tracks at 75inches/sec and button presses are at 1ms. Weighing in at 155g, it's a breeze to move around and feels effortless while doing so. It doesn't come up short, and exceeds expectations.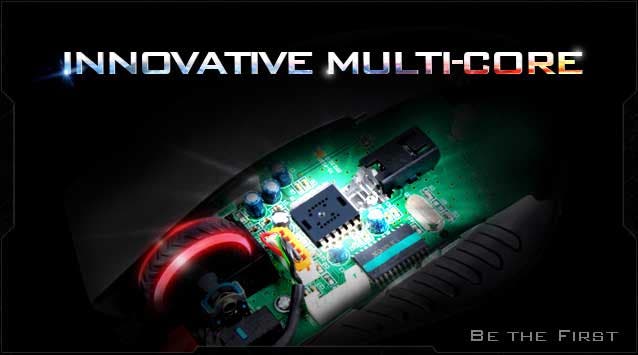 This mouse is incredibly well constructed, including the incredibly smart coated USB cord. The software is easy to learn, but likely you won't make too many modifications as it works right out-of-the-box. The one-time activation of the Core3 features is a bit of a bummer as it feels to be a hidden fee. Beyond that, the price is superb and an absolute bargain.
Editor's Note: This score has been lowered to a 0 post-publish. This due to being kicked by PunkBuster while playing Battlefield 3 using the "Bloody" software was running. When deactivated, poses no problems. This is, in fact, a "cheat mouse" despite the quality performance and construction.
This mouse was provided by PR for review purposes