Carmageddon Max Pack splats itself, DRM-free onto Steam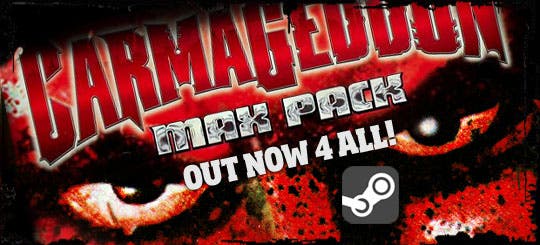 The Carmageddon Max Pack (that's Carmageddon 1, and the Carmageddon Splat Pack) is now available for ALL in the Steam Store. Previously only a bonus for those who owned Carmageddon: Reincarnation (on Early Access), can now be purchased separately.
The Carmageddon Max Pack supports LAN Multiplayer – so you can have MP fun while waiting for MP to be ready for release as part of a forthcoming Carmageddon: Reincarnation Update! And it's DRM Free, too!
(If you already own the Carmageddon Max Pack, then buying Carmageddon: Reincarnation afterwards will award you a giftable copy of the Carmageddon Max Pack. If you already own Carmageddon: Reincarnation, and have yet to redeem your free copy of the Carmageddon Max Pack, you should find it in your Steam games library.)
Please note that Carmageddon was originally published in 1997, and although it's been extensively tested and "should just work (TM)" on a wide range of current PC specifications, it is sold "as-is", with no plans for patches, updates or bug fixes. Click here for FAQ and spec info, and join us here to check out the forums and get further helpful advice from the community and Stainless, should you need it.