Fat Chicken hatches on Steam Early Access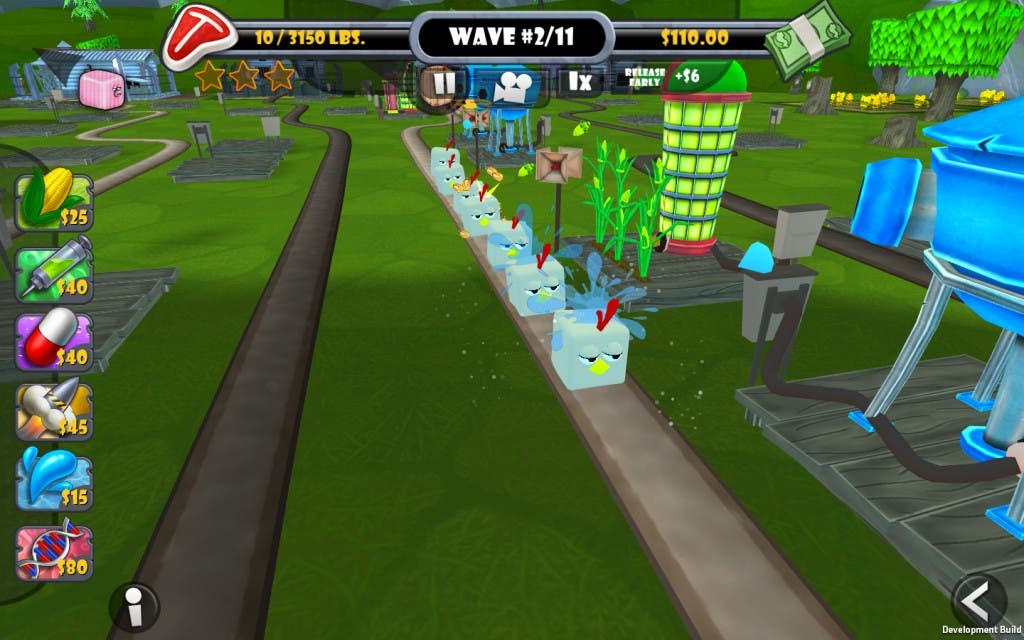 Fat Chicken, the "remixed" tower defense game (PC/Mac/Linux) from the makers of Saturday Morning RPG, Breach & Clear and Scrap Squad, is now available on Steam Early Access. With three different Early Access Fat Chicken bundles available, all with a limited time 15% discount, you can pre-order the game and try it out before release by playing early, yet near-final, versions of the game.
Available Fat Chicken editions-
Note that this pricing reflects a limited time 15% discount
Base Edition: Includes one Steam key for Fat Chicken for $8.50 USD
OST Edition: Includes one Steam key for Fat Chicken and original soundtrack by renowned composer Jason Graves for $10.19 USD
Early Access Edition: Includes two keys (one for you, one for a friend) and the soundtrack for $12.74 USD.
In Fat Chicken you play a factory farm manager working to plump up incoming waves of livestock on their way to your slaughter house, where they'll be converted to tasty meat products, and earning you lots of Murderbux. Build factory farms across America as you use multiple tower types (and their upgrades) to keep your livestock healthy, happy and safe from pesky UFO's as they march towards grocery store freezer cases. Hired Hands and Security Guards provide boosts to keep your operations running smoothly; speeding up breeding, fighting protesters, healing sick animals and more as you rake in the cash from your fatted fowl, plump pigs and behemoth bovines.
You can get Fat Chicken on Steam Early Access here: http://store.steampowered.com/app/325860/