BenQ All-Star Showmatch Online Gaming Competition shows eSports live and can win BenQ Gaming Monitors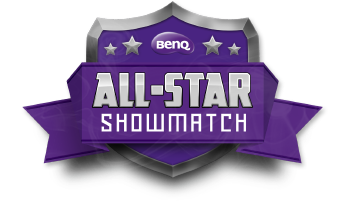 BenQ America Corp., an internationally renowned digital lifestyle solutions provider and professional gaming monitor pioneer, today announced the North American tournament of the BenQ All-Star Showmatch online gaming competition. The online matchups allow top gamers to compete for cash prizes while giving viewers a shot at winning a BenQ professional gaming monitor. Streamed live via twitch.tv, gamers will be competing in Counter Strike®: Global Offensive, League of Legends®, and Dota® 2. The first round of battles takes place onDecember 22 at 11:00 a.m. PST / 2:00 p.m. EST where two of the most promising American teams will battle it out in a round of Dota 2. 
"The BenQ All-Star Showmatch represents our latest initiative to support today's competitive gaming community," said Bob Wudeck, Associate Vice President, Strategy and Business Development at BenQ America Corp. "Already the official console monitor sponsor for the 2015 UMG season, our newly branded event brings together today's top gamers to create a head-to-head online platform where viewers can watch all the action live from the comfort of their own PC. To raise the stakes, we're offering cash to winning teams and the chance for viewers to get their hands on a brand-new RL2460HT gaming monitor."
The upcoming BenQ All-Star Showmatch will set Sneaky Nyx Assassins versus compLexity in a winner-takes-all best-of-3 showdown. As an added bonus for fans of both teams watching the Dota 2 matchup, BenQ will give away one RL2460HT monitor as part of a contest. Any fan that correctly predicts the Showmatch winner will be automatically entered for a chance to win. Taking place once per month, Showmatch will let new professional teams duke it out online while renewing the chance for viewers to win BenQ prizes. All matches are casted by world-renowned commentators and will rotate to different time zones across the U.S.
Designed specifically for real-time strategy (RTS) and first-person shooter (FPS) console games, BenQ's RL2460HT gaming monitor features BenQ's exclusive RevolutionEyes™ technology to eliminate traditional LED flicker issues — bringing more comfort to eSports enthusiasts during competitive action and long gaming sessions. In addition to BenQ's Black eQualizer, which enables total gaming visibility by revealing critical combat details, the monitor also features an HDMI® Out port, enabling live streaming of gaming content without the risk of lag or delay for the player. As a result, audiences are able to watch live action via direct feed from the monitor while preserving monitor speed and performance regardless of the streaming system used.
Viewers can catch the BenQ All-Star Showmatch live on http://gaming.benq.com/benq-in-gaming.