SCS Software has been hard at work for their 2nd major DLC for Euro Truck Simulator 2, titled Scandinavia. The result of this work fills in the northern part of Europe that has been sorely missing from the core game. It is more appropriate to call this an expansion due to its size and pricing, and Euro Truck Simulator 2 is only enhanced by this addition and is also the most visually distinct and beautiful places to virtually drive through in all of the game.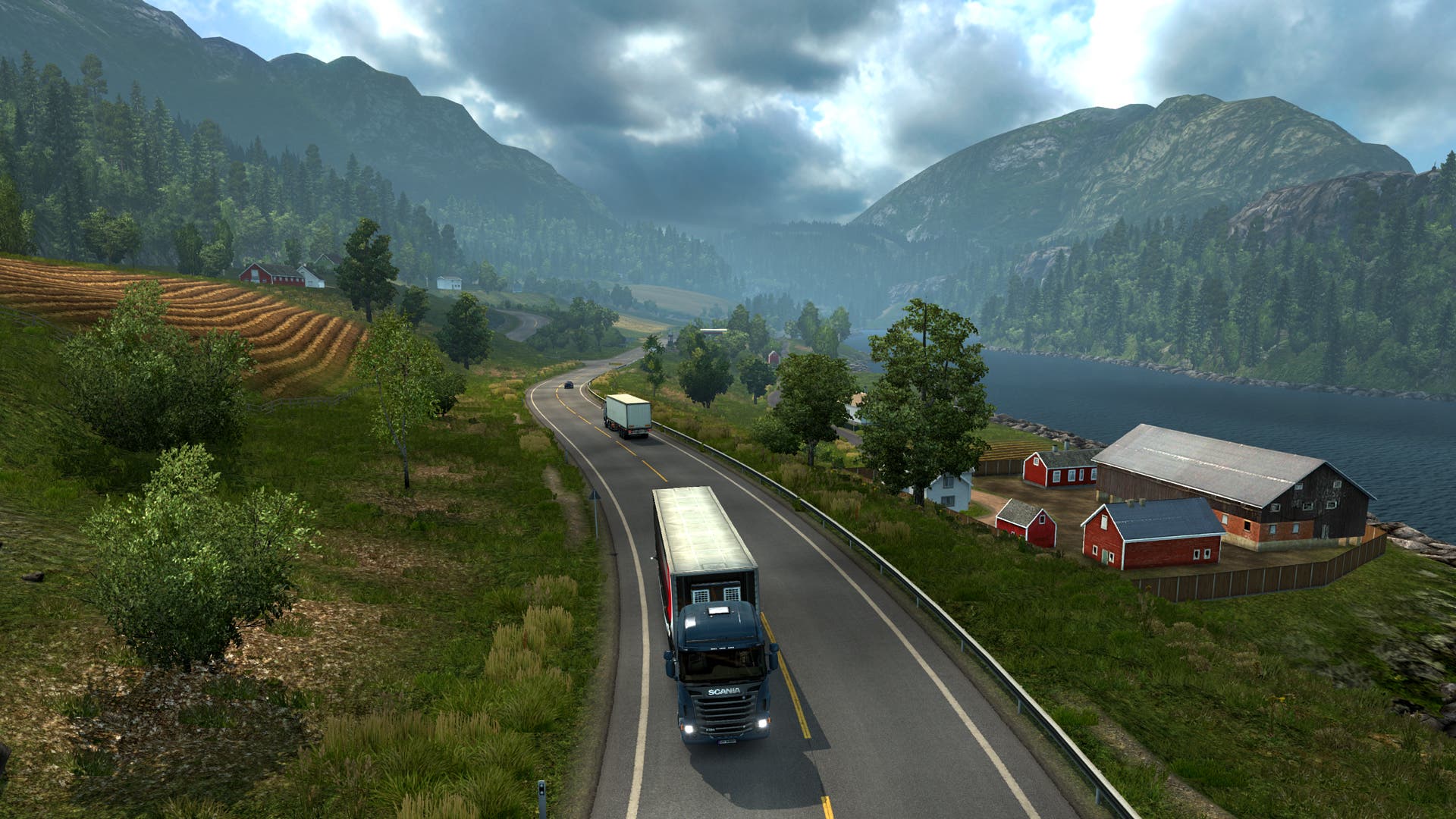 Scandinavia is the region of Northern Europe that comprises of Norway, Denmark, and Sweden. The detail that SCS Software went into to recreate the major cities and outlying areas is quite impressive, at least from an outsider's perspective. It's easy to go "yeah, this is probably what this area looks like" with no frame of reference, but it does look very close to the real thing when looking at Google Maps of the same cities.
You might be dismayed to learn that the content is not available from the start. If you've traveled the entire map, it'll be easier to get to. Though, if you haven't, you have a bit of a road trip ahead of you, which is great, all things considered. This is thanks to patch 1.17, a free update to the base game gives the game's engine a fantastic boost with rendering improvements, especially to the skyboxes and weather systems, which are actually systems now as opposed to randomly occurring storms.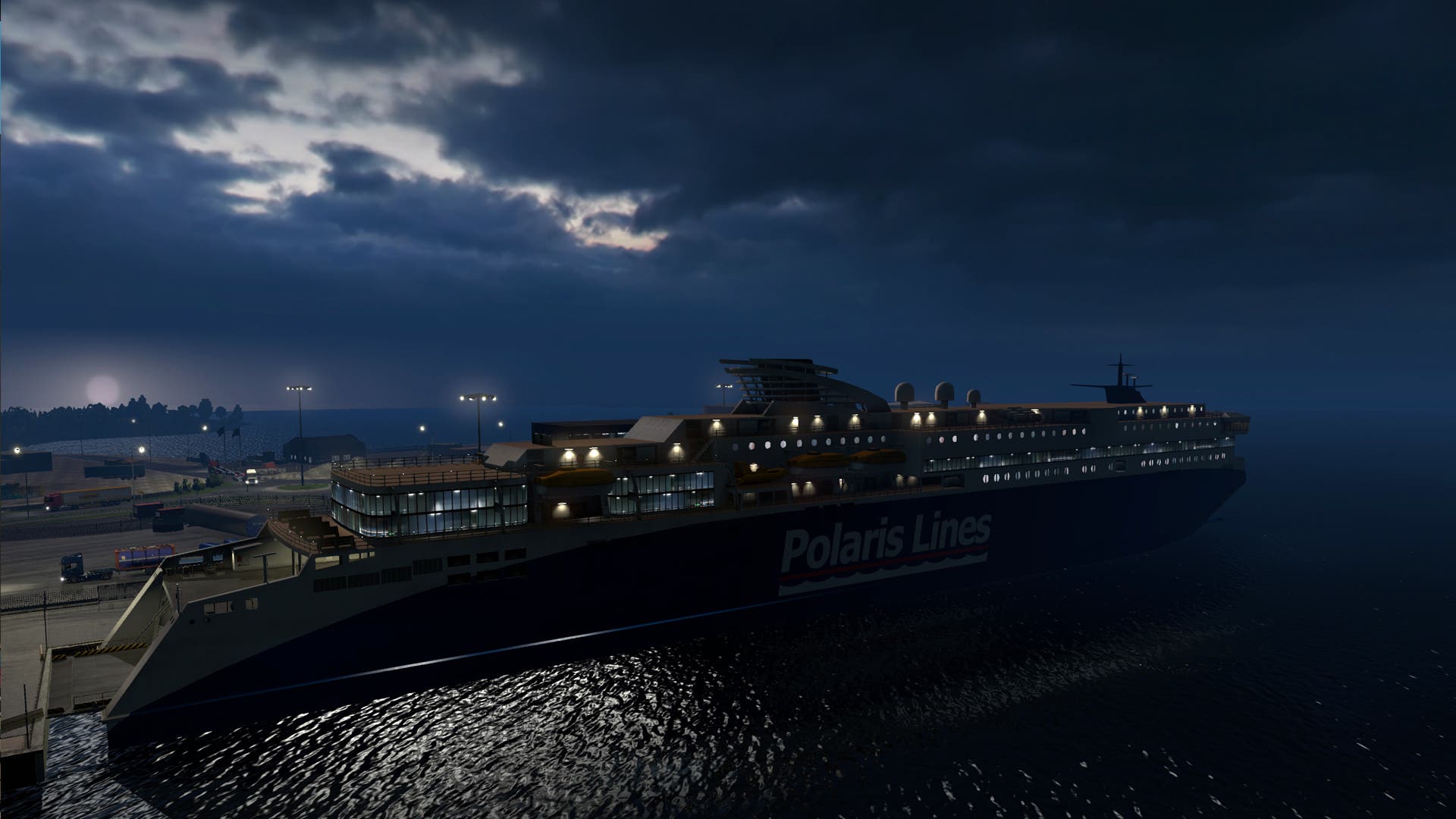 The Scandinavia DLC shows off a lot of new building architecture that are modeled after its real-life counterpart, there's more density to the surroundings of the roads, and driving through Copenhagen, Stockholm, and Oslo are amazing to see and take in. The more rural cities are a vast network of interconnected tunnels and pathing making for incredible views of rivers, fjords, and seaside housing. With 26 cities to traverse in this DLC, you'll be quite busy in this region, with an achievement in it for those who take the time to drive the whole map.
New to Scandinavia is the ability to purchase and deliver trucks to Volvo and Scania. Thankfully you are no longer delivering random cargo. Cargo now has a name and a purpose, like delivering cattle. Given the location, there's a noticeable increase of ferry usage, as you'll have to hit the sea like a new-school Viking. I haven't found some real lengthy trans-continental deliveries from original to new content. It's a minor thing, but I would have really liked to have an endurance-type of delivery.
If you enjoyed any amount of time with Euro Truck Simulator 2, the Scandinavia expansion is well worth the $20, which is maybe a bit pricey, but rightfully so. If you're looking to get into Euro Truck Simulator 2 for the first time, there's bundles with a marginal bump in price to make the price of spending $30 for all of the basic content a steal. Euro Truck Simulator 2 is remains a fine driving game that's unlike anything you've played before, and the Scandinavia DLC gives you more room to enjoy it.
A Steam code was provided by the developer for review purposes