KontrolFreek announces and releases Grips for PS4 and Xbox One controllers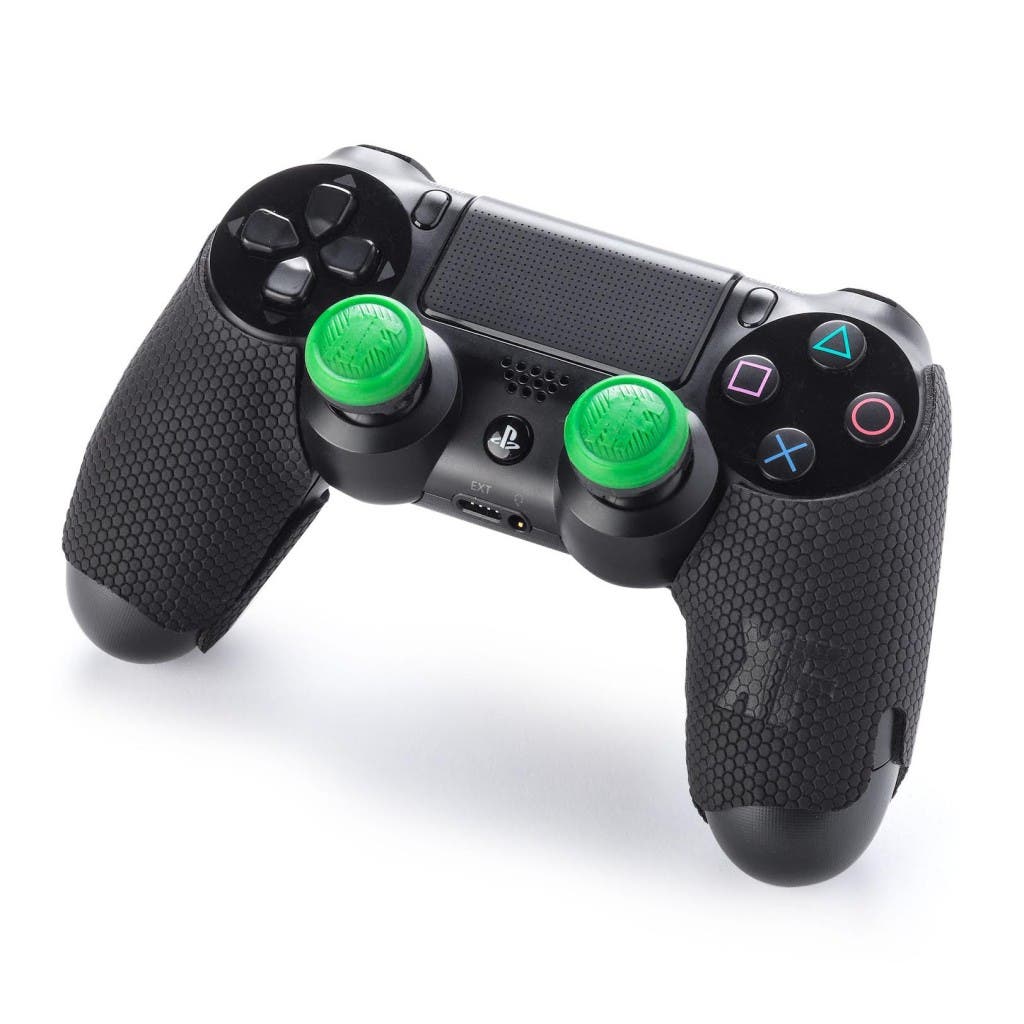 KontrolFreek, creators of the popular FPS Freek® and other performance gaming accessories, today announced KontrolFreek Grips, an entirely new product addition to the KontrolFreek family of products.
By combining science and innovative materials, Grips deliver superior performance for gamers of all levels seeking increased grip and comfort during gaming sessions. Grips are a re-applicable multi-layer controller over grip that adhere directly to Xbox One and PlayStation 4 controllers with a specially designed non-slip adhesive that can be easily repositioned or removed without leaving residue or damage to the controller. Grips are ideal for gamers who suffer from sweaty palms, slippery controllers or any gamer seeking immediate benefits of grip, comfort, and ultimately better performance.
Key Grips benefits include:
Enhanced Grip – Grips provide increased friction via a proprietary honeycomb-embossed Polyurethane top layer.
Moisture Wicking – Grips' combination of materials were formulated with a specific function, designed individually to meet the needs of today's gamers. The top layers' honeycomb pattern maximize grip while ensuring continuous ventilation through moisture-wicking air channels.
 More Comfort – A patented soft foam layer acts like memory foam, cradling fingers and conforming to the palm to create an ergonomic grip that is tailored to each individual.
Breathable – The foam layer is a highly breathable material that keeps hands cool. By not trapping any heat, palm temperature and perspiration are reduced.
 Anti-Microbial – The combination of materials has anti-bacterial, anti-fungus and anti-odor properties.
Re-Positionable – A patented adhesive affixes to the controller and can be removed without leaving a residue. Grips can be re-positioned multiple times until the best fit is found.
"While seemingly simple, KontrolFreek Grips are the result of years of research and development," said Ashish Mistry, CEO of KontrolFreek. "The combination of science and materials position Grips as a natural extension to our product line and a perfect fit with KontrolFreek's performance-driven philosophy and focus on gaming gear that enhances the gaming experience for all types of video game players."
Grips join the KontrolFreek line of performance gaming gear, including the company's signature analog stick controller extensions, of which there are more than 15 individual designs, each developed for a specific game or gaming function, ranging from first person shooter (FPS) to sports, racing and casual games. Additional KontrolFreek products include a line of controller Shields, letting fans easily customize their controllers, and CleanFreek, a non-abrasive, antibacterial cleaning solution designed specifically for gaming gear.
Grips are available now worldwide from $12.99 for PlayStation 4 or Xbox One console controllers.