KontrolFreek has really dominated the market with thumbsticks for your controllers. They might seem frivolous, but once you use them, their necessity becomes obvious. Whether it be the high-rise FPS Freek Black Ops III Reveal Edition, or something like the mid-rise FPS Freek CQC Signature Series, there's been a thumbstick accessory that suits any kind of game, gamer, or hand. Up until now, where you rest your hands on the controller has been neglected. KontrolFreek finally has an answer to that, with KontrolFreek Grips.
Why does any of this matter? Control. KontrolFreek wants to make sure you have a handle on every facet of whatever game you're playing, without any kind of controller design flaw getting in the way. For me, the DualShock 4 has a bit of texture that didn't ever make me feel it warranted these, but was I wrong after using them for the past week.
Applying the KontrolFreek Grips seems like it would be easy, but their native design in the PlayStation 4 version I was sent for review were not as clear as you'd hope. The illustration within the packaging clears that gap. but from the outset, it's not something you would apply correct without reading up on first. The shape of the grips are odd, so it isn't easy to discern placement without  Even in doing so, I misaligned one grip, and was able to reset it and start over.
While it doesn't explicitly say what they are, there's some anti-microbial materials which protect against bacteria, fungus, oil, dirt, sweat, and odor. The material is breathable, like Under Armour for controllers. Though, while it is to prevent odor, after removing the Grips from their cardboard pouch that they came in, there was a distinct odor from the Grips themselves. Nothing offensive, just strong, either from the material or the glue that provides the adhesive to the controller. The smell will get on your hands after the first couple of uses. Thankfully this dissipated over time and use, is nothing you should be concerned with, but should take note of.
There's a nice warm feeling when holding this, due to the padding. It doesn't feel cold like a naked controller. The added padding doesn't add any weight to it either. Now, I was able to combine them with KontrolFreek thumbsticks, and there's just comfort at all levels. You've got the performance, matched with the comfort on the controller for longer-lasting sessions, and peripherals.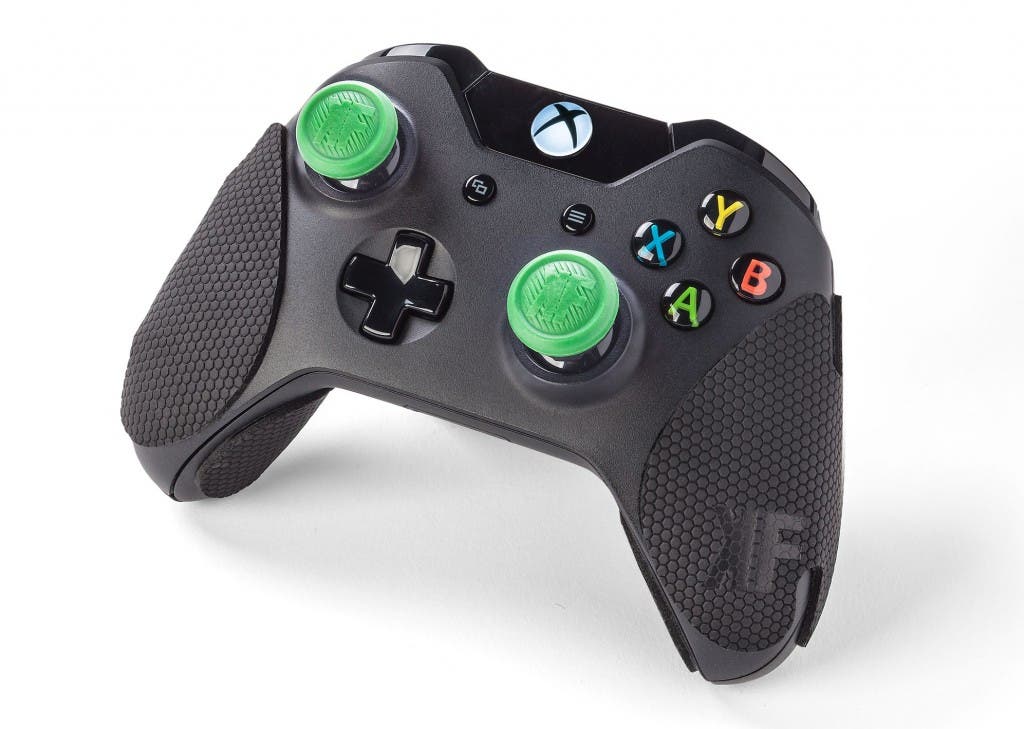 If you're victim to sweaty hands, or play with someone who does, this is really the best solution to that problem. Now, this isn't the only reason to get KontrolFreek Grips, though it is the most compelling. The other important fact to note, is that whether standalone or coupled with KontrolFreek's own thumbsticks, this will protect and enlongate your ownership of the controller, by keeping it protected from normal wear and tear, as the KontrolFreek Grips will take on that damage. KontrolFreek really thought about gamers on this one, and this is why KontrolFreek Grips comes highly recommended, as it relies on comfort over performance.
The KontrolFreek Grips were provided by KontrolFreek for review purposes