Rocket League is a successor to Psyonix's own Supersonic Acrobatic Rocket-Powered Battle-Cars, which released onto PlayStation 3 back in 2008, which was met with a tepid response and didn't receive much fanfare. Now known as Rocket League, it is quite possibly the most accessible sports game, and won't be soon forgotten. Rocket League is a superior blend of cars and soccer, and attracts anyone to play it for a few minutes which then turns to hours.
This is car soccer, plain and simple. The rules too are simple, and it's all about getting the ball into the goal as many times as your team can within the 5 minute time limit (unless you go into overtime). How you do that, can be done in a multitude of ways. Whether through teamwork or lone wolf style, you will be boosting, jumping, double-jumping your way around. Though, you should probably run through the tutorial and drills to really get the hang of everything. It is then you'll know when to do bicycle kicks or when to send the ball in for an aerial goal.
Aside from scoring goals, the individual player has a score that can  be increased by scoring, performing a save or epic save by stopping the ball from going in the goal, giving an assist to another player, or even getting a reverse goal. The regular camera in which to play is only one portion of the game. By pressing triangle, you can switch to the ball cam, and it lets you follow the ball. Being able to switch between these cameras is a way to play efficiently as well as make it so you don't get motion sick.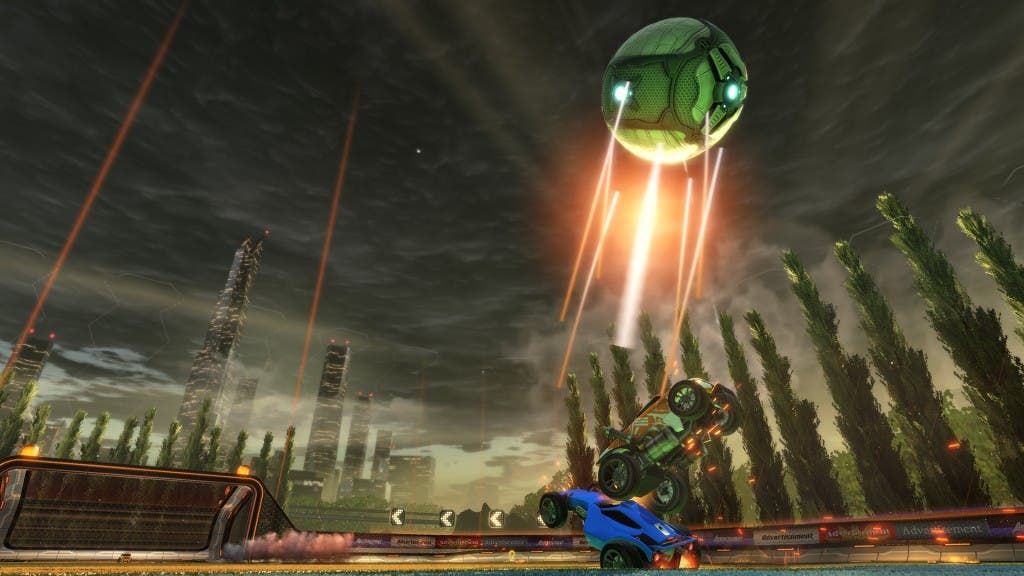 There's only one type of power-up to be found in Rocket League, and that's the boost pads scattered around the arena. Only a few of them have orbs which will fill you up to 100% boost. If you're able to rocket at someone going full speed, you'll be able to take them out of play, forcing them to respawn at their goal. You can even drive on walls and ceilings. There isn't a huge benefit, but you can pull off some cool-looking moves that will for sure throw off your opponents when they are least expecting it, should you line it up just right.
Over time, the physics become easier to understand and predict. The ball especially, despite its floaty nature becomes something to play against. As all ball-based sports games, you should be playing the ball and not the player. Regardless of skill level, anyone can play and be competitive. You'll find that people tend to all play offensively, sometimes this works, but often that untended goal gets scored on. You can't really make plans in Rocket League, only react and hope you score.
The multiplayer of Rocket League makes me utter words and noises that almost no other multiplayer game has gotten me to eek out while in chat. You can play 1v1, 2v2, 3v3, and 4v4 in ranked or unranked matches. There's crossplay between PC and PS4, making for quick matchmaking. In unranked matches, AI will substitute in for players, and are generally too good, or too ineffectual to help the team. While the game has a singleplayer mode, they are not the focus or where the fun is at. There's an exhibition mode that allows you to play a one-off game under whatever conditions you set. There's also a season mode that lets you play against the AI in a full season for however many weeks you set.
Rocket League is not without a progression system, or ways to reward the player. There are unlocks just by playing games, which are rolled out slowly but surely. You'll level up, and be put into ranks every ten levels which equates to your experience playing the game. Customizations across all battle-cars. Utilizing the power of Unreal Engine 3, the scant locations of Rocket League all are soccer-type arenas complete with futuristic looks and settings, all of which are at different times of day and weather. The game loads into games really quickly. The cars are highly detailed, as is the grass that you will drive in, with individually detailed grass blades providing a very big distraction.
The simplicity of Rocket League leads for more nuanced capabilities than it initially leads on. It is wonderfully balanced, highly entertaining, and near-perfection. Playing solo or against bots is not the experience, but play online and with your friends? It becomes a hell of a lot more fun and exciting. This is certainly one of this year's surprise games, and what a pleasant surprise it is.
A Steam code was provided by Psyonix for review purposes, PS4 copy was attained from PlayStation Plus for July.