Razer partners with NZXT for the NZXT S340 PC case, coming in September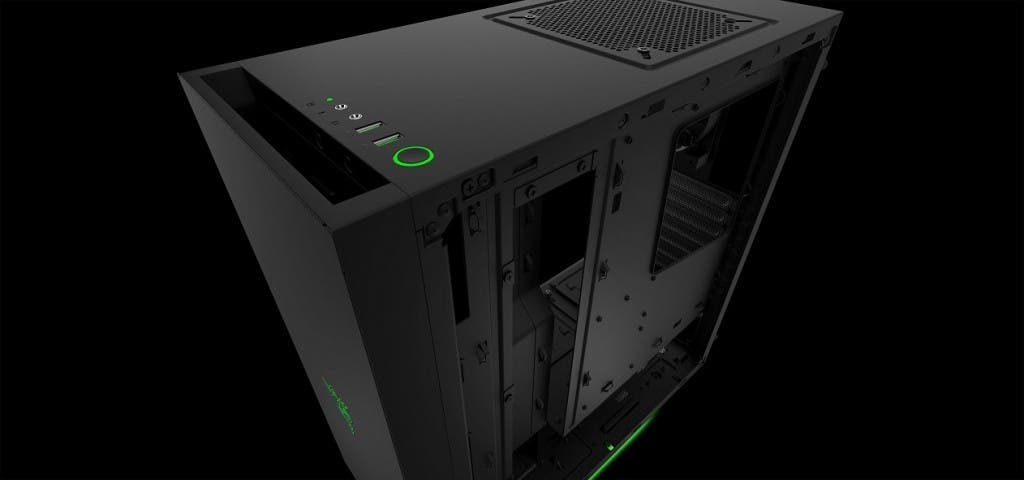 Razer, a world leader in connected devices and software for gamers, today announced the NZXT S340 – Designed by Razer PC case. The chassis is the latest product to launch from the "Designed by Razer" licensing program, an initiative that provides for third-party production and sale of Razer-designed and -branded PC cases.
Razer opened the door to collaborations with case manufacturers last year. "Designed by Razer" candidates are subject to vetting by the award-winning Razer design and engineering team prior to approval. Once greenlit, the joint enterprise mobilizes Razer's design expertise and product engineering sensibilities.
The NZXT S340 – Designed by Razer PC case features an all-steel chassis with Razer signature green triple-headed snake logo on the front panel and the cable management bar. The compact form of the case sits two inches below competing towers with a Razer green power LED and underglow.
This latest in the line of cobranded cases offers Razer fans another premium NZXT case with distinct Razer design sensibilities to build into a beast and connect to an arsenal of Razer peripherals that will intimidate any opponent in-game or in real life.
"We had great success with our first collaboration with NZXT and the H440 – Designed by Razer PC case," says Min-Liang Tan, Razer co-founder and CEO. "Our team couldn't wait to get started on the next project that brings premium NZXT PC cases with the iconic Razer design to PC gamers everywhere."
"Razer is a premier gamer brand whose influence on gaming technology is unparalleled," says Johnny Hou, CEO of NZXT. "Partnering with their team of gaming-minded engineers and industrial designers has helped drive us internally to push the boundaries of what is possible inside a PC case."
The NZXT H440 – Designed by Razer was the first licensed desktop case for Razer. Razer's history in the systems space includes its award-winning Razer Blade line of laptops and the Razer Edge tablet, which won an unprecedented three Best of CES awards at its debut. The company's fully modular Project Christine concept set a future standard for desktop PC design, earning the official CES "Best PC" award in 2014.
For more information about the NZXT S340 – Designed by Razer PC case, please visit: http://razerzone.com/gaming-systems/S340.
Interested case manufacturers can contact Razer to find out more about how to be eligible for the program. 
Designed by Razer features:
Front panel featuring back-lit Razer's triple-headed snake logo
Cable management bar with Razer's triple-headed snake logo
Green power LED
Green underglow LED with switch located in the rear
PCI slot base cover for a flush look and funneled airflow
Razer signature green USB 3.0 ports
Tinted window panel
Product features:
360 degrees of steel casing surrounding the all-steel chassis
Grommet-less cable management bar keeps cables tidy with ease
Full 280 mm radiator support in the front
Compact form factor coming in two inches below competing mid towers
Detailed design and engineering with tons of small touches
Very easy to build in for new and experienced users alike
Integrated PSU shroud for an ultra-clean build
Fully filtered intakes
Includes 2x 120 mm FN V2 fans, top and rear
Price: USD 99.99 
Availability: NZXT Armory Store – Pre-orders start today, shipping early September – https://store.nzxt.com/