We reviewed NHL 15 last year, it was a bare-bones offering that left fans cold. The game would get updates that would try to right the wrongs, but it didn't quite fix things anyone wanted. The result of NHL 16 is essentially a do-over, but this is not NHL 15.5, it is very much NHL 16 and is proud of itself. The thrill of passing the puck, and getting that slapshot opposite of the goalie's position, and that satisfying "ting!" off of the goalpost never gets old as this is the best on-ice action the series has seen in a good while.
NHL 16's on-ice trainer teaches you everything without having to load a tutorial. In doing so, provides moment to moment insight on what you're doing well, or not well. This visual representation is great feedback and is something I still keep on, even if there's a bit of "Counter-Strike hitbox cheating" type of feeling going on. Though, for those looking for something more traditional, there is a practice mode for specific scenarios. You can even swap out to different scenarios without without reloading the entire hockey rink.
NHL 16 is filled to the brim with modes, while there's nothing new here, they are old favorites with new twists to make them not feel recycled. The Be A Pro mode is thankfully back, where you can play a specific position on a team, either one of your choosing or one you get drafted too. You can customize your gear, down to the color, for some really auspicious looking characters on the ice. The Be A GM (Franchise) mode is a great managerial simulator that really exemplifies strategy from a micro level. Season Play is a lengthy affair, but allows you to play as your favorite team through an entire season of NHL, or other leagues if you so desire. If you want a more thrilling experience, you can start a Playoff series sans the Season. And what playoff wouldn't be complete without growing beards? Yes, a trend for 2015 has been fully realized in NHL 16 that has beard growth for each player that is unique to them. What works well for Madden and FIFA does well here, and that's Hockey Ultimate Team, or HUT.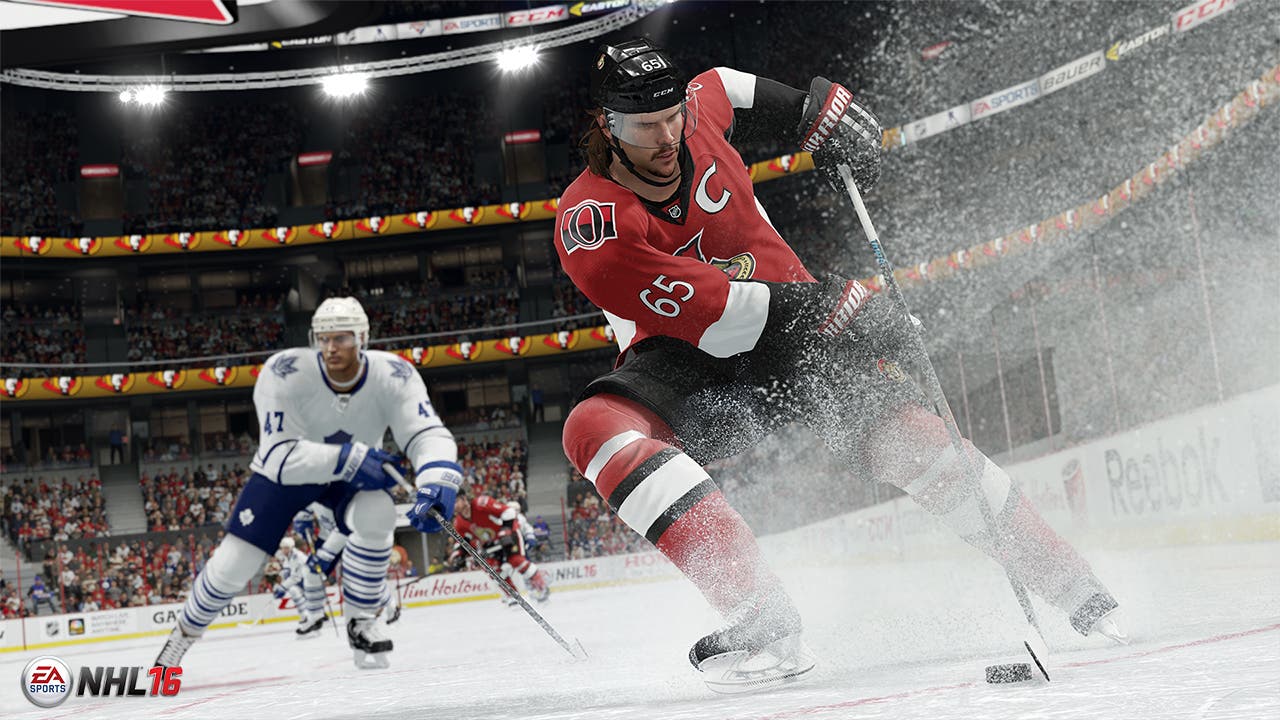 The on-ice action is as good as ever. The hits feel powerful and truly impactful and reactive to you. The simulation controls feel fluid and responsive. Arcade gives you that speed from the Super NES and Genesis days, but loses the realism, understandably. There's oddities when playing, such as offensive players hanging by the goalie too long and causing the stoppage of play. There isn't enough time to switch and get them to pull off so that they pass the puck to another player without having the whistle blown. I feel it happens more often than it should. After each period, you'll be given coaching tips based on how you play, broken down by offensive, defensive, and teamwork. The coach unrealistically chastises me for losing control of the puck, even going into 3rd period with a decisive victory. Surely, the tide can change I could lose if I'm not careful. But it just seems the tips aren't looking at the whole picture, and come off annoying and not entirely helpful.
The presentation of NHL 16 is absolutely on-point with television broadcasts, and the association and branding of NBC Sports certainly helps with that. The announcing by Eddie Eddie Olczyk and Mike "Doc" Emrick really give authenticity to what is being seen on-screen. The jarring part is that during the start of each game, we're treated to FMV of them sitting in front of a green screen talking about the two teams about to face-off. While the visual fidelity of NHL 16 is fantastic, it is not at the same level as the video of the announcers, making for a disconnected experience. However, once you're playing, the play-by-play is as fast as the action, if not for some repetitive commentary.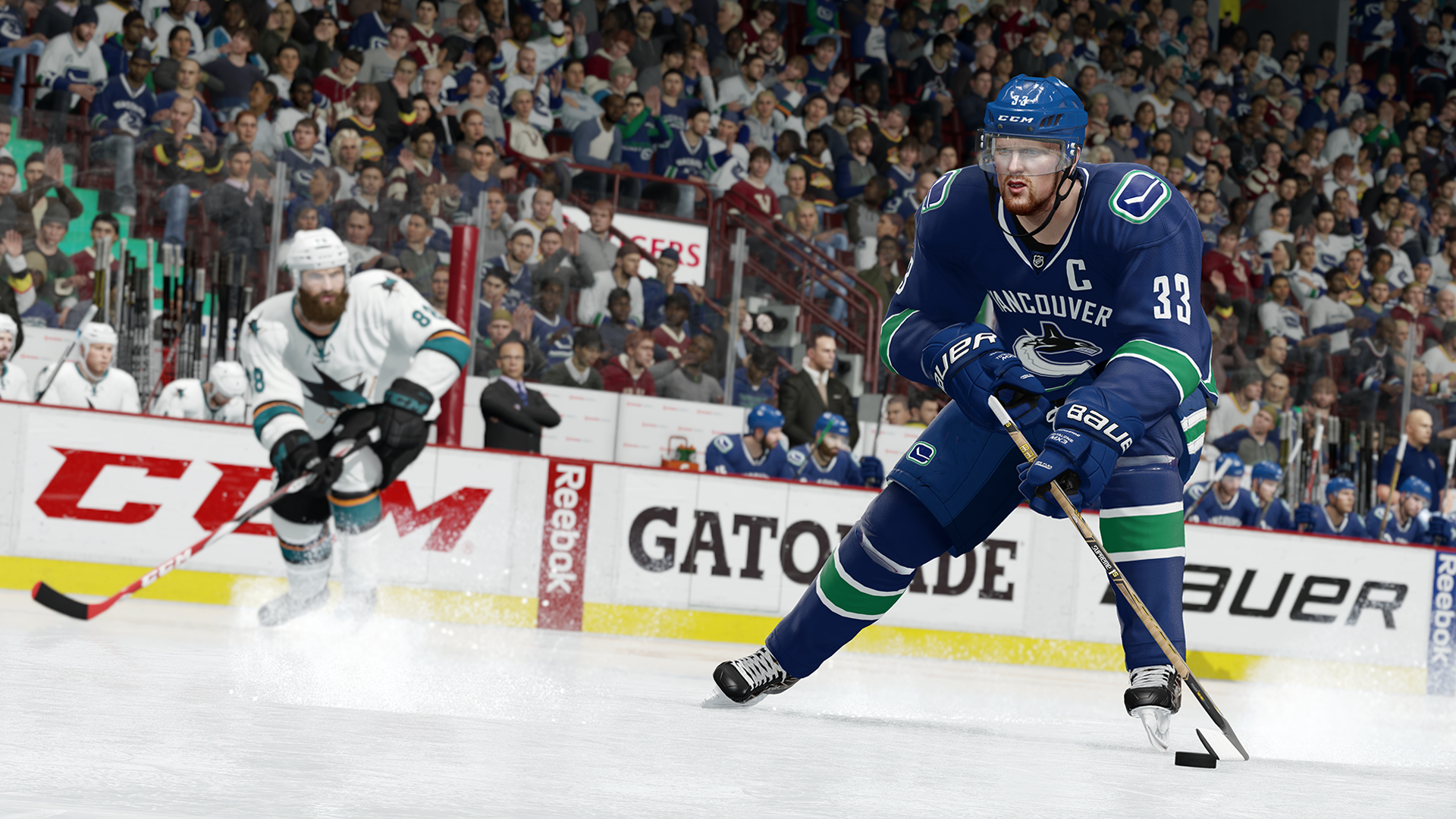 NHL 16 isn't perfect, often suffering from stuttering within menus, and transitioning from in-game to play and back. There's also some framerate issues that can't be ignored, but rarely happens during play. I have a replay of my goalie sliding directly left without moving, locked into position – he looked possessed. These are issues that don't kill the experience, but certainly makes you wish things were better ironed out.
The return of shootouts is a pleasing one, this can be done offline or online, and allow you to practice your skills when coming up on a goalie, and practicing your goalie skills yourself. It's a neat mode that can be played and reloaded quickly. I'm disappointed to report that the online is hit or miss, as I was often dropped from online games. Now, whether this is the message I receive when someone quits, I don't know. All I do know, is that my connection was rock solid during these times and all other devices were working when I was disconnected.
NHL 16 is what NHL 15 should have been, and there's enough new going around that makes it a worthwhile game to own for any hockey fan. While the one-time NHL 94 mode was present in NHL 14, is no doubt missed here. NHL 16 is great looking, great playing, and ultimately on the right track for the series going forward featuring plentiful modes. More than a roster update, NHL 16 includes all of the essential modes and features that a current-generation hockey game should have, and will keep you busy long until next season begins.
A PlayStation 4 copy was provided by the EA for review purposes