Danish manufacturer, SteelSeries has been dominating the market, especially in the eSports scene. Now with a bevy of hardware across headsets, mice, keyboards, mouse pads, controllers, and even apparel. SteelSeries is a brand to be reckoned with. The SteelSeries Apex M800 Mechanical Gaming Keyboard has been around for the better part of 2015, but is it one of the better keyboards you can have? Depends on your usage of this keyboard, but yes, it is.
I first saw the Apex M800 at E3 this year, and the features of this RGB keyboard certainly impressed me. Having it for myself in my home is no different. I'm impressed having this brightly glowing keyboard in its place, if not a bit surprised by its size. It's a rather wide keyboard, not only because of the row of macro keys, but the beveling on the edges is thick, and a bit unnecessary. The font the allows for the 16.8 million possible colors come through is the best, legible font I've seen, and is large without being overbearing.
I'm still going through an adjustment period with the keyboard, for both typing and having the keys so close together. The spacebar is massive, and I feel it could have used a horizontal line that lit up to still let you know where it is. In a completely dark room, it's just a black void where if some keys aren't lit, can be annoying. Thankfully there's no glow between the keys that makes your eyes bleed from the reflecting glow around each key. It's a clean look when looking at the Apex M800 from afar and up close.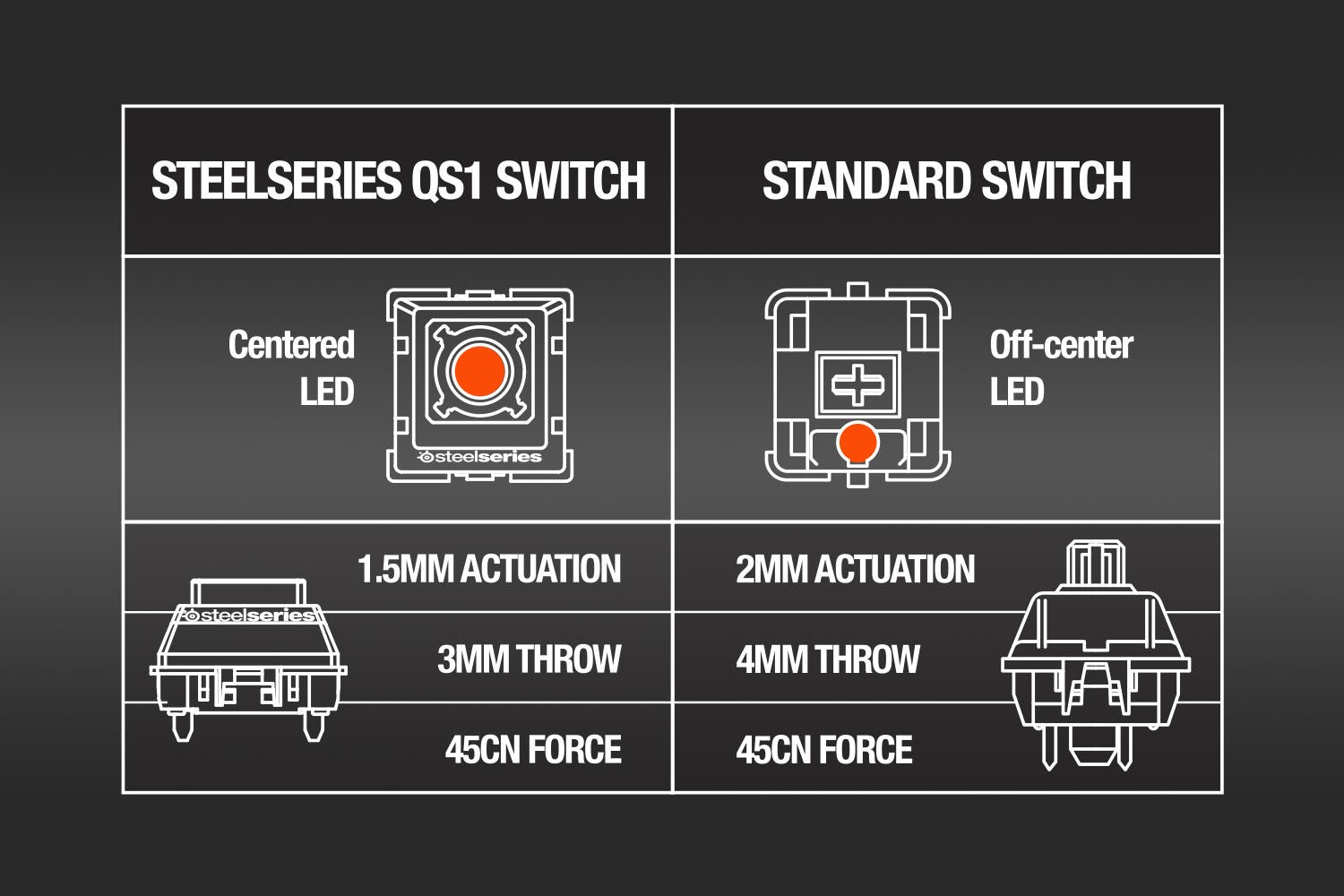 The keys that the SteelSeries Apex M800 uses are proprietary, called "QS1 switches". This is a response and similarity to the popular Cherry MX Red switches that most mechanical keyboards offer. I found the switches to have a lower actuation as advertised, but would often result me in mistyping or accidentally pressing a key as my fingers went across its surface. The key caps themselves are soft like laptop keys, but there's that noticeable but quieter clack of a mechanical key with that rapid response you'd expect.
As mentioned, the left side of the keyboard is dedicated to a vertical row of macro keys. The placement and usage of the "0" macro key was almost always pressed instead of Escape key, which led to me wondering why I wasn't backing out of a game menu, and when I looked down, I had realized. It's again, a learning curve, but a weird placement for that key. This game also serves as a gaming keyboard on Mac, as you can replace the corresponding keys with Command, Option, and Alt keycaps instead of the default PC/Windows-based ones. Included are bigger rubber feet to replace the existing ones if you wanted to elevate the back of the keyboard for a bigger slant. Lastly, the "SteelSeries" logo button is essentially a Function (Fn) button that lets you access multimedia controls, volume, and toggle levels of brightness of the keyboard LEDs. While a lot of these features and capabilities are expected, they're all here at no extra cost. Even if you buy the keyboard off the official website, you can get a wrist-rest with the keyboard, which wasn't present in this review unit.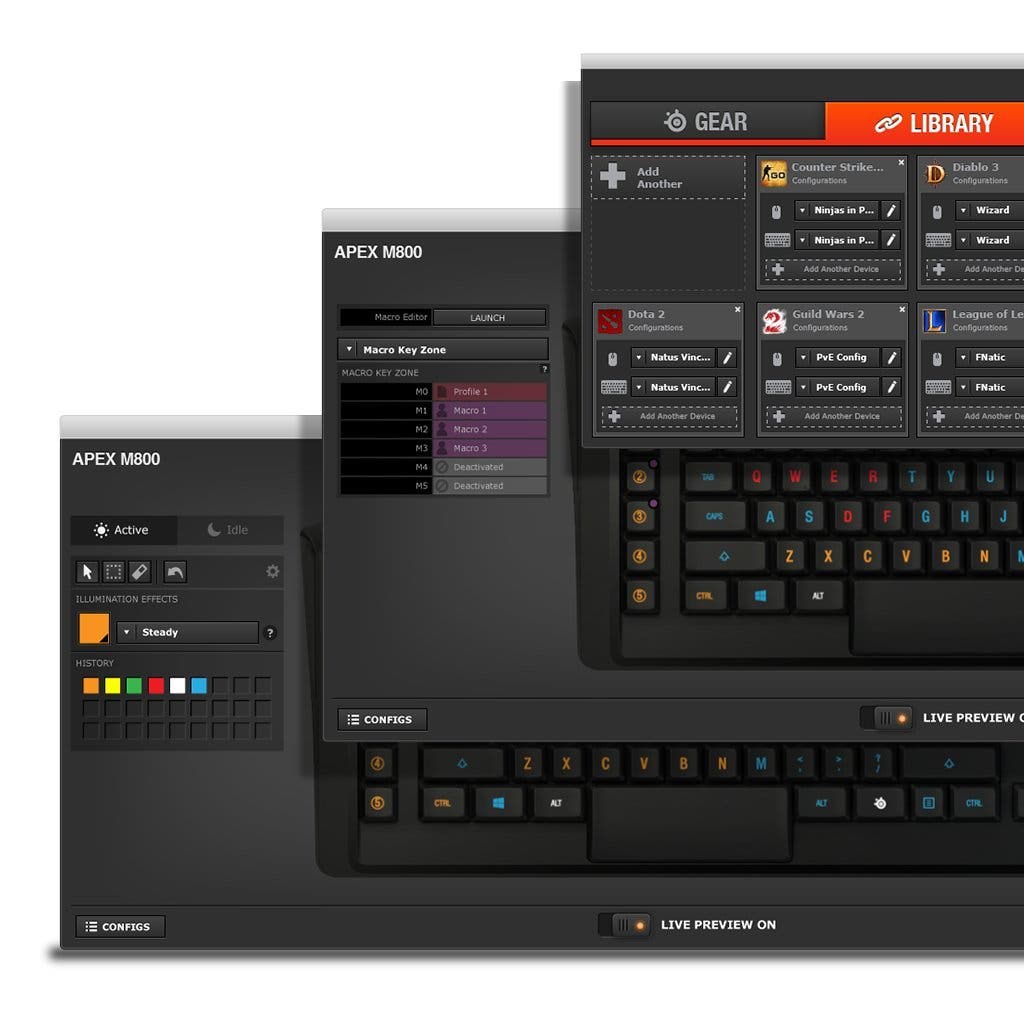 Using the Apex M800 with its default settings without software is fine. But installing the SteelSeries Engine 3 software unlocks this keyboards visual potential, and is fully customizable if you do. Want to display the American Flag, Danish Flag, pulsating colors, or a discotheque pattern of colors, you can totally do that. There's also an idle mode, or as I like to call, a screensaver mode for the keyboard that after a period of inactivity, can do something very specific. It's just an excuse (a great one) to have multiple RGB displays for the keyboard. The LED illumination is really bright and can be really expressive, allowing you to create your own lighting.
An interesting section of the SteelSeries Engine 3 is GameSense. It is something I wish would be expanded a bit more though. Right now there's only support for Counter-Strike: Global Offensive, DOTA 2, and Minecraft. For CS:GO, your health, cash, and ammo is shown using colors on the keyboard. For Minecraft, you have to install a mod for it to work, but when it does, gives you some really useful stats, but is somewhat redundant with all of the stuff already in the HUD.
The software is easy to use and understand. And if you have other SteelSeries devices, the software is complimentary and will show your entire "family" of gear, allowing you to customize to the extent of what they are capable of. Being able to switch to different devices and make changes is super easy.
The Apex M800 comes with a braided USB cable that has two connectors that go into to your PC. Unlike the Corsair STRAFE, the SteelSeries Apex M800 gets two USB ports for devices. The . If you won't be plugging in any ancillary devices, you can save a USB port on your main PC. You essentially get a 2-port HUB through your keyboard, and that's pretty rad.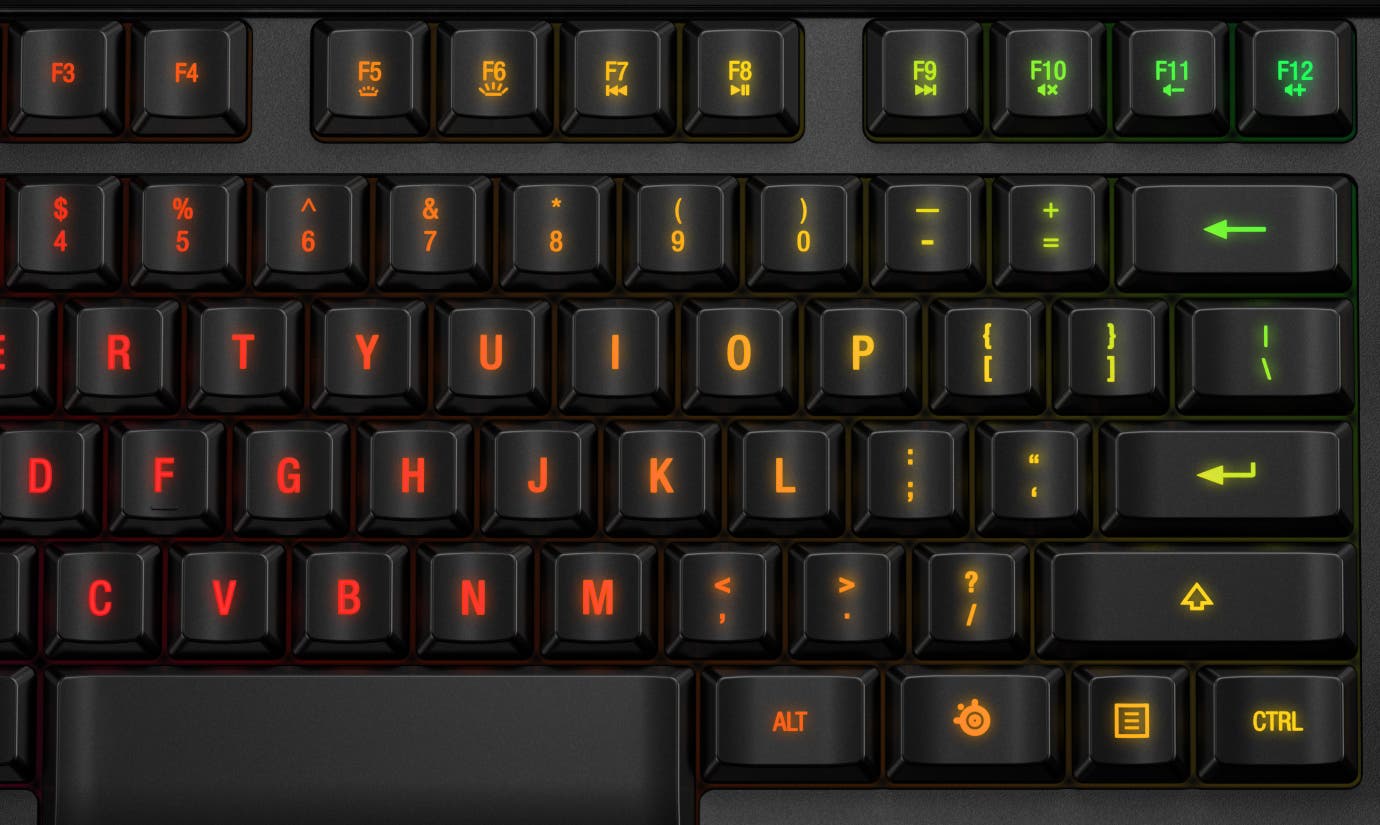 As someone who games on PC as well has to do quite a l lot of typing, I'm sure bummed out by how many mistakes I inadvertently make while using this keyboard. I'm still getting used to it, but the placement of some key still trips me up. The future of GameSense is only at its beginning stages, and I'm curious to see how it develops for other games and becomes vital. This is a solidly constructed keyboard with responsive keys without the massively loud keystrokes (unless you want that) with software that's the best I've used for customizing hardware. This is an expensive keyboard for most gamers, as there are cheaper alternatives with and without RGB. The SteelSeries Apex M800 is still one of the best keyboards around.
This hardware unit was provided by SteelSeries for review purposes