Saitek, one of the foremost go-to companies for PC hardware in flight sticks and other peripherals, is getting their overalls dirty with the Heavy Equipment Precision Control System. It's no-doubt a pricey piece of hardware that's essential for Farming Simulator 15 owners, but manages to hold some surprises in being compatible with other PC games, too. It is something that can appear hokey at first glance, but after spending some quality time with it, I can't imagine playing Farming Simulator 15 without it.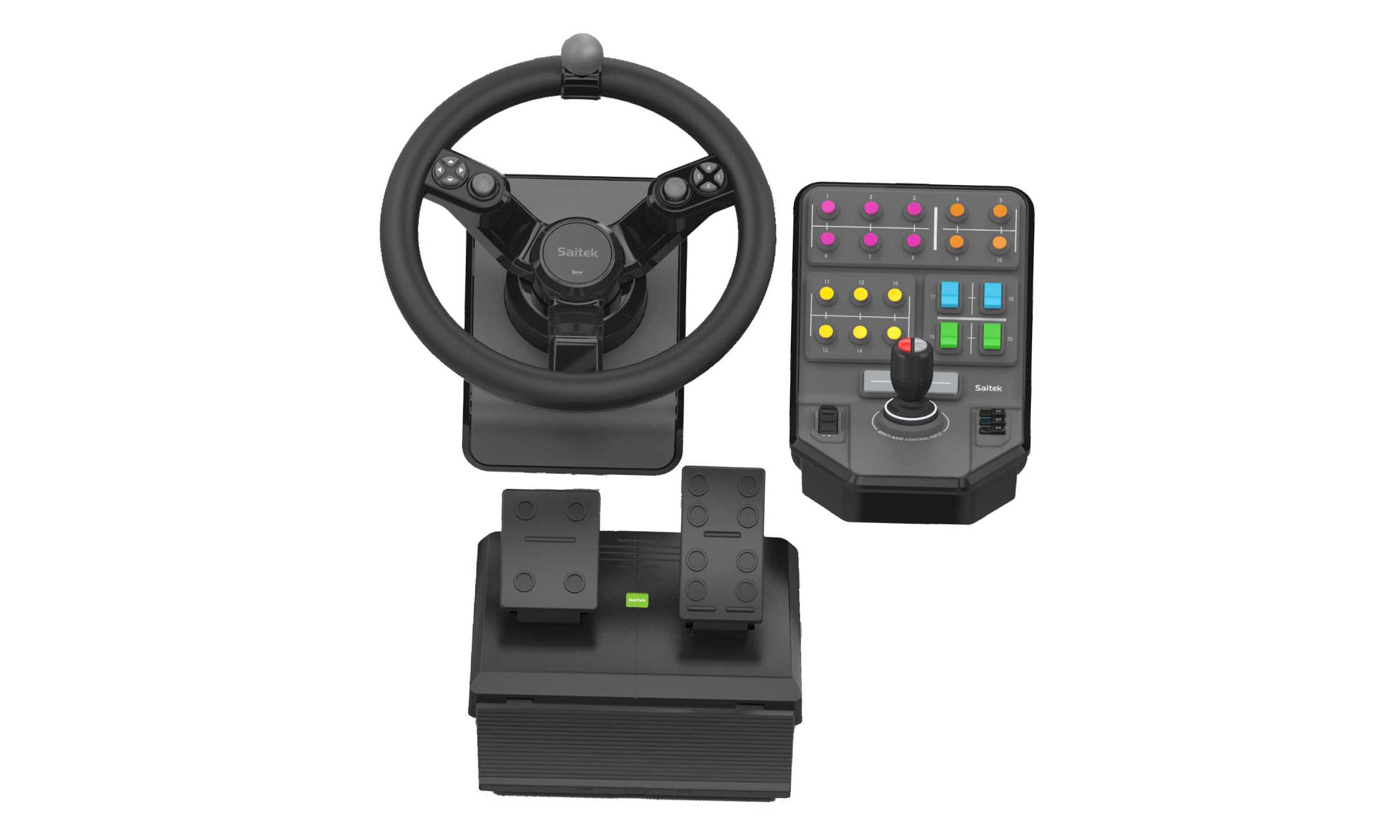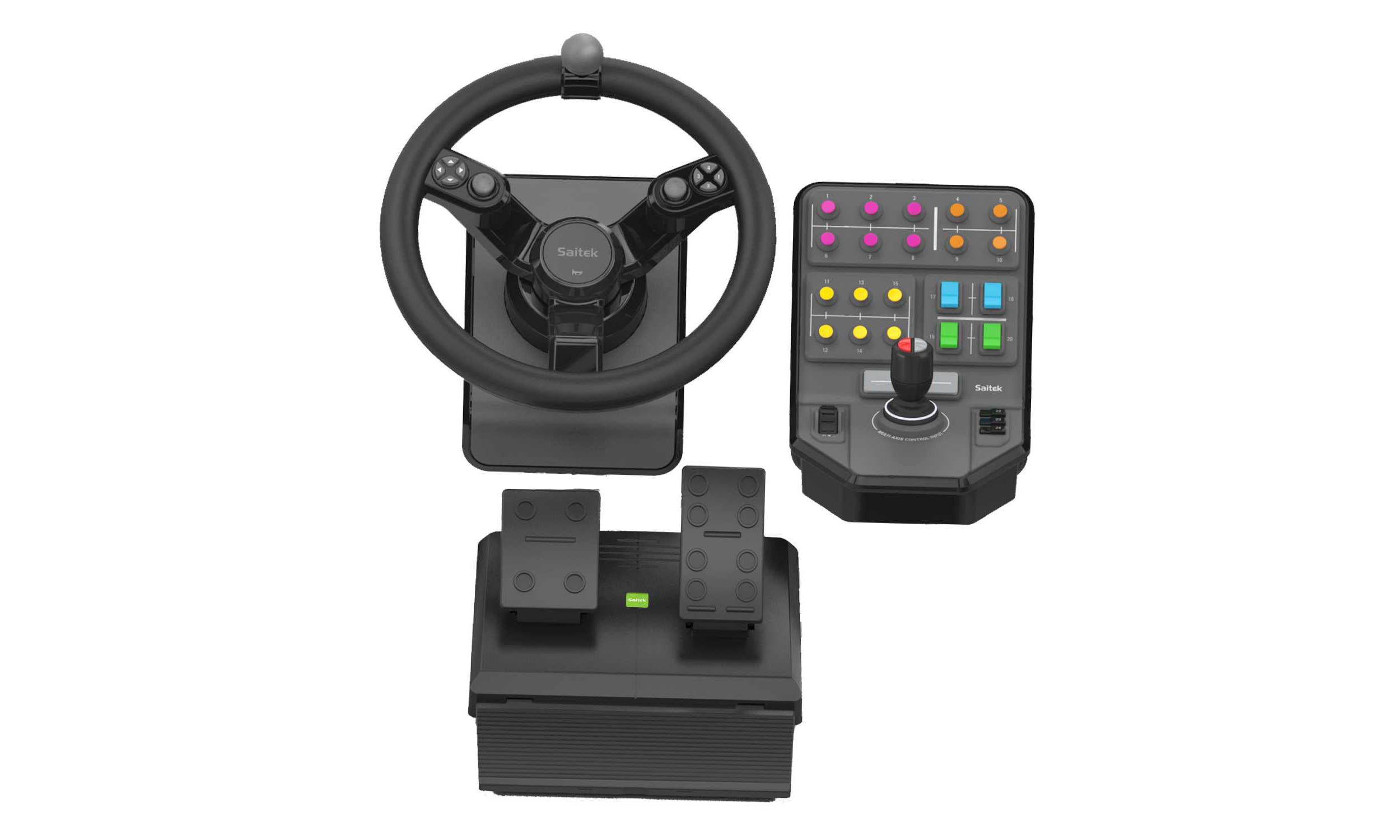 I should preface that Saitek's Heavy Equipment Precision Control System doesn't actually come with Farming Simulator 15. While you'd expect there's a bundle that would, it just doesn't. The implication is that you're a fan of the game already and need some control and immersion. There's three parts to this, a wheel, pedals, and the control unit. The wheel and pedals alone are $150, and the control unit is also $150, together or separately they are $300 to get it all. That's a hefty price no matter which way you slice, and to enjoy Farming Simulator 15 to the fullest, I would recommend both wheels & pedals with the control unit. It's either "all or nothing", as the package feels complete with all sections working in tandem.
Though, I will say that the control unit looks the "weakest" of the package, where all but one of the 30+ buttons light up. The toggle switches are just buttons, but it certainly looks the part. The wheel turns a whopping 900 degrees in its turning radius, and that's more than the racing wheel I have. The pedals are plastic, and do bend and twist, but under normal operation, shouldn't break or snap off. The pedal base expands for added grip on rug or carpets. To power it all, you'll need to utilize two open USB ports, and they are detected and installed swiftly on Windows 10 with no further tweaking. That type of plug 'n play was highly welcomed.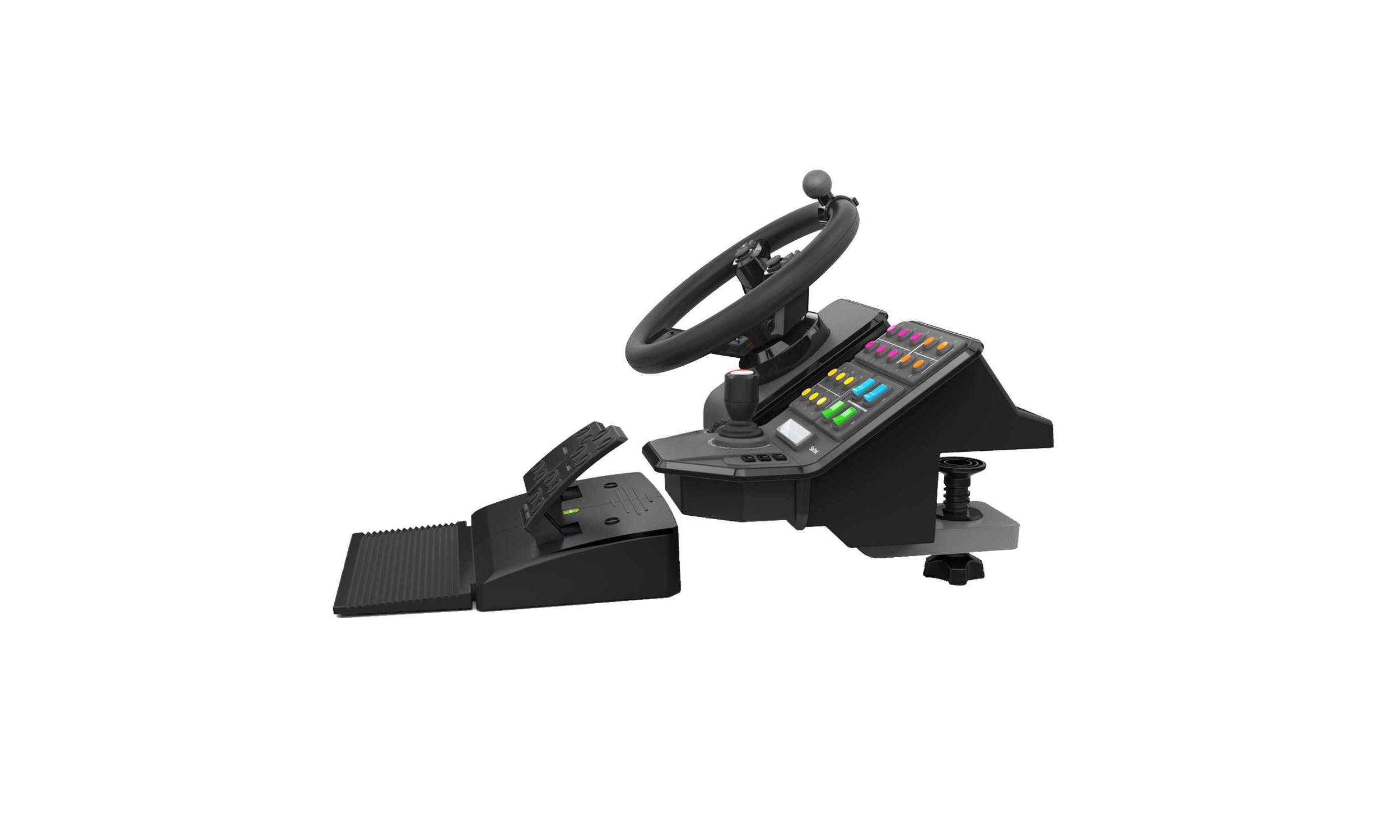 Farming Simulator 15 is a game I'm the least familiar with in terms of games with "Simulator" in the title of them. It's a game that allows you to run a farm from its humble beginnings into a profitable empire. Playing the game without the hardware, allowed me to see that just a gamepad or just a mouse and keyboard was sufficient, but it didn't feel quite right. What Saitek has done has helped bridge the simulator genre with immersion in a fantastic way. While the Heavy Equipment Precision Control System doesn't have force feedback, it feels like you're driving a tractor, combine, or any vehicle therein.
The wheel of the Heavy Equipment Precision Control System actually has straight-up Xbox 360 thumbsticks on it. It's a slick blending of a wheel with a gamepad built-in. The joystick on the control unit is a multi-purpose tool. It allows you to move the front part of a tractor to pick up hay bales, cut a tree down, or simply adjust the camera. The control panel makes it so you don't need a keyboard, and is intuitive to see what buttons are for what task, categorized by group and color. I'm undoubtedly impressed by its commitment to realism and order.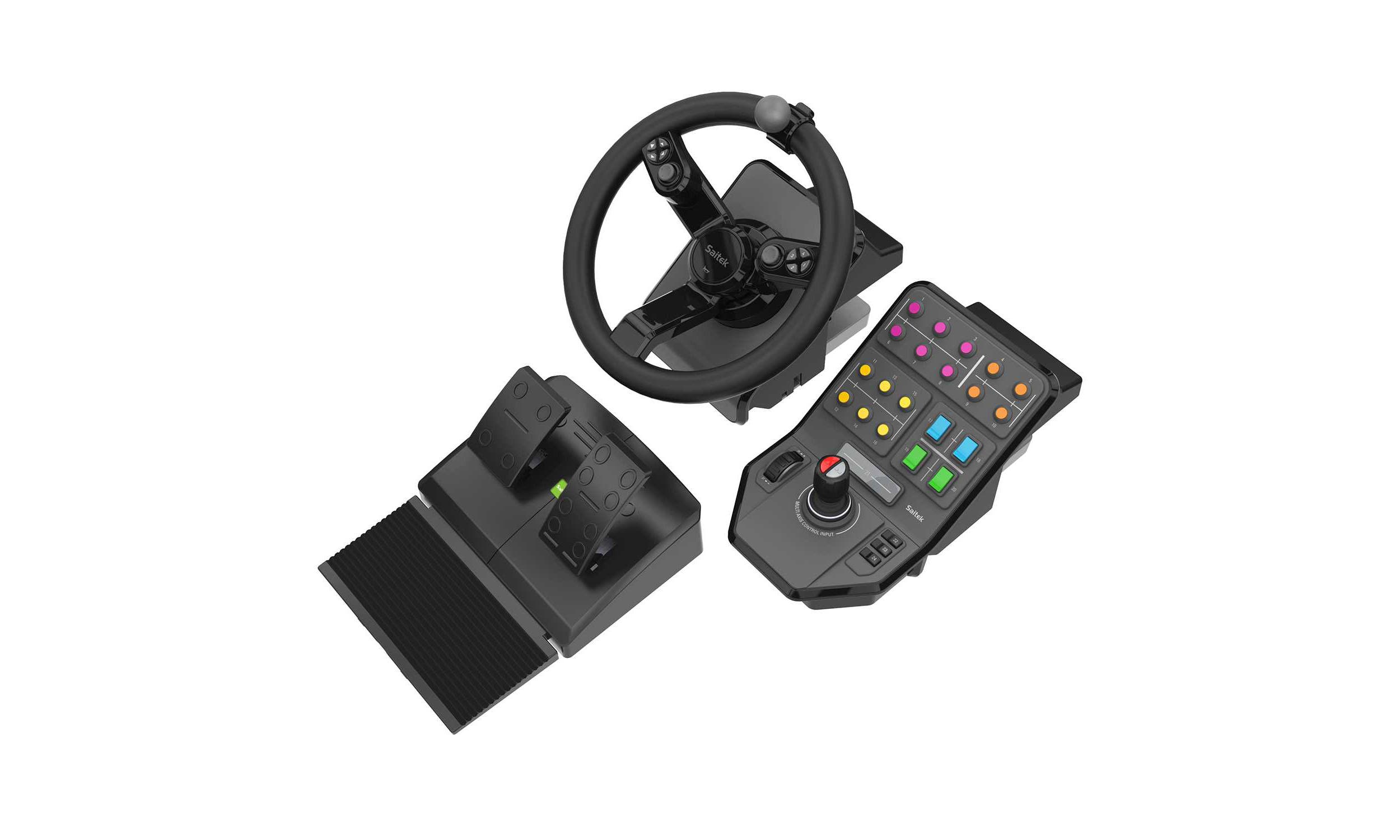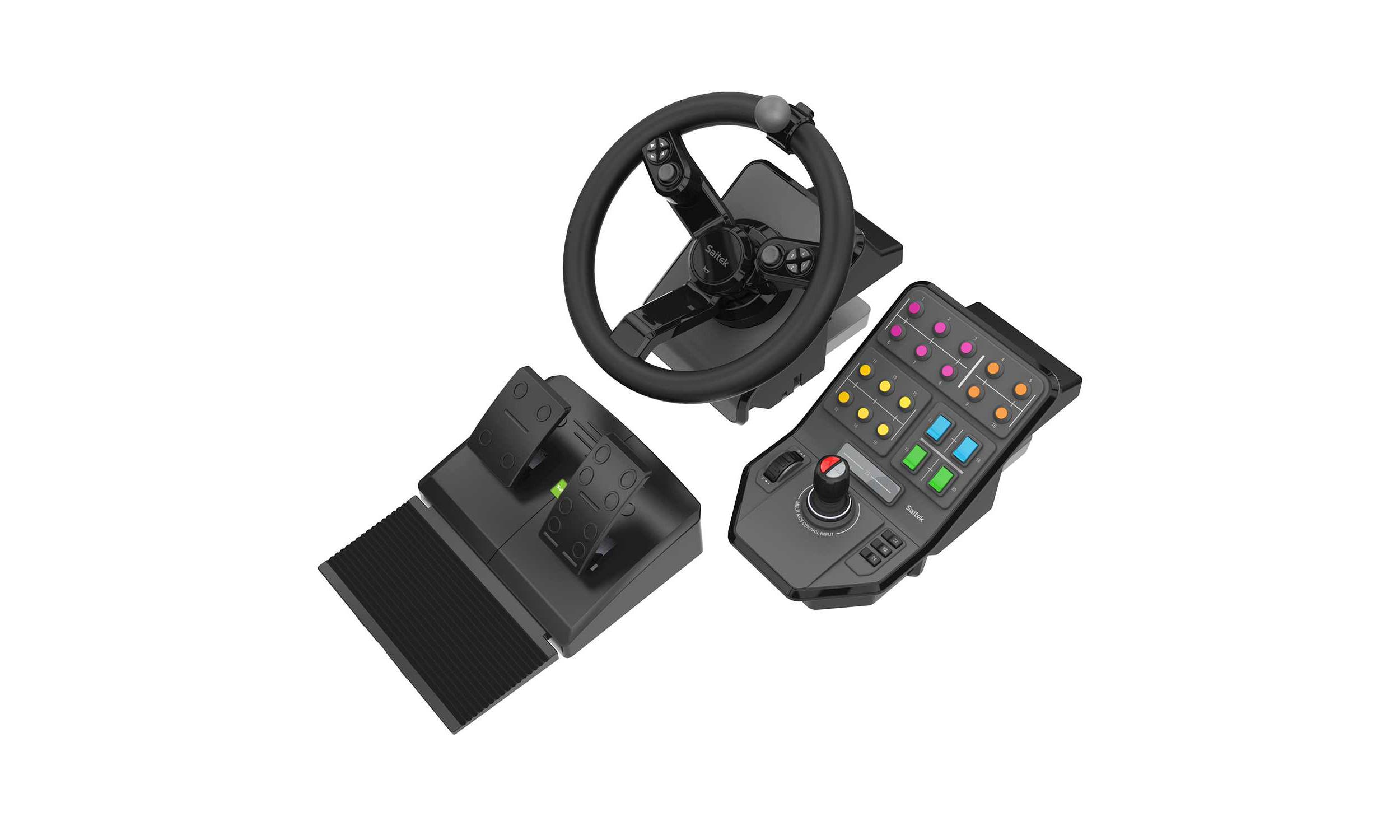 Surely this wheel, pedals, and control unit work for more than Farming Simulator 15, right? Actually, yes. I was surprised to find what games it was compatible for, and what it wasn't. Here's a breakdown of games I tested, and what parts of this system worked with them.
Train Simulator 16:

Steering Wheel: No
Pedals: No
Control Unit: Yes

Euro Truck Simulator 2:

Steering Wheel: Yes
Pedals: Yes
Control Unit: Yes

Elite: Dangerous:

Steering Wheel: Partial (the gamepad sections)
Pedals: No
Control Unit: Yes

Project CARS:

Steering Wheel: No
Pedals: No
Control Unit: No

DiRT Rally (Early Access):

Steering Wheel: Yes
Pedals: Yes
Control Unit: Yes
In my testing, I was very pleased with the results. As this is a set that you just hook up, and start playing, this was easy to test. Project CARS was a game I was surprised just didn't work at all. It has a specific set of wheels it works with, and this wasn't one of them. It does have an option for custom wheels, but it just wouldn't detect it, or calibrate for any reason. It's not a huge loss, as that's not what this is designed for, but because a racing game like DiRT Rally which is in Steam Early Access could detect it, it was strange that another that is fully released wouldn't. Elite: Dangerous is listed on the official website as being compatible, but it doesn't detail what is, because not all of it is. I was able to use the gamepad sections do the flying, use the control unit for buttons, and the joystick as well, a joystick of sorts. I think the game would be better served with a proper joystick and the control unit to really make the most of it. The closest game to Farming Simulator 15 that uses all parts of the Heavy Equipment Precision Control System was Euro Truck Simulator 2, as it felt the most natural as it isn't a racing game, and more about regular driving. This shows that the Heavy Equipment Precision Control System is versatile outside of its primary design, and that's simply a bonus.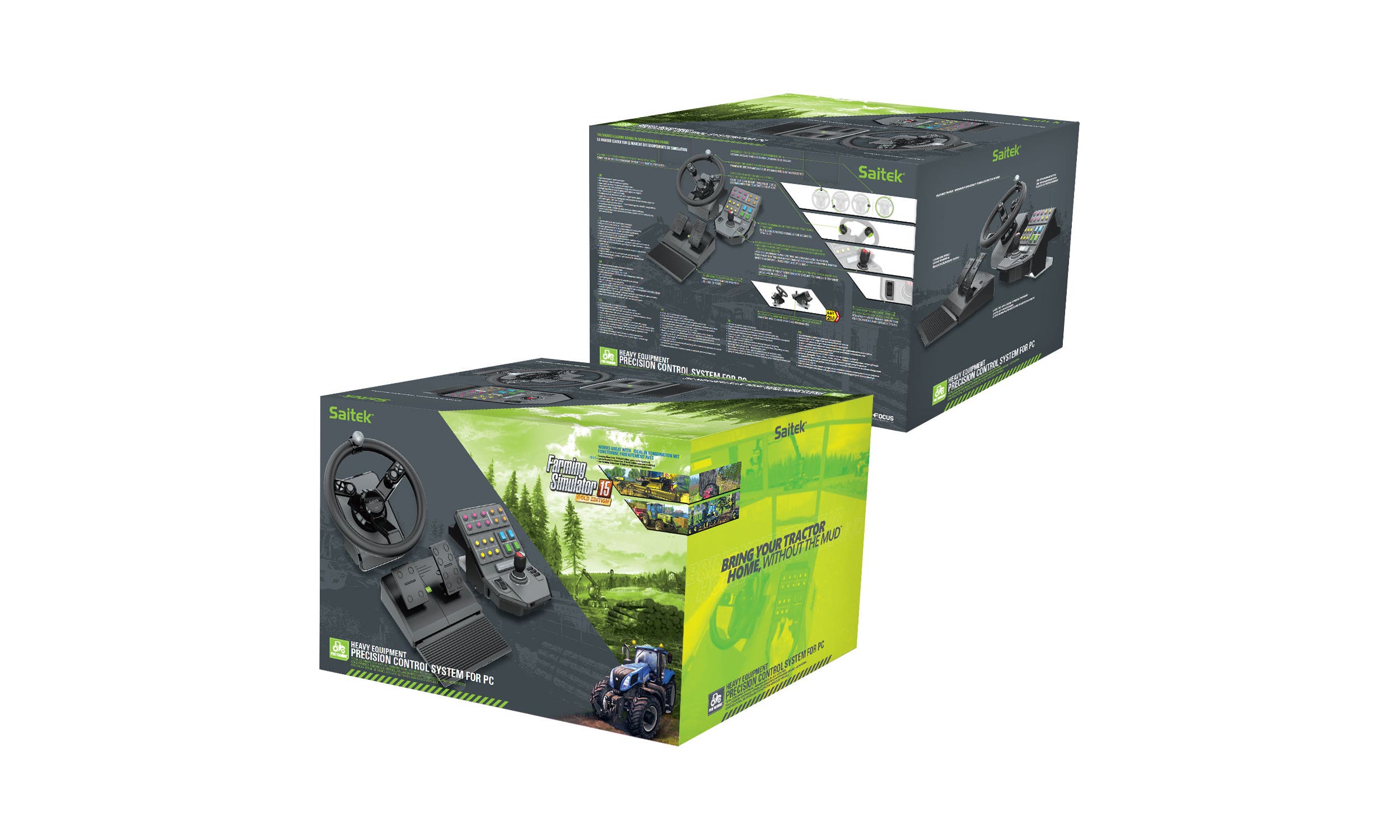 For these wheel and system's intended purpose, Saitek absolutely nailed it. The price for this equipment is certainly high, but this does a lot. There are other versions of this setup that doesn't include the control panel, but it adds to the immersion and completes the package. I think there's an added incentive for the games that this is compatible with. It does not replace a racing wheel setup, but if you play multiple games that revolves around driving and you don't miss a shifter, this is a good middle-ground – provided you play Farming Simulator 15, otherwise there's not a reason to get it. On its own, the Saitek Heavy Equipment Precision Control System has a great great design and construction almost worth of the full price for fans of Farming Simulator 15.
A hardware unit was provided for review purposes.