The VOID Surround Hybrid Stereo Gaming Headset with Dolby 7.1 USB Adapter is the newest headset in the VOID headset line-up from Corsair Gaming. Last year I reviewed the Corsair VOID Wireless Special Edition Yellowjacket, and really enjoyed the quality and delivery on PC and PlayStation 4. This headset is compatible with PC, Xbox One, PlayStation 4, and even tablets and mobile devices. This makes the headset universally flexible to your audio needs, and can go anywhere you do. The VOID Surround Hybrid Stereo Gaming Headset from Corsair also sees many improvements from its wireless predecessor, and is all the better for it.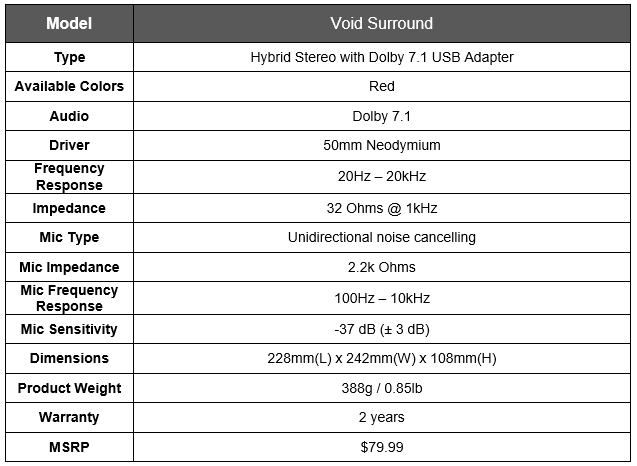 This wired headset is a hybrid of stereo and USB audio, depending what you use it for across PC, consoles, and mobile devices. It's got a striking red secondary color that isn't overbearing and provides quite the accent. This version of the headset only comes in red. You'll notice that this is not a RGB headset, which isn't a huge loss, but you'd think since it is powered by USB, it could produce some colors while in use. The headset itself in terms of buttons and dials are pretty bare bones, there's a mute button and volume dial. One thing to note is that the volume control on the headset is different than the volume settings on your PC.
This headset can work a bit differently on PC than it does on console, but the differences are noticeable but not too much of a gap with the exception of the ability of 7.1 audio on PC over stereo on console.
PC Usage:
You can plug the 3.5mm jack for stereo audio, but once you plug in the USB adapter on PC, you've "unlocked" the 7.1 Dolby Surround Sound. This is heavily reliant on the CUE (Corsair Utility Engine) software, where you then have to actually turn on the Dolby Surround Sound. It's here you can switch between presets and manual EQ settings. Since the headset does not do RGB, you can link the headset to a Corsair RGB keyboard for a visualizer of the audio you're hearing. I only have the Corsair STRAFE, so I cannot speak to it in action.
PS4/XB1/Mobile Usage:
Utilizing only the stereo 3.5mm jack, it'll plug in to both a PlayStation 4 and Xbox One controller. I was amazed that the Xbox One didn't need the stereo adapter to get any audio sent my way. Save for the lack of 5.1 or 7.1 audio, this stereo headset delivers for any need to deliver audio straight into your ears than out of your television or sound system. It works flawlessly and effortlessly.
With only reviewing the last VOID headset, I noticed notable fixes and improvements over the prior VOID headset. Such as the fact that the headband on the outward facing side prominently displays CORSAIR on it to make its branding stick out. The microfiber-wrapped memory foam ear pads feel softer and less prone to retaining indents. For instance, I regularly hang my headsets when not in use, and the VOID Wireless RGB would leave a long-lasting indent until it finally filled back in. The biggest fix is the microphone boom, CORSAIR stated that the microphone on the VOID Wireless could bend to be placed closer to your mouth by bending it, but that simply wasn't true and it would never stay. Now there's a permanent curve for the microphone to be right where it should be to allow for people to hear you clearly where as before I had to hold it close to my mouth with the VOID Wireless.
If you manage to own an Xbox One, a PlayStation 4, and a PC, this headset is perfect to use across all. If you have only one of these, it is also a great recommendation at its modest asking price. This is a great introductory or intermediate headset for gamers of all systems and uses. This is a great headset for versatility and mobility, and that cannot be understated.
A hardware unit was provided by Corsair for review purposes