Corsair's latest mouse is the third iteration on the M65, named the M65 Pro RGB. Aimed to be for pro gamers, and those who competitively play first-person shooters, is anything but. It's a well-rounded mouse that caters well to FPS games, but ensures accuracy across all other types of games without impedance. This is easily the best mouse Corsair has ever designed and released, and is now one of the best mice I've used in years.
The Corsair M65 Pro RGB is clearly designed for hardcore shooter fans. But those who don't play FPS or games competitively can rest easy in knowing that this mouse does so much more, but is shaped for right-handers. It also features a mouse that does 12000dpi. That level of sensitivity is likely too high for many, but will allow you to move great distances with little movement. I haven't found an application for using that high of a DPI just yet, but I'm glad it is there. Unlike the prior iterations of this mouse, this now uses an optical sensor to track over the antiquated and less accurate laser.
In testing the mouse, I played across FPS' like Tom Clancy's Rainbow Six Siege, The Culling, and Arma 3. The sniper button which is a candy red button that when pressed, temporarily adjusts the dpi to 400dpi for precise movement for those headsets, and once depressed lets you look at your previous DPI setting. With third-person games, I played Tom Clancy's The Division and HITMAN, both of which responded well. Again using the sniper button, aiming was improved significantly.
The aluminium chassis has a cold touch, but is wonderfully crafted. It's skeletal backing where the colored lighting can shine through looks great. The back of mouse feels chopped off as compared to other mice where my palm could rest easier, but it was something that I was able to get used to in a week's time.
The Corsair M65 Pro RGB has weight adjustments, with it being its heaviest and balanced out of the box. You can adjust the weights and move them to the back or more to the front to cater to how you want. It's weird to get excited about a scroll-wheel, but here I am. The scroll-wheel feels wonderful to use. The underside of the mouse has numerous and wide glidepads for this to run across the surface of any mousepad or mat you have. I'm a huge fan of braided USB cables, and this one seems positively durable.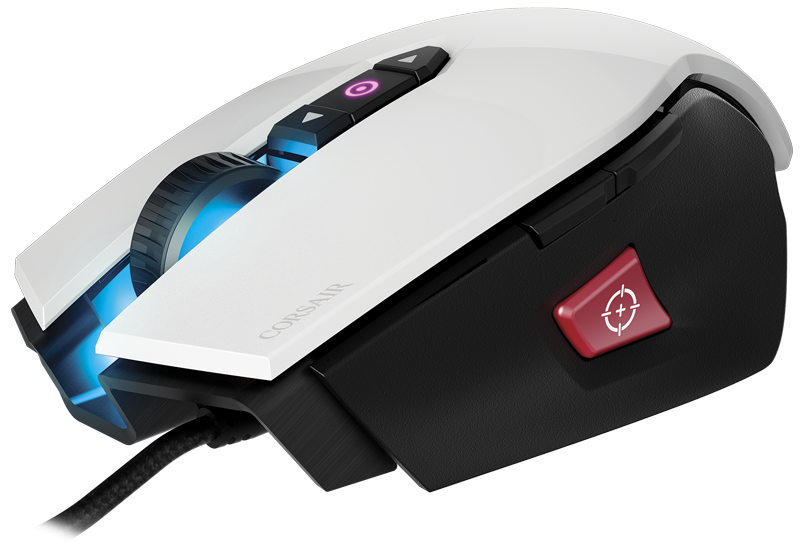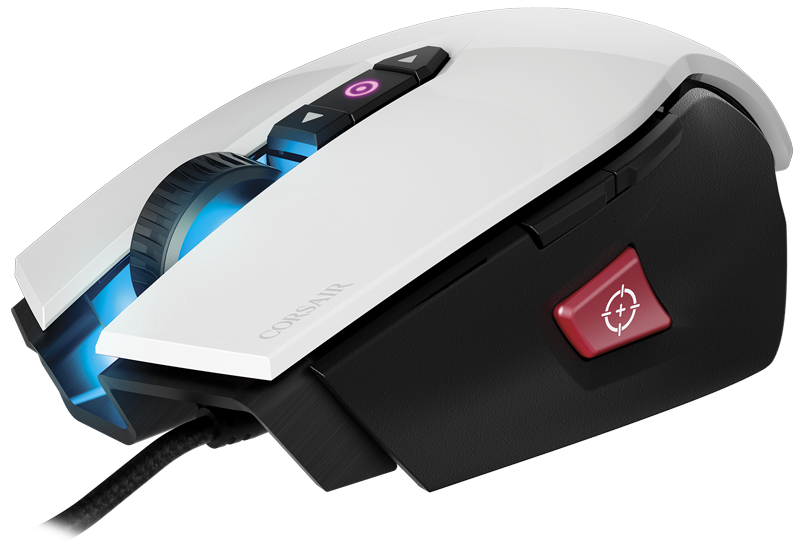 As with any recent release of Corsair hardware, it is highly recommended you have the Corsair Utility Engine (CUE) software installed. This will allow you to customize the colors of the mouse, DPI sensitivity, and calibrate the mouse for whatever surface you have. The Corsair M65 Pro RGB has the ability to change your DPI on-the-fly, which are color-coded. The defaults weren't intuitive to know which setting on I was on, so I modified the colors for each of the five DPI settings for a cold-to-hot system of colors of low-to-high DPI settings.

The Corsair M65 Pro RGB is the best mouse I've used in recent memory. It has dethroned the mouse I have been using for years and does everything I need it to, without anything extra or overbearing. It's lightweight, responsive, and mesmerizing to see its vivid colors cycle. You don't have to be a professional gamer to enjoy its benefits and responsiveness. The Corsair M65 Pro RGB is priced just right, and is the right mouse to be connected to your PC.
A hardware unit was provided for review purposes.