Hipster Whale's take on PAC-MAN with PAC-MAN 256 was an instant hit on mobile. The mobile version was free, but with ads. If you wanted extra currency, you could watch an ad, or you'd have to wait for a reward. PAC-MAN 256 eschews all of that to prove it's a game that can stand without ad support. It is an endless runner (of sorts) that has you attempting to gain a high score while unlocking power-ups to ensure your place atop the leaderboard. It's such a unique and exciting way to play, you'll have a hard time stopping.
PAC-MAN 256 doesn't change things up in terms of playing it. It's still all about avoiding ghosts, collecting PAC-DOTS, and grabbing a power pellet at the right time to eat ghosts for massive point boosts. Additional points can be earned by eating fruits to add to your multiplier. This time, a new enemy has emerged, inspired by the kill screen bug from the original arcade game, the glitch creeps its way up from the bottom, forcing you to keep moving at all costs. This introduces a necessary fear and specific pace to the game, and you can't grab everything, with so many obstacles to avoid, requires a lot of thinking.
While the game is an endless run labyrinth, you can outfit the board with ten differently themed levels. You can have this static or selected on random with each playthrough. You'll see PAC-MAN aesthetics from the original arcade, from PAC-MAN Championship Edition DX (PAC-MAN CE DX), and Hipster Whale's own Crossy Road.
PAC-MAN 256 is thankfully devoid of any ads or any free-to-play nonsense that gets in the way of the fun on the mobile version. There are twenty power-ups to unlock and use, but only three of them at a time. power-ups, level them up. The game uses coins as its currency for the aforementioned power-up leveling, and can be earned just by playing, as well as completing challenges.
The game is much livelier than other versions, with challenges to beat and ever-present live leaderboard that's comparing you to your friends, and showing when you beat their run. PAC-MAN 256 could really use a quick restart on death, though. New to this version of the game is the addition of local multiplayer. Now you and three other players can get together to compete locally and see how far you can go before death.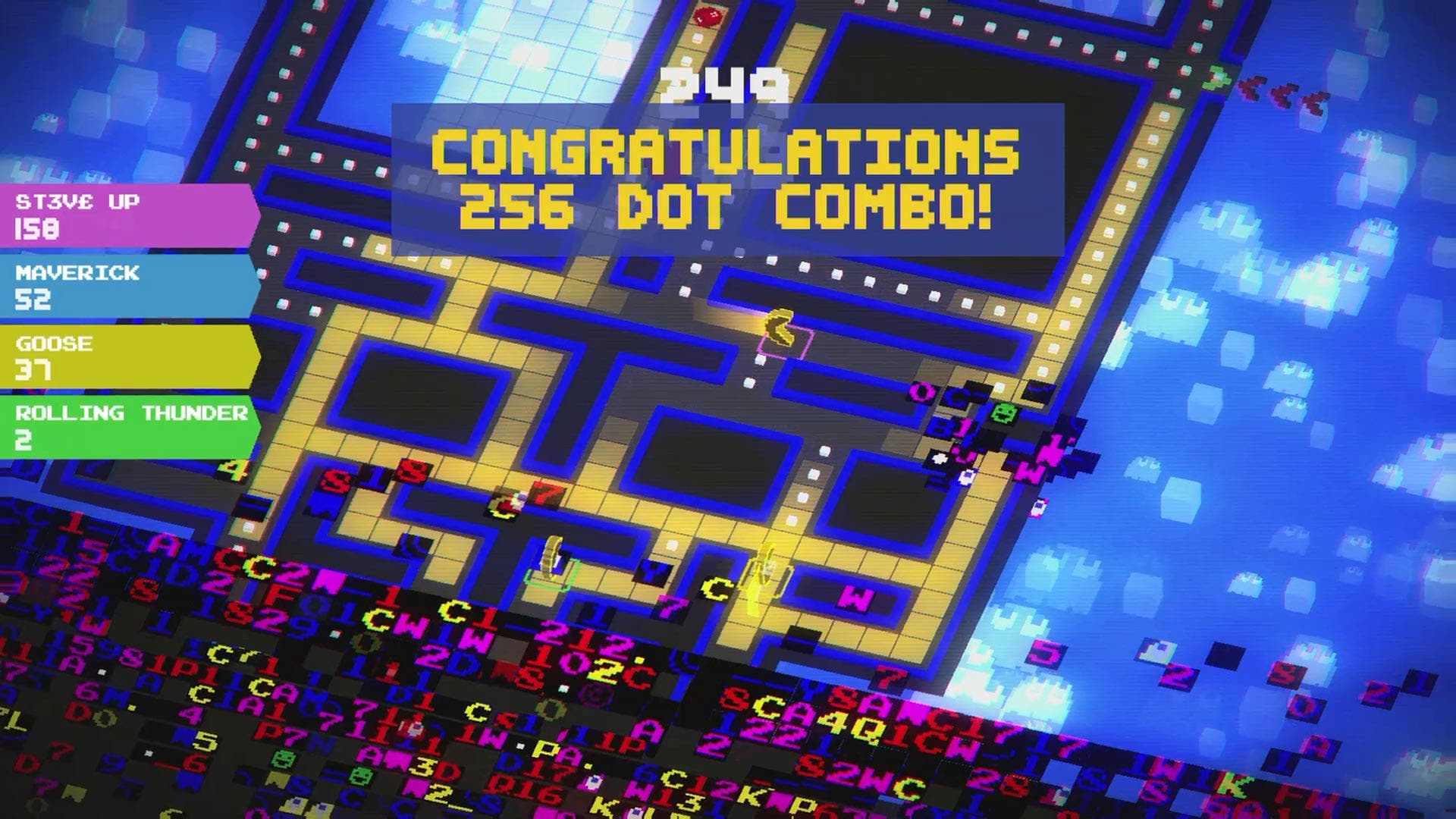 PAC-MAN 256 is a port of a mobile game, but not a bad one. It's not very deep, but it is rewarding and fun for however long you put into it. The power-ups are exciting and strategic opportunities, and the lack of its free-to-play portions really help it excel. Its price-tag is no slouch either, making the barrier for entry low, and the excitement high. PAC-MAN has never been more fun, I can't recommend it more. PAC-MAN 256 evolves PAC-MAN in ways I wouldn't have thought of, but is really exciting for the future of.
Retails for: $4.99, Recommended Purchase Price: $4.99
An Xbox One code was provided by the publisher for review purposes.