Much like Red Bull during the 2015 season, Codemasters didn't have as good of an F1 game as they could have, as many features were culled and the experienced suffered from what seemed like a "filler" game as the series shifted from old to new consoles. Though F1 2015 looked and played better than prior entries, it just lacked the longevity the games have been known for. Codemasters seemed to have learned from past mistakes. F1 2016 isn't perfect, but it is a huge leap forward for the series, the sport, and the players who will get to enjoy a fully-featured FIA Formula One game in years.
Codemasters must have given some introspection into their F1 games, because this year's entry takes a deep dive into the sport. For starters, you can now 'manual start', a mini-game of sorts whereby you hold the clutch and modicum of throttle and maintain it through the countdown tree. Another manual process is required when pitting, but is simple as making sure you're below 50mph when entering or take a time penalty at the end of the race. New to 2016 for both the game and the F1 season, there's the Virtual Safety Car which doesn't place a physical car onto the track but rather a delta time, and true to life, you must stay within the delta given and not exceed it. There's also the sport-mandated formation laps, that are great to get heat onto your wheels much easier. Another new feature, is wheel tethers. They are supposed to keep your car's wheels attached to you in the event of a crash, but I've seen them come off completely, so that could just be due to the force of it. All of the additions to F1 2016 are based off the real-world changes made, but they all translate well.
There's a lot of new to F1 2016, but the most exciting feature is a 10-season career mode. The mode itself last year was only one season and rather sparse in terms of what you actually did. F1 2016 does have a character creator when starting your career mode, normal or pro, but customization is rather slim – there are no female avatars, and all characters are just presets. You do see yourself often enough, but if they don't look like you 100%, I never found it to be a big deal. Career mode features an office environment to handle all the management, and gives you a laptop to maintain various strategies, goals, and other data, but there's are a lot of unnecessary cutscenes where people are talking to you about things you've done and slows down what should otherwise a short interstitial area between races. Most of the office-oriented stuff is monotonous and uninteresting, but it is a big and helpful part of the game.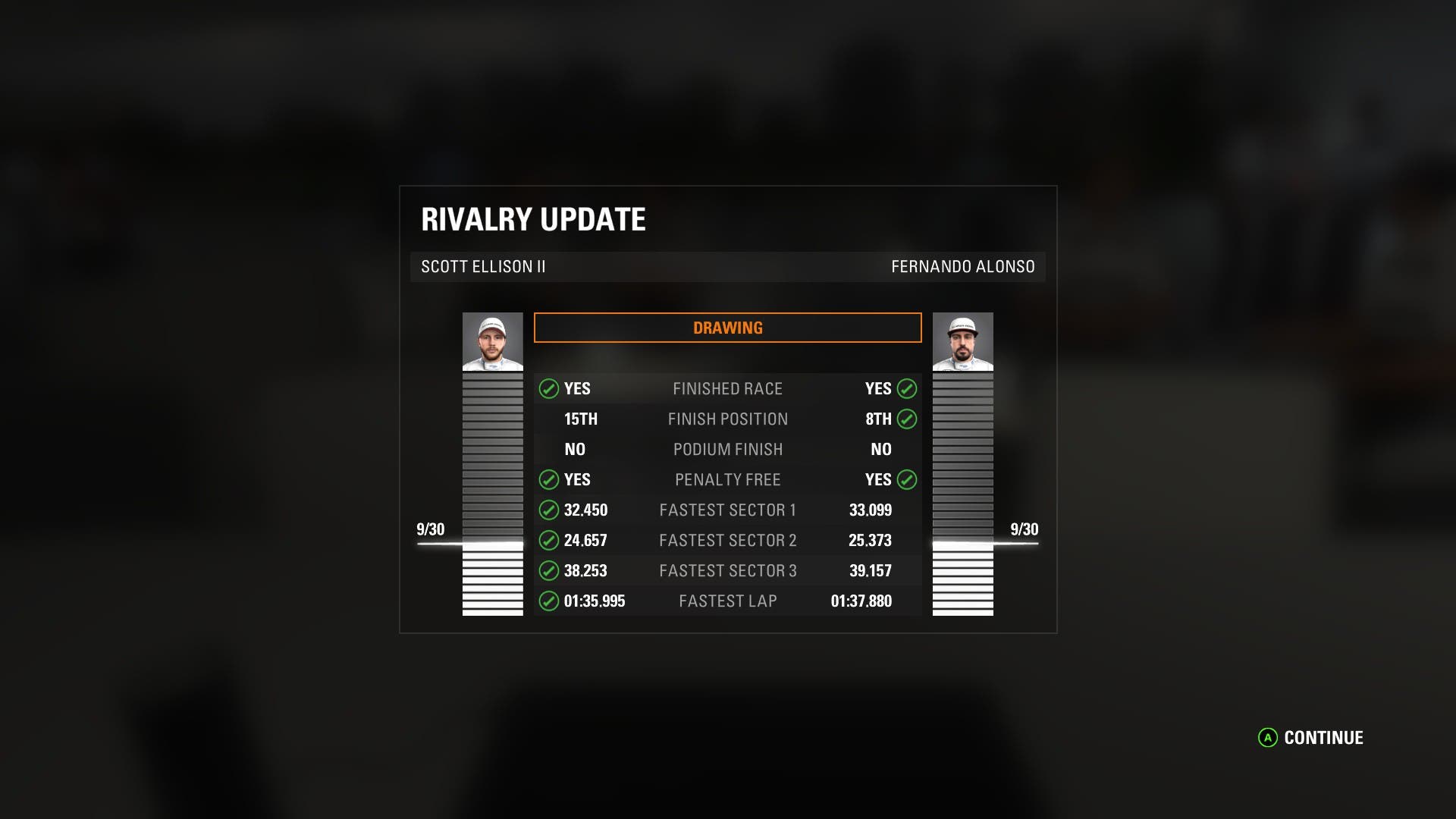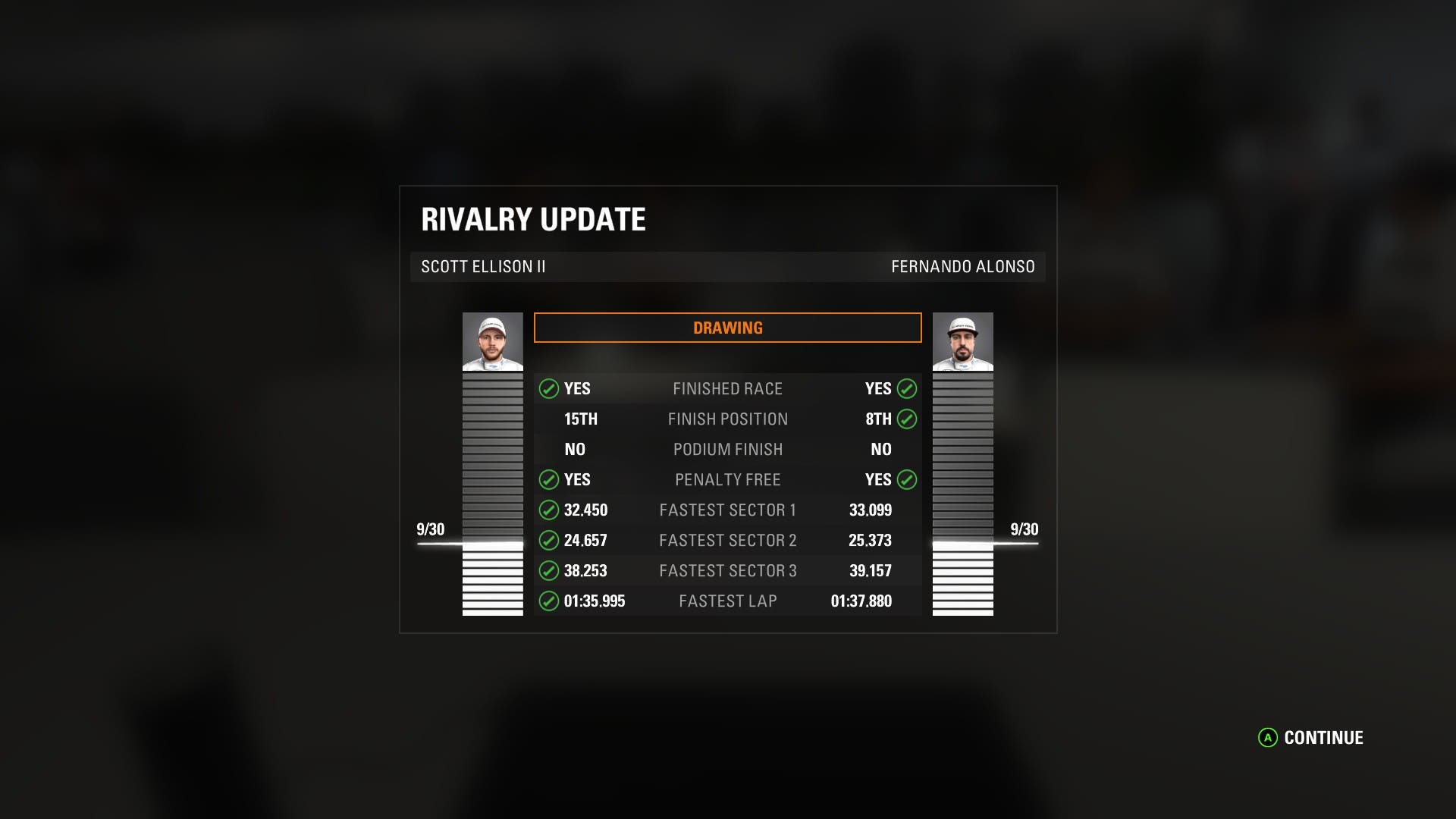 Career mode's improvements continue with earning resource points, as they allow you to invest into research & development of things like reducing drag or improving brake horsepower – these aspects you didn't have control of before. As part of a team, whomever you choose: Red Bull, Scuderia Ferrari, or McLaren Honda, you'll be compared to your teammate and given a standing. You are rated by how well or poorly you do, and is something to keep up competition within the team and strive to do better. Rivals is a new addition as well, and takes center-stage in F1 2016, as you'll be presented with a rival, and for every position, lap time, sector time, and penalty you are given points so long as you outclassed them. Rivalries only take a couple of races to resolve, but there's opportunities for them to rubber-band back and forth, is ultimately very satisfying to come out as the victor.
Playing F1 2016 is what you'd expect it to be, and with an array of customizable options for assists, it all just becomes choosing what you are comfortable with, and the quick race options allow you to test extensively. I do find it odd, that the AI is rather aggressive, even on the easier difficulties. The racing is so tight, that if you step out of your line and try to return even immediately, there will be someone there who has taken your place and will be none too pleased when you come back to your racing line. Formula One is this in many ways, but the AI doesn't seem to react to your presence, but it instead focuses on their place on the track.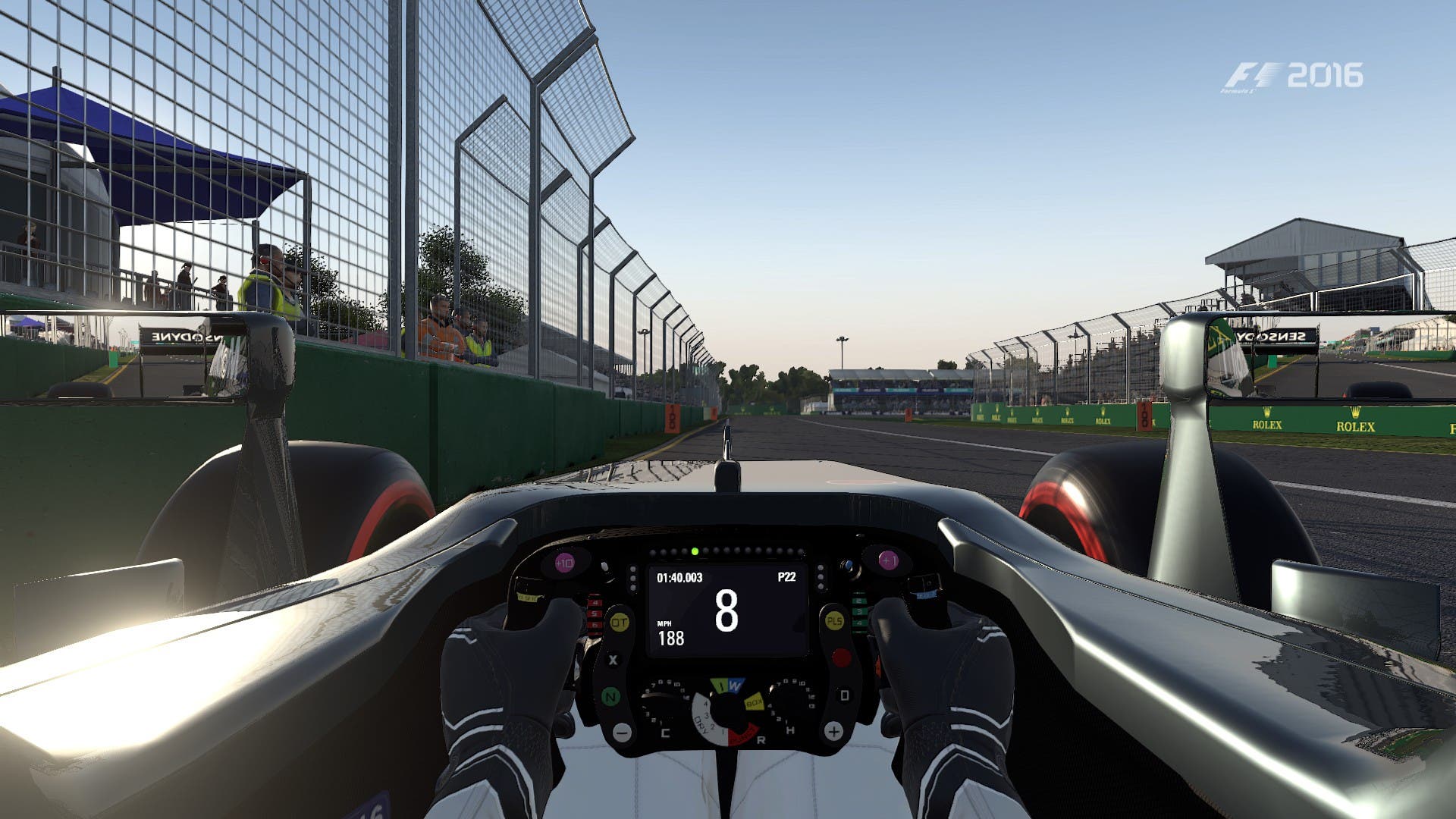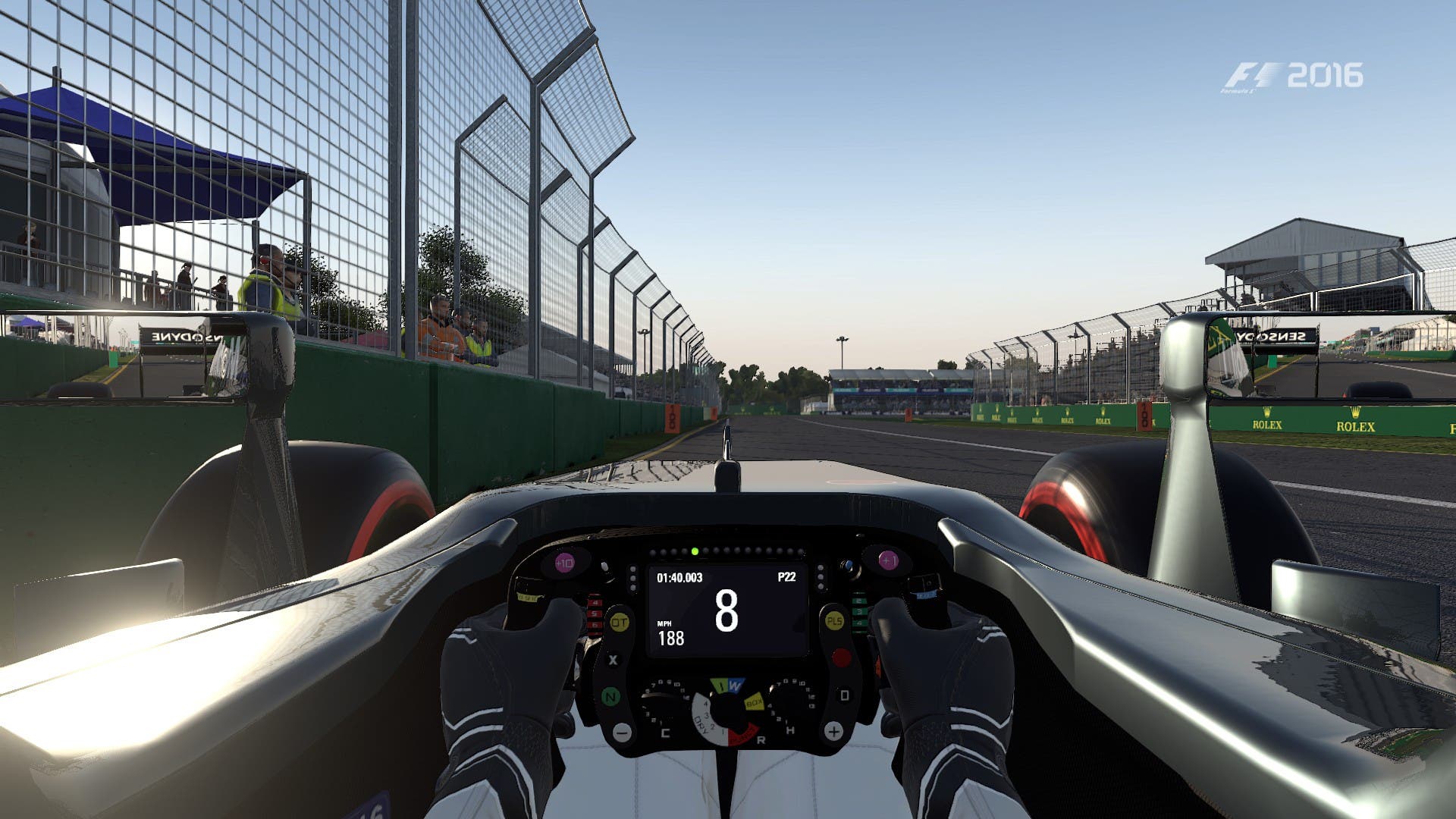 Multiplayer allows for 22 real players in the online modes, removing the need for any AI substitutes. Unfortunately, during my time reviewing the game, nobody had been playing the PC version online, so I was unable to test any kind of racing with anyone online. The leaderboards suggest people are focusing on their careers instead. It is worth mentioning that the return of the Co-Op Championship is much welcomed, as you and a friend can race as part of the same team in online matches against AI for some great teamwork.
This was introduced last year, but remains impressive, is that while the game loads you can still make changes to difficulty, assists, and even day and time or weather. So if you want to see Singapore in the day, you totally can. Rain-soaked tracks seem more manageable this time around, as I was able to full throttle in the straights and adjust my line without just spinning out. In terms of performance, I found that everything to do on the track was buttery smooth, but oddly when in the office and goofing off on your laptop, the framerate drops inexplicably. Overall, this is the best looking and performing F1 game that Codemasters has created.
My PC Specs:
– Microsoft Windows 10 Pro
– Intel Core i7 6700k @ 4.2Ghz (Turbo)
– NZXT Kraken X61 106.1 CFM Liquid CPU Cooler
– G.Skill Ripjaws V Series 32GB (2 x 16GB) DDR4-3200 Memory
– EVGA GeForce GTX 1080 FTW 8GB GDDR5X
Codemasters learned a lot over this past year, and have implemented much needed enhancements and improvements that makes for a game you'll want to keep coming back to because of its features, and not because it is the only one to play. Playing as a professional in championship mode and take someone like Nico Hulkenber to the top of the standings by season's end can be a very exciting challenge. Codemasters spent the time listening to feedback, and while this may be the only F1 game in town, F1 2016 is feature-rich and mechanically sound, like a turbocharged Formula One car.
A pre-release Steam code was provided by the publisher for review purposes.