Kingston's HyperX brand has been a prominent force amongst eSports and competitive gaming circles, but it is one of those things where it seems like these products are built for those players. In actuality, it's for anyone and everyone to buy and use them as well. Sure, they are good for competitions and needing to hear everything to be successful, but the HyperX Cloud Revolver is one headset for all. It would be reductive to classify HyperX's Cloud Revolver headset as "just a stereo headset", because its clarity is a cut above what anyone is doing with headsets right now. The only exception is its price tag and lack of portability. This is a gaming headset that works with any device you plug it into, and will unearth sounds you hadn't heard before.
The construction of the HyperX Cloud Revolver is eye-catching, for better and for worse. Its most lavish feature are the exhaust port looking ear cups, which are a bright red. The metal band that overreaches your head carries a surprising twist, it can be twangy like a tuning fork if you so much as tap it. It's reverberations last for several seconds. It shouldn't be a problem for most people unless you have an annoying sibling or significant other that knows what happens when you hit it. On the bright side, this headset is self-adjusting. There's no need to click to the right setting to fit your head, just put it on and go. The headset starts off on the smallest setting and will stretch to fit your head and hold it there. The HyperX Cloud Revolver also uses memory foam to remember your head shape as well. It is so lightweight, you can wear it for hours, and it certainly lives up to "Cloud" name. Oddly, it is so lightweight it never feels snug.
This headset is deemed a "competition-level" headset, but it is really for anyone who's looking for clean audio for whatever the occasion: games, music, or movies. The accentuated highs and mids are crystal clear. The bass within the headset isn't very impressive, but proves worthy after third-party intervention by using an equalizer.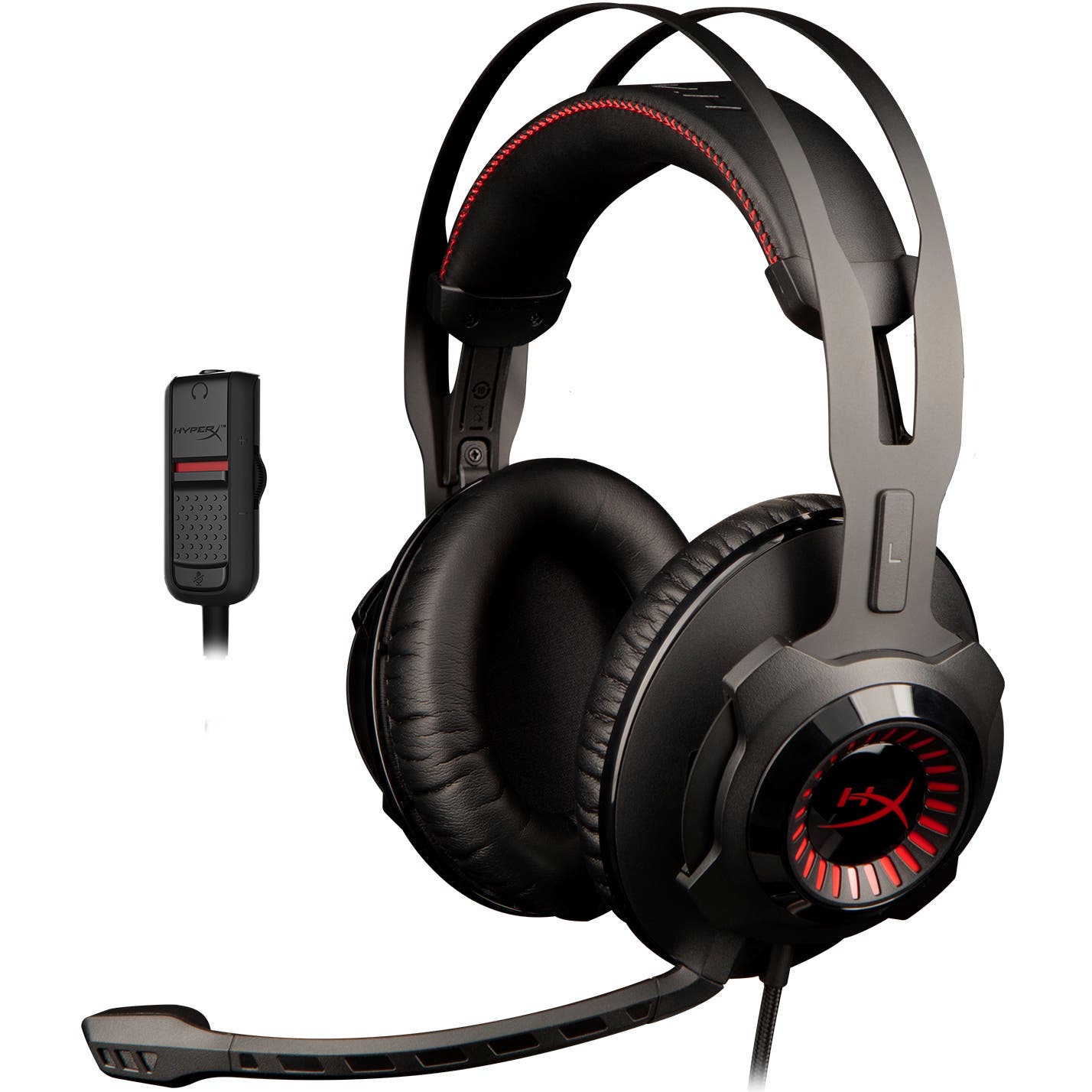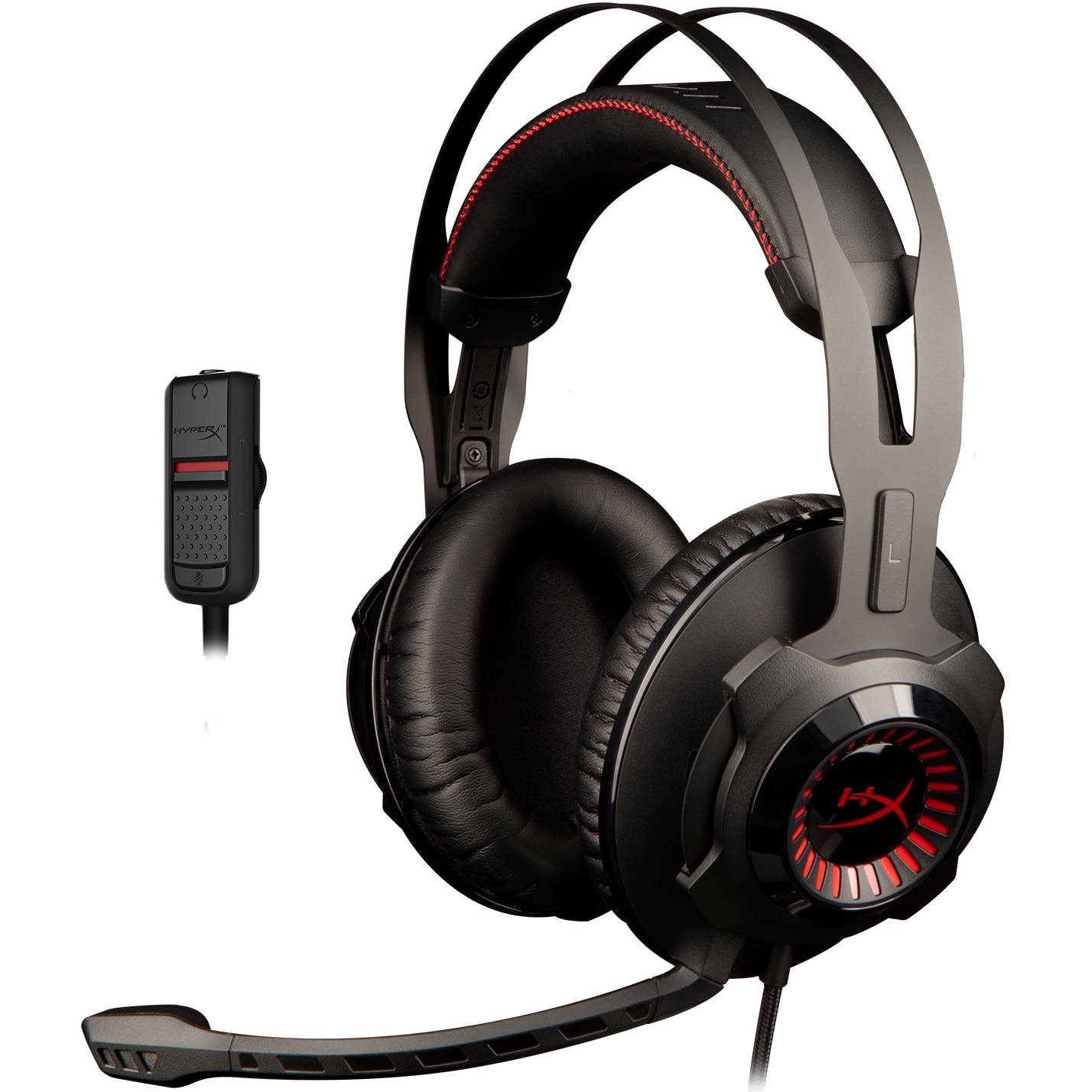 The HyperX Cloud Revolver features a standard in-line remote. It doesn't really do anything outstanding, but it has a great position on the cable. A detachable mic is created very sturdy, and has a stiff arm for holding itself in places, but does allow you to adjust it so it doesn't droop. Sadly, the mic audio that gets heard by your friends or in records comes through as flat, or "tinny". For as much quality that goes into what you hear, you aren't getting that quality in what you put out.
It should be no surprise that the HyperX Cloud Revolver works on anything: PC, Mobile, PS4, XB1, Wii U, what have you. For some people, its audacious design limits the person from actually wearing it out in public. It also doesn't help that it isn't portable, as it doesn't collapse into a smaller size for transportation on a train or plane, will take up a decent amount of space. That said, this headset just works. There's no software, configuring of equalizers, or even USB. The sound quality it produces is an achievement all its own.
The HyperX Cloud Revolver headset comes highly recommended, but with the caveat being that the asking price is a bit higher for comparable headsets. The HyperX Cloud Revolver is worth it, but I wish it were lower to make the argument easier to smooth over. When just comparing prices will not know the headset's superiority in quality. While it boasts many features and is one fine headset, it is stereo, but the best one your ears will ever be treated to. The lightweight functionality does make it seem like you're wearing a cloud of crystal clear noise production, your head and ears will thank you.
A hardware unit was provided by HyperX for review purposes.