I'm not a One Piece fan, let's make that very clear. I'm totally going off of my thoughts purely on a gameplay perspective for this review. I also played this when it original released on other platformers and as far as a game goes, it's competent enough even with its issue. For those with a switch, fans of anime, and players that never got to experience the title, it might be one to nab attention but it's fair to say that with so many other games releasing this year, this might only truly garner One Piece Switch exclusive players only.
One Piece Unlimited World Red is sort of like an adventure brawler action game with the One Piece world applied. Exploration occurs on a hub area, some platforming moments to mess around with, and lots and lots of fighting. Exploring the town is like a base of sorts. Returning here after every mission or side quest will lead to some unlockable and more modes of play. Story elements transpiring or characters to interact with are the majority of interactions here which is filled with some comical dialog but really it's just a core hub for players to explore. When out in the missions, it boils down to a whole lot of fighting. Broken down into various episodes, fighting waves and waves of bad guys using various characters what player get, leading up to boss battles with some characters known for in the series. The spectacle is fun to see and colorful to boot if just a tad repetitive at times.
Visually everything looks as good as it did on all the other ports, sound and otherwise. Audio spoken is in the default series language with no English dub. This is a three year old game ported over and the biggest element to inspire or make folks wonder is "how did it transition to the Nintendo Switch" Well everything here is fine. The game looks and runs well and the idea of taking the game portable, any game for that matter, is usually awesome. The story being told her involves Straw Hat being involved with hunting down a mysteries villain named The Red Count. Nothing new is here, this is basically identically to all the other versions of the game prior.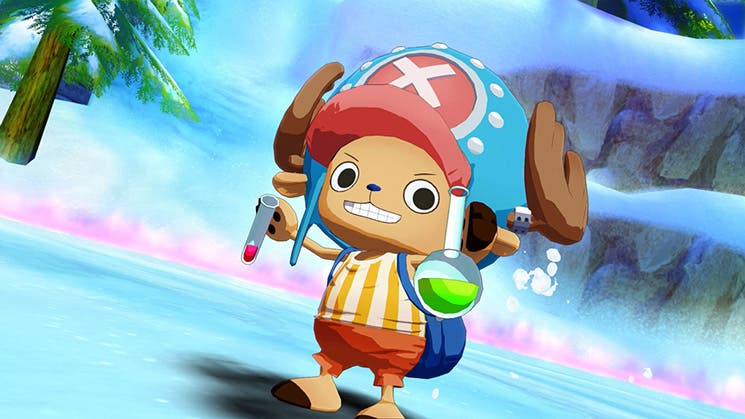 When One Piece originally debuted it wasn't to a huge reception and bringing it to the Switch seems like it was a simple enough of an idea to provide a portable version on Nintendo latest console. That could have been a selling point but it having debuted portable on Vita and 3DS, maybe not. Which really just makes this release seem all the more weird. It's a mildly entertaining game for players looking for something anime like to play, ad a bit more for those who are actually fans of the franchise, yet were still looking at a bare bones port that most likely no one was really asking for. Only the most diehard of fans will most likely grab it again.
A Nintendo Switch eShop code was provided by the publisher for review purposes