Monster Energy Supercross – The Official Videogame is now one of my favorites from Milestone. The Italian developer knows racing, and knows bikes. Their long running MXGP series has improved with each release, which paved the way for this. To be clear, this is a supercross game, and not motocross, where the focus is more about racing, and while you can perform tricks, they are meant to be at a minimum in favor of being first and having the best lap times. That said, this is incredible racer that has incredible amounts of personality and presentation that the MXGP series sorely lacks.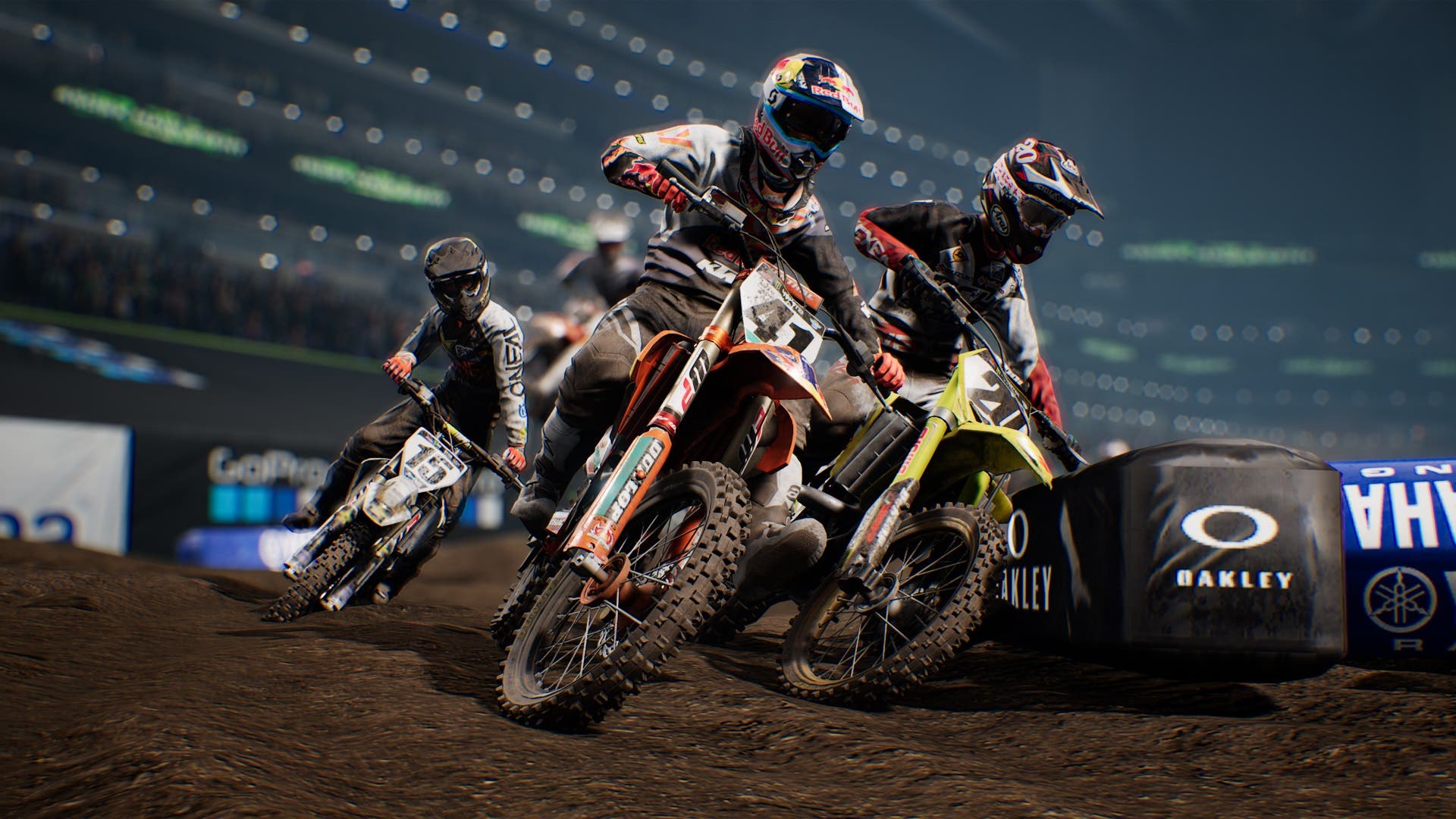 The game lacks any kind of tutorial or video instruction on what to do, but instead tosses you headlong into the game in the boots of Ryan Dungey, multiple American Motorcyclist Association (AMA) winner. While it is strange, it just kind of assumes you're already aware of Milestone's games and are here from their prior releases. And that's not inherently a problem, it does alienate new players just a bit. Now, the game's easy to learn if you're at all familiar with the latest MX vs ATV titles by Rainbow Studios or Milestone's own MXGP series. I played MXGP and MXGP 2, but I missed out on MXGP 3. Clearly those games laid the groundwork for what makes this so good and polished. The controls are incredibly tight and responsive, and playing with an Xbox One controller felt great. There's some extra buttons you may not be used to, such as front and rear brakes, as well as a clutch. These controls are actually rather essential to being performant in the game.
Should you make a mistake, the game incorporates the popular genre favorite, rewind. I personally never needed it beyond the first few hours, but it felt good to use something to correct your mistakes as you learned the game. One thing that still eludes me is the holeshot. This is where you break out from the starting line as soon as the light is green and the gate is dropped, I can never get the timing right. Thankfully the similarities of all the stadiums and arenas you race in can help in trying to dial that in. The stadiums or arenas you race in either have an open or closed top, which, depending on the location will have you racing on wet or dry surfaces across the 19 different tracks among 250 West, East, and 450 bike classes.
There are several singleplayer modes to take part in: Career, Championship, Single Event, and Time Trial. By now, most people know what all of these modes are, and do. The Championship mode differs from the career mode in that you are recreating of the 2017 Championship year. In Career, you create yourself and try to make your name on the circuit. Once you pick a manufacturer, you're stuck with them. There's character growth through customization. Improvements to playing the game are generally done by your own personal skill and playing more of the game. But you do earn money in the form of "SX Credits" that can be used to purchase cosmetic items, but also better bike parts that improve their properties to perform better.
Visually, Monster Energy Supercross – The Official Videogame is stunning. The Unreal Engine 4 makes faces look realistic, the pyro looks intense, and the photogrammetry of all the real-world tracks have immense detail. While I find lens dirt rather egregious in other games, it is so fitting here. And the neon green of Monster is a perfect for this game's aesthetic. It is a shame that the game suffers from random frame drops during a race, but it does recover quickly when it happens. Normally the third-person camera is all you'd need in a game like this, but the first-person view is exhilarating and perhaps a bit nauseating way to play the game.
There's a built-in track editor into the game. It's simple yet complex enough to make what you want, such as big air tracks or ones built for speed or improvements on existing tracks. While there's more than enough game in Monster Energy Supercross – The Official Videogame, being able to make a custom track is highly satisfying.
My PC Specs:
– Microsoft Windows 10 Pro
– Intel Core i7 6700k @ 4.2Ghz (Turbo)
– NZXT Kraken X61 106.1 CFM Liquid CPU Cooler
– G.Skill Ripjaws V Series 32GB (2 x 16GB) DDR4-3200 Memory
– EVGA GeForce GTX 1080 FTW 8GB GDDR5X
Monster Energy Supercross – The Official Videogame is the focused and highly-energetic brother to MXGP, and is helped by the licensing of Monster Energy. The look and feel of the game is unmatched, and while the performance could use some tweaking, the game is just fun to dig grooves into the dirt. I'm not sure what could be done to improve what Monster Energy Supercross – The Official Videogame brings to the table, but Milestone has their work cut out for them for such a strong first entry.
A Steam code was provided by the publisher for review purposes