News
Mar 22, 2018
Jalopy set to leave Early Access and on the open road of Full Release on March 28th
From Press Release: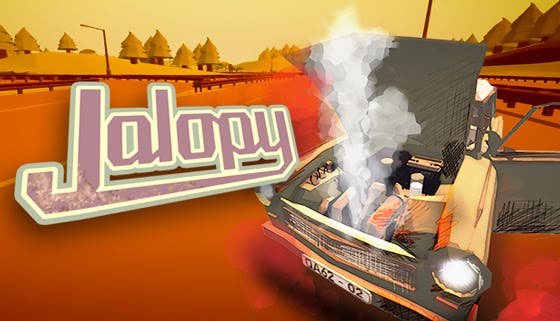 After releasing in Early Access almost two years ago, the ground-breaking road trip game Jalopy will soon reach its destination. Throughout Early Access, Jalopy paved the way for an emergent new driving game genre.
Jalopy version 1.0 will release on 28th March, marking the end of the game's Early Access period. To celebrate, Jalopy will be available on Steam at 40% off for a week beginning Wednesday 28th March.
This full release brings Jalopy to wide new audiences, with full translations for eighteen languages dropping on 28th March.
As of version 1.0, Jalopy will now be available in the following languages:
English, French, German, Italian, Spanish, Japanese, Korean, Russian, Brazilian Portuguese, Turkish, Hungarian, Chinese (Simplified), Dutch, Norwegian, Finnish, Polish, Slovakian, Romanian, Croatian
Early Access Road Trip
Since Jalopy's Early Access launch in April 2016, the game has evolved meaningfully based on community feedback. The countries Hungary, Yugoslavia, Bulgaria and Turkey have all been added since Jalopy's debut, massively expanding the world in which players embark on road trips.
A number of game-changing mechanics were added and refined throughout Early Access, including various tyre types to combat various driving conditions, a fully operating internal dashboard, the ability to customise the Jalopy with paint jobs and decals, a scrapyard to break into and salvage parts, and even the beloved Uncle, a unique character that fully narrates players' journey through the former Eastern Bloc, with tales of his time there.
About Jalopy
Navigate miles of tyre changing, fuel burning, carburettor busting, mud clattering terrain, through night and day, rain and shine. Adapt to whatever the procedurally generated world of Jalopy can throw at you.
Upgrade, maintain and care for your Laika 601 Deluxe motor vehicle. Keep close attention to everything from the state of your tyres, the condition of your engine and even the space in your trunk. Repair each aspect of your scrappy little car and install unique upgrades to deal with the changing world. Everything from cargo weight to the condition of your carburettor will determine how your car performs on the open road.
Jalopy on Steam: http://store.steampowered.com/app/446020/
Jalopy on Facebook: https://www.facebook.com/JalopyGame/
Jalopy on Twitter: https://twitter.com/JalopyGame
Excalibur Games on Facebook: https://www.facebook.com/ExcalPublishing/
Excalibur Games on Twitter: https://twitter.com/Excalpublishing