News
Jul 04, 2018
Canadian developer Scavengers Studio celebrates the 4th of July by making Darwin Project free-to-play on Xbox One today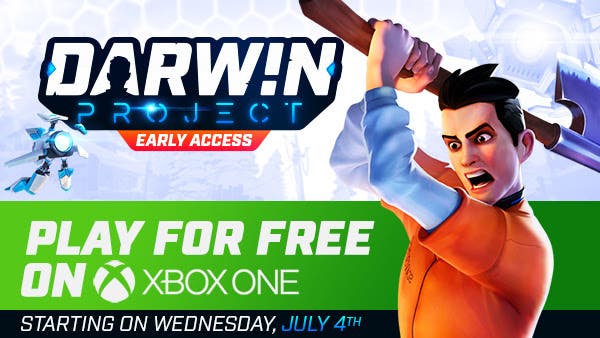 From Press Release:
MONTREAL, CANADA – July 4, 2018 – Scavengers Studio is thrilled to announce that Darwin Project, the highly interactive and survival-injected battle royale, goes free to play today on Xbox One. 
Xbox One players who purchased Darwin Project should now have received their Founder's Packs. The cosmetic items included in the Founder's Pack are 2 Legendary sets each containing Shirt, Pants, Armor, Helmet, and Boots, 3 Legendary Axes, 3 Legendary Bows, and a full Jumpsuit collection. Xbox One players eligible for the Founder's Pack will also receive 10 Fan Gifts, openable from the main menu, to further stock up their Dressing Rooms with a variety of styles for their clothes and weapons.
To make the Darwin Project arena even more welcoming, Scavengers Studio has recently added localization into 8 new languages on Xbox One and Steam: French, German, Spanish, Italian, Polish, Russian, Japanese, and Korean, with an additional 3 languages―Brazilian Portuguese, Thai, and Turkish―coming soon.
For a limited time, Darwin Project inmates can obtain soccer-themed sportswear by opening Fan Gifts or purchasing these new styles with Ramen in the Item Shop. Show your support for your favorite team or mix and match the new items with your go-to pieces for fresh, workout-ready styles. The items will only be available until July 12.
Scavengers Studio continues to add regular improvements to Darwin Project, which has surpassed 1.4 million total downloads. Since its launch on Steam Early Access and Xbox Game Preview, Darwin Project has been expanded with Duo Mode, skill-based matchmaking, over 200 unlockable cosmetic items, the Glider Tool, 5 new Show Director Powers, and a lot more. For a glance at what's still to come, including the Tile Mapping system, be sure to watch the latest Behind the Scenes video.
Play Darwin Project for free on Steam Early Access and Xbox Game Preview. For the latest updates, visit Scavengers Studio's official website or follow them on Facebook, Twitter, Discord, Reddit and Instagram. 
Still hungry for more northern Canadian battle royale goodness? Check out the latest updates from the team at Scavengers Studio!