Hand of Fate 2 is a great fit for the Nintendo Switch. With its combination of tabletop, collectible card game, and action RPG, it does everything the other versions of the game does – except done in handheld and portable form. Defiant Development's hit from the tail end of 2017 sees new life in 2018. Whether you're playing the series for the first time or double-dipping on another platform, Hand of Fate 2 is a unique experience that expands on the original in every way.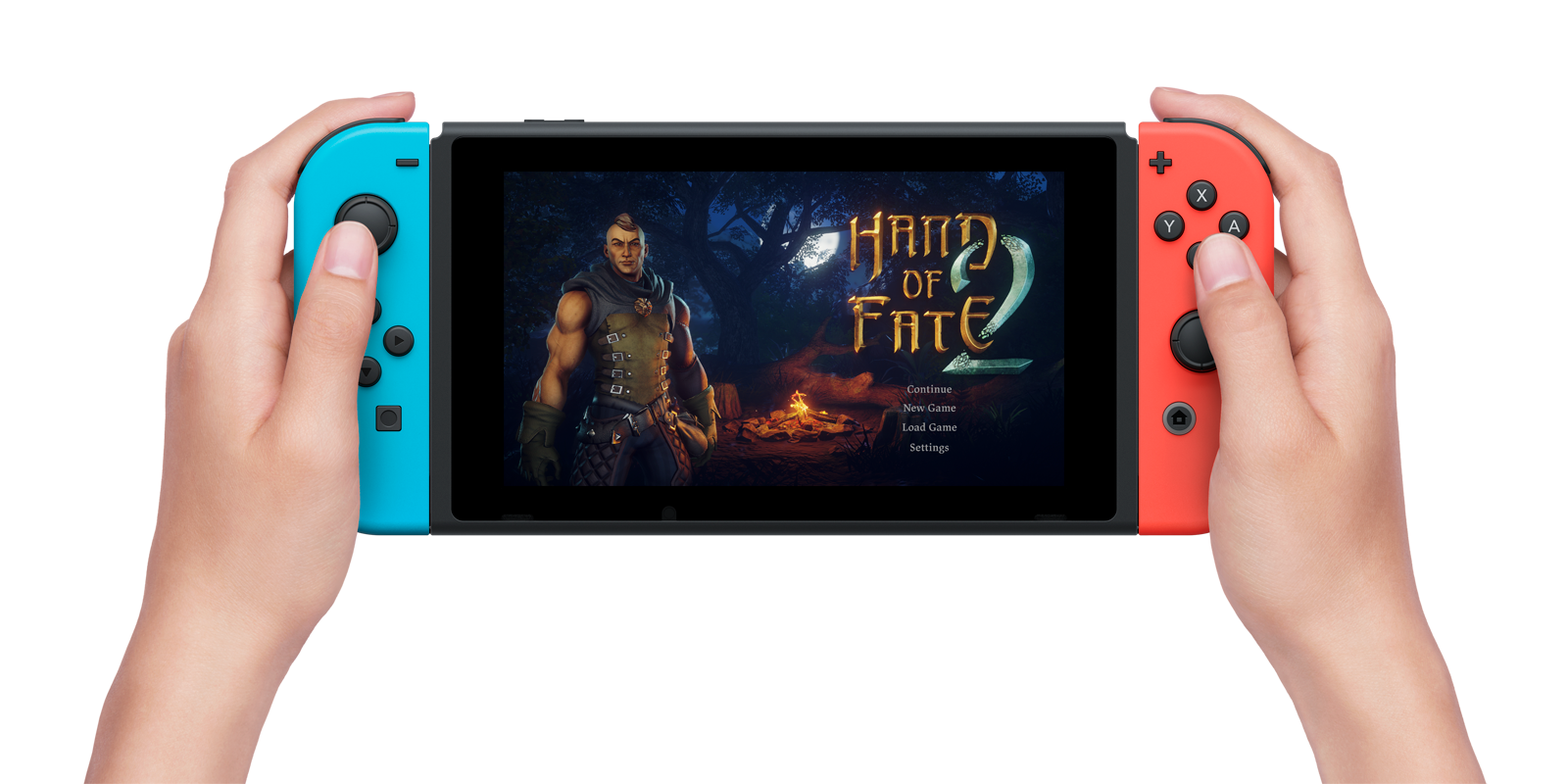 Hand of Fate 2 goes hard from the moment you start it, taking you straight into the game and starts teaching you the basics. After the first run, you're placed into character creation to set the male or female avatar of your choosing. This character you will see on the main screen and in combat. The selection of customization options are minimal but effective. You'll walk away from this feeling like you're a part of the campaign more than the previous. This is a choose your own adventure in all the best ways.
The dealer as he's known, is the same from the first game. He's the storyteller and mystic that talks you through each of your adventures. The game comes with a campaign that spans 22 different stories or events, like saving an emperor and empress, but with a flavor all their own. There's also an Endless Mode that came as free DLC elsewhere, but is already included here to see how far you can get before you die if you've exhausted the main campaign. Hand of Fate 2 also comes with other DLCs seen on other platforms: Dealer's Apprentice and Shattered Memories. Dealer's Apprentice sees the Dealer himself joins you, and brings 1 companion card and 3 customization cards to the table. Shattered Memories offers 50 new shards, and 10 new tokens into the game to bring memories of the past into the present. These DLCs were free updates on other platforms, and does does not include the Outlands and Outsiders premium DLC here, at least as of yet.
The game is started by playing cards you've collected. They are broken down into categories: Companion Cards is a single selection for who will help you during combat scenarios. Encounter Cards are certain cards that can aid you like giving gold or the ability to unlock more cards. And finally, Equipment Cards let you bring your favorite weapons, shields, or rings into combat. They can be brought for the purpose of selling them for gold and other needs. Cards are then placed onto a table in a grid-like fashion. You move in a direction where a card has not been flipped over. Your fate is decided by random events in which the card you land on either is a dialogue, dice roll, or an encounter. Dialogue choices let you steer conversations into or out of combat. Dice rolls rely on luck and chance to be successful. Along your journey, you must manage health, food, and gold to survive and thrive. If your health runs out during the card aspect, or in combat, you must restart the campaign from the beginning. In times before an encounter, you'll be given a series of cards like a ball in a cup style, and as they are mixed up, you must follow the best card or risk taking unnecessary damage.
When combat kicks off, you're transitioned to combat areas. These transitions take a bit longer on the Switch than other platforms, but is nothing egregious. Be warned that your health from the card game carries over, and vice versa. So come prepared or do your best to negate damage towards you. Combat is the Batman Arkham style of combat in which you'll attack, block, evade/roll, and more. You can bring a companion into a level which each one has unique partner abilities that can aid you in combat and distract enemies. New to Hand of Fate 2 is the ability to execute a finishing move onto an enemy. This animation makes you impervious to damage, so it is in your best interest to use it. Hand of Fate 2's combat is smooth and effortless in making you feel like a badass. You also get power moves, as well as holding the attack button results in a strong attack. In some cases, the fighting goes by way too quickly in comparison to its card elements.
It's amazing to see a game like Hand of Fate 2 on the Switch, as it makes perfect sense for portability and presentation. While the sequel is everything from the original Hand of Fate and more, I'd still like the original end up on here for completeness. Defiant Development have done a great job at making the game work well on the Switch to be comparable to the other systems the game appears on. You'll likely not play anything like Hand of Fate 2, and is absolutely worth the purchase no matter where you can get it.
A pre-release Switch eShop code was provided by the publisher for review purposes