Playground Games have quite possibly made the best racing game of all-time in Forza Horizon 4. With Forza Horizon 4, it merges its online and offline worlds into one, making it feature rich, and seemingly endless amounts of things to do with friends and strangers alike. Prior entries have paved the way for this game is an evolution for the series, and racing games as a whole. Forza Horizon 4 is everything you'd want out of a racing game. It is an incredibly social game, constantly evolving, and so fun you'll be smiling ear to ear with each activity you play. You simply won't find anything better than what's in Forza Horizon 4.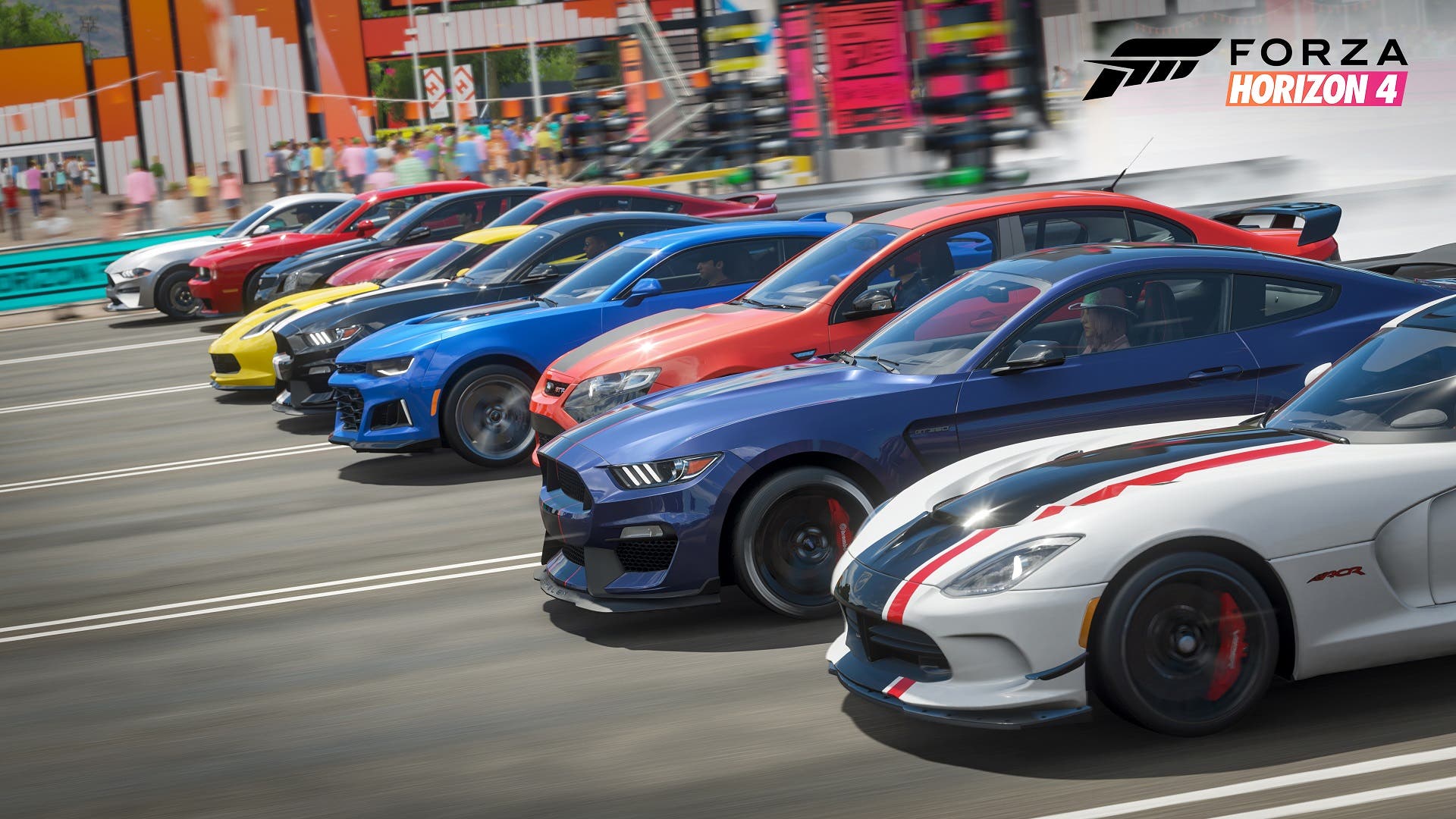 At E3 2018, Playground Games' Ralph Fulton said that "seasons change everything". And it sounded like just a neat phrase at the time, but it turns out to be absolutely true and incredibly game changing. Seasons change how you drive around in the open-world, as Winter brings slick roads and encourages AWD vehicles. Autumn introduces a variety of colors into the landscape like orange, yellow, red, and brown all with a rain storm every now and then. Summer looks and feels hot, and it is where hypercars can breathe freely. Seasons change how you drive in seasons across all races. Seasons change how you navigate the every aspect of the game, as some locations might be a slog to drive through, now have a shortcut when iced over. As you start the game, you're shuffled very quickly through some high-profile races. Upon completion, you start off in Summer, and transition into Autumn, Winter, and Spring at a steady pace that not only introduces you to the game's seasons gracefully. This allows you to do what you want, when you want. Each season is radically different from the last, with the developers essentially creating four different maps to race on. After completing your first year, you are thrust into the open-world where each week there is a new season to explore. This feverish pace and change of seasons makes me wish I was in control of the seasons. That said, the seasons in this game do change everything – Ralph was right.
Forza Horizon 4 takes the festival to Great Britain, encompassing England to Wales to Scotland. These select areas work in tandem to deliver some beautiful vistas, wide open landscapes, and even a few select urban areas to offset all the countryside. After several years for the festival taking place in different cities across the world, and expanding, Forza Horizon 4 posits: what if the festival was year-round instead? With that, the seasons make much more sense and takes you along for the ride. The focus of Forza Horizon 4 is very clear: It is designed to last you a long time. There are lots of expensive items, and with a car roster of 450 cars, your wallet won't stay full for long. But there's always opportunities to earn more money. One of the complaints I had with Forza Horizon 3 the longer I played, I eventually ran out of perk points I couldn't spend and I had too much money I didn't know what to do with. Forza Horizon 4 fixes these two issues and this is a game with an understanding that because of its online focus, they've looked to improving the end-game to make the game last as long as they want.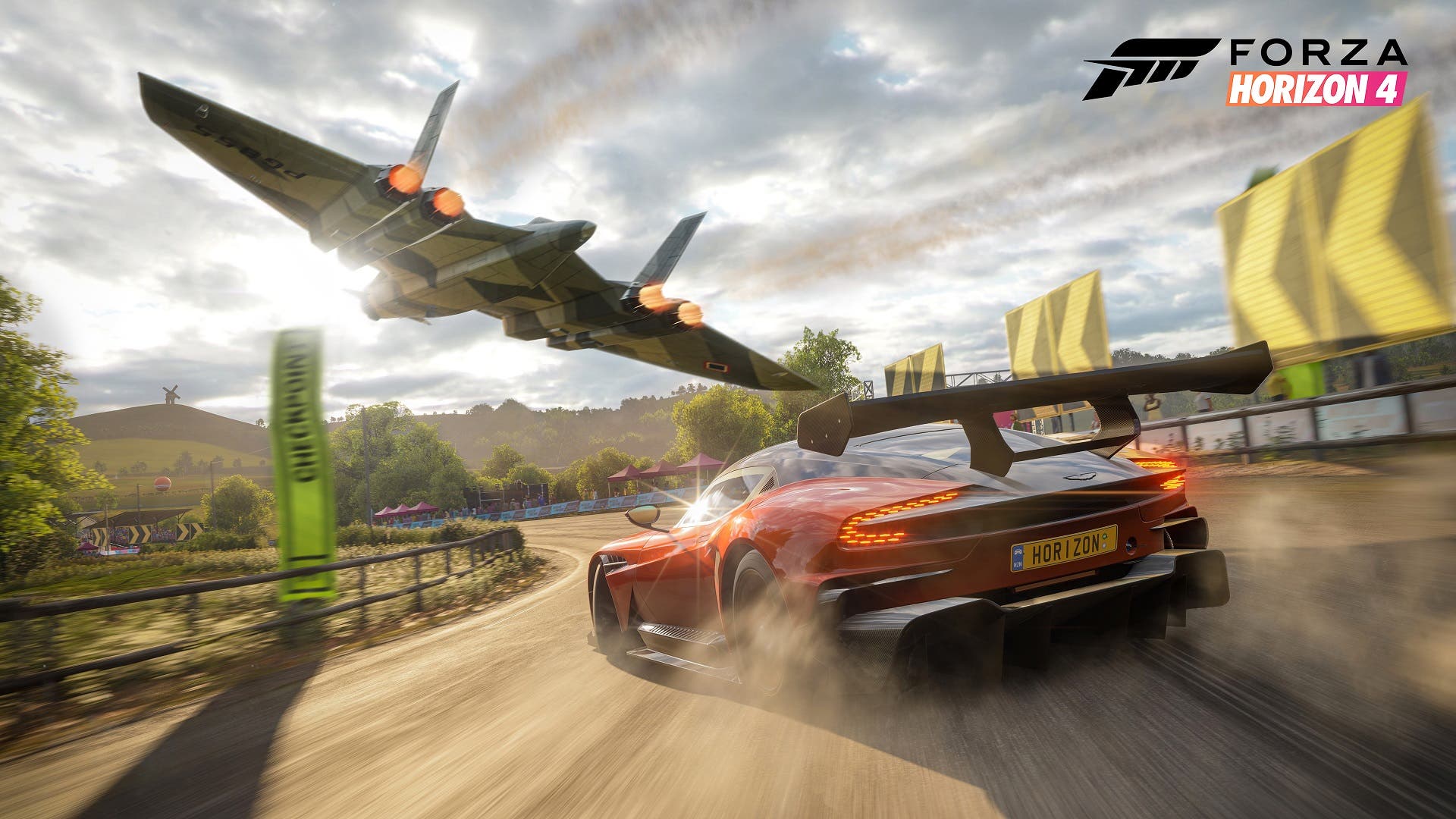 While Forza Horizon 4 doesn't change up the formula too much, there are some omissions and additions to the game to note. Gone are the photo challenges where you take pictures of cars for CR. Also gone are bucket list challenges, and the need to expand the festival. Showcase Events still exist, and are the best the series has seen to-date. In addition, there are different variations of Horizon Story. These are missions that you can perform different activities like doing stunts for movies, , and more. Lastly, there's now car mastery. Previously this was where all your skill chains would turn into skill points that you'd invest into perks for all of the game. Now these perk points can be spent on each individual car you drive to have specific rewards there. I'll miss many of the perks that were removed from the game in place of this system, but it encourages you to be more careful where you spend these points now. One of my favorite changes is where if you compete in a drift zone, or a speed zone, all cars in the area becomes ghosts so you no longer accidentally collide with them trying to earn three stars.
Instead of followers, you now accrue influence points. Influence serves as experience like it did before, but it instead breaks down into several different sub-categories for each type of activity. For every racing series you compete in, there's a separate leveling system. For just exploring the world, there's a level system. And even competing in drift zones, those too have a separate level from everything else. All of this experience and ranking feeds back into your overall level called My Horizon Life. This system offers a lot more to do in the game, and encourages you to do and see everything you can, and even try things you normally wouldn't – like design a vinyl for your favorite car, or maybe create a drift tune.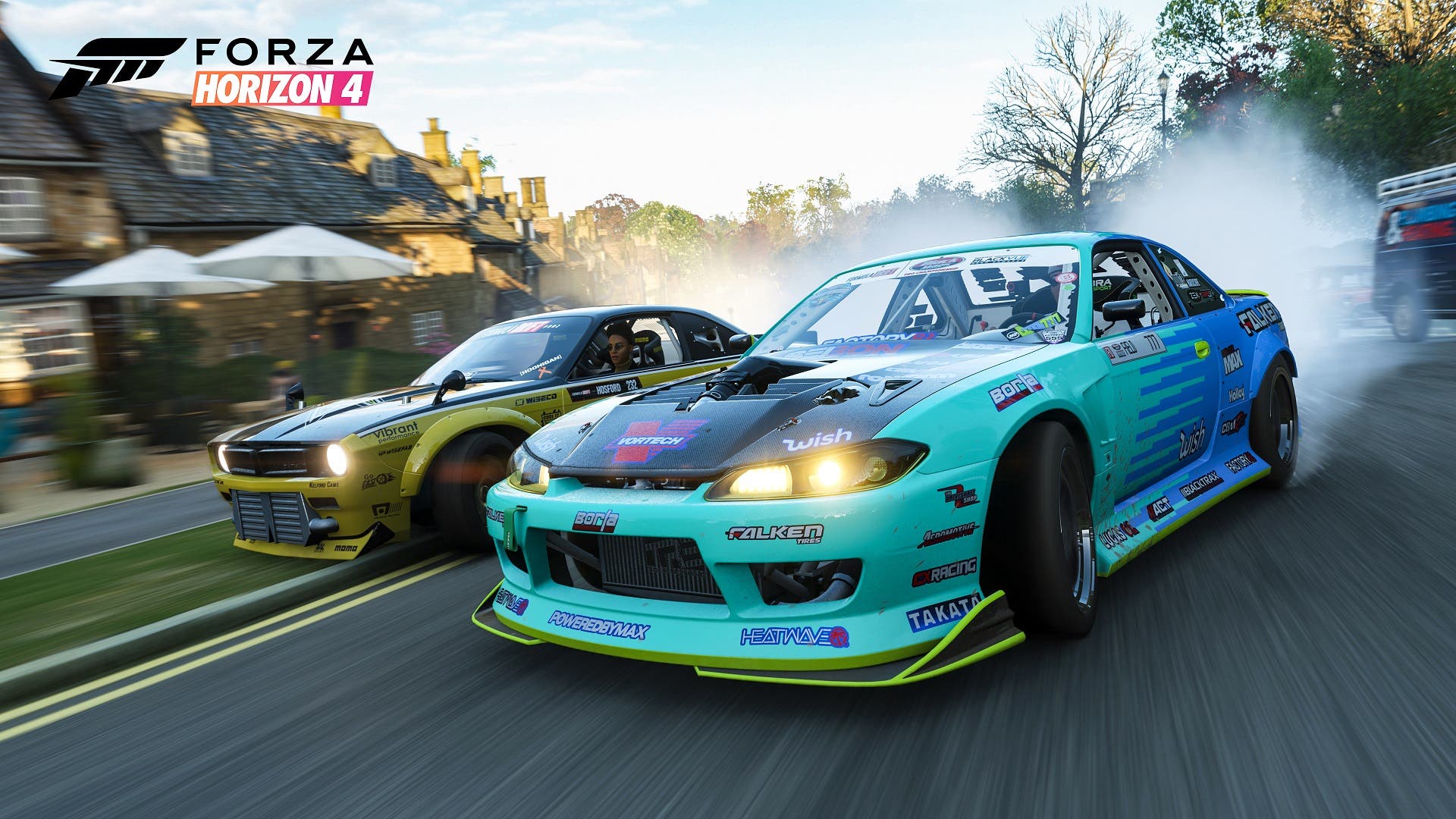 Another thing new to the series, is that you can buy houses. Since you're not expanding the festival, you need ways to be able to stop off to buy cars and change your clothing. Houses serve this purpose. You can even favorite one of them to be a spawn location when you start the game up. Houses upon purchase come with perks, the more expensive the house, the better the perks. Longtime Forza player, of either Motorsport or Horizon, will be happy to know that there's bonuses depending on past games played that they will receive, like special in-game items and unlocks. Player customization is back, and in a big way when it comes to wardrobe, as you'll now have a lot more options to choose from. You don't get out of your car, but you see your character out of the car enough to warrant this addition.
Barn finds return, but go back to being a little bit trickier to find. In Forza Horizon 3, they basically gave you the location on the map, which was a unnecessary effort. Now you go back to the first two games of having to find it. Once you know what they look like, it becomes easier, but having to "hunt" the barns down is always exciting, because you never know what you'll find. Now instead of just the normal barn finds, you'll have seasonal barn finds in the open world to look for. Billboards come in two different varieties: fast travel, which reduces the cost to fast travel to select locations down to zero if you find them all and influence, which gives you bonus influence for each one found. This time, they've made them trickier. Some still exist out in the open, others require some puzzle solving like timing a jump or using a small enough car to get in between two buildings to smash the billboard. Another returning favorite is blueprints, which let you alter the layout of a track with different parameters and requirements. The upcoming course editor will really change how you create races.
Forzathon comes back in a big way with this year's entry. Now you have daily and weekly challenges to complete. Every hour, on the hour you can meet with all of the players in the session and work to complete three rounds of challenges. This is a great way to make friends, and get all the players together that are in a session, which seems to be about 64 players – a massive number for this series. Then, every week there's a new season in the game, controlled by Playground Games. Every Thursday the game resets weekly challenges, and introduces a new season. The order seems to be at random. Playing in pre-release, I started in Autumn, then it transitioned to Summer. And next week will be Autumn again.
There something wonderfully seamless about playing this online. You never feel like you're joining a server, or something you're opting into. Once you're in, there's a near infinite things to do. One surprising thing, is that pause and rewind still works when you're in a shared space with others. Whether you're doing cross country, or dirt races, players continue to exist. There's even the returning unsanctioned street races, and plenty more of them this time. And oh my, the destructible objects are increased ten-fold. Everything from cobblestone walls to guard rails, most everything is an object that can be destroyed and left in your wake.
Playground Games has not skimped on the details, they are everywhere. From the photogrammetry of all four seasons and the skies during each phase of the day is just so amazing to look at. When cars enter tunnels in the daylight, the headlights and taillights come on and illuminate the area until you exit. And holy sheep, when you encounter animals, they scatter no matter how reckless your driving is. And in winter, instead of tractors for farming like you'd see in other seasons, snow plows start to occupy the roads. All of these things make Forza Horizon 4 a marvel to look at, and a wonder how well it works. Photo mode has never felt so important.
Playing on the Xbox One X, you get a choice of 4K @ 30fps (Quality Mode) or 1080p @ 60fps (Performance Mode). The game looks amazing in 4K with HDR, but the 60fps mode is no slouch, providing a crisp and swift looking game. No matter which you choose, the graphic fidelity is immensely packed with details and you're going to love what's on-screen.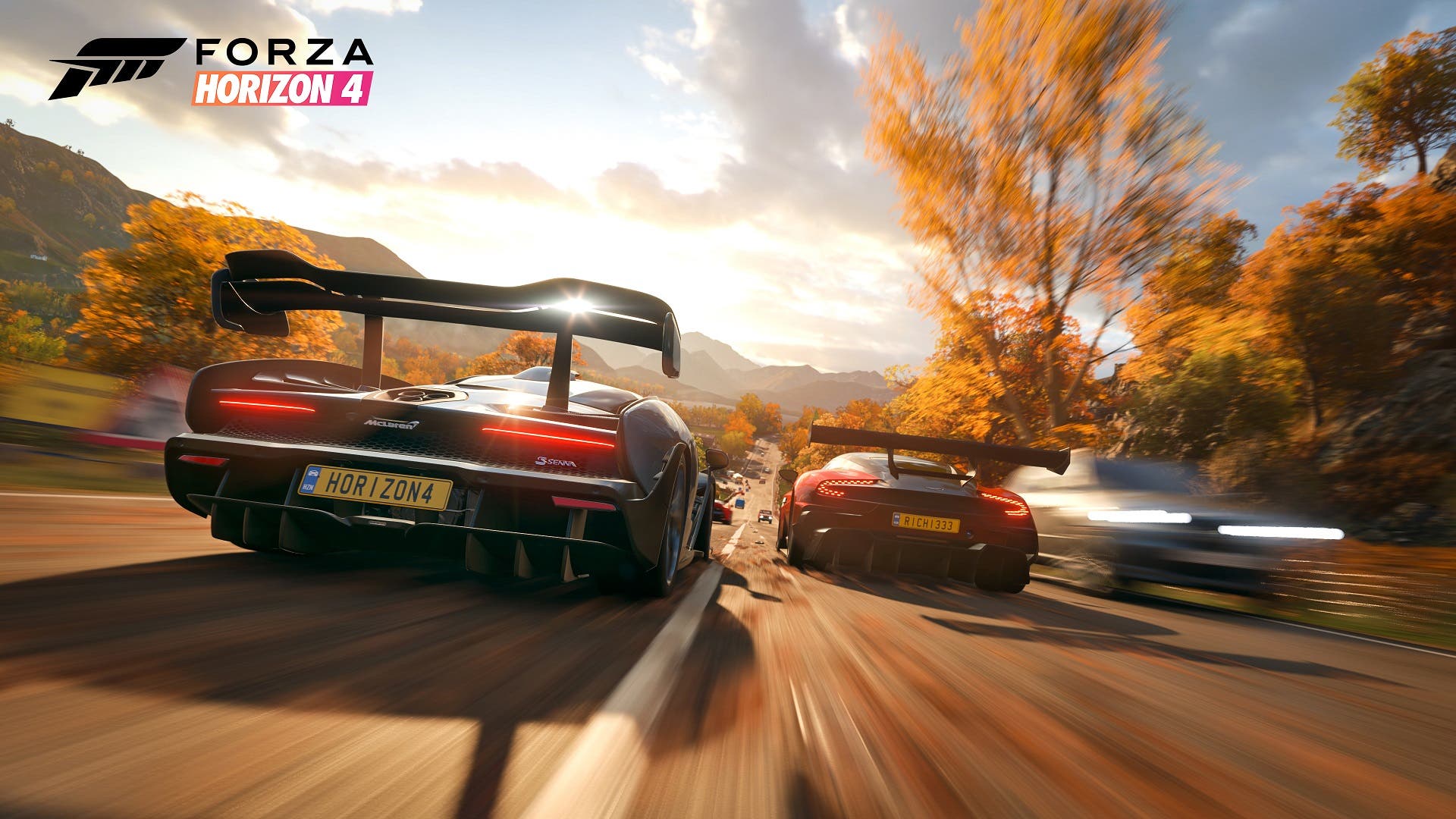 On PC, I am getting over 100fps in 1440p with everything set to maximum. The game just runs buttery smooth at all times. I did miss the HDR when playing on PC, but there's a great benchmarking tool that will help you get a feel for how the game performs. Syncing your saves between PC and Xbox One seems faster this time around, and all the better for it.
PC Specs of Review System:
– Microsoft Windows 10 Pro
– Intel Core i7 6700k @ 4.2Ghz (Turbo)
– NZXT Kraken X61 106.1 CFM Liquid CPU Cooler
– G.Skill Ripjaws V Series 32GB (2 x 16GB) DDR4-3200 Memory
– EVGA GeForce GTX 1080 FTW 8GB GDDR5X
– Seagate 2TB Barracuda SSD SATA III 6Gb/s Internal SSD Drive
– Logitech G27 Racing Wheel, Shifter, and Pedals
Playground Games have set a standard that other racing games will have a hard time following. Forza Horizon 4 is all about the freedom of choice, and there's absolutely something for everyone in this game. Forza Horizon 4 caters more to how you play than how the game wants you to play it. This is absolutely the most exciting entry of the series, a feeling I haven't felt since the first game. It is a fluid game with a lot of moving parts that feels truly alive with the weather and seasons. Leave no cobblestone wall unturned, because Forza Horizon 4 is breathtaking at every turn, and rewarding at every stop. Ralph was right.
A pre-release Xbox One and Windows 10 code was provided by the publisher for review purposes