I have a duty to inform each and every one of you that Burnout is alive and well, and is now living under the name of Dangerous Driving. While I like to believe that witness protection is actually a thing for videogames that drop off the radar… the truth is, Dangerous Driving is the culmination of work from Three Fields Entertainment. They have been working on their Danger-branded games since their formation in 2014 after leaving Criterion and EA behind. What's comes in the wake of the Burnout series is Dangerous Driving, a thrill-a-second racer that hits a few bumps along the journey, but makes it to the destination with nothing but mere scratches on the fender. Dangerous Driving is a dream come true, and one you won't want to wake up from.
From the moment you get to the title screen, it'll be very clear what these former Burnout developers are going for. The HUD, UI, event names, and more were are heavily inspired by Burnout 3: Takedown, you could almost mistake it for an HD remaster of it. There's also elements of Criterion's other games like Burnout Revenge and Need For Speed Hot Pursuit (2010) that are carried through the game's mechanics and events. There isn't a story or a campaign, but rather a linear series of events broken up by car classes known as a "tour". There's six car classes with 9-13 events each for a total of 69 (nice) events to compete and complete in. The rankings range from bronze to gold based on your placement for the particular event.
You can earn platinum medals for really fast times or going above and beyond. There's some returning modes you should be familiar with, like road rage, races, shakedowns, and eliminators. Road rage is where you must slam your opponents from the side, from behind, or even psyche them out while driving to perform a takedown. Races are what you think, shakedowns are time trials, and eliminators are lap-based eliminations so you shouldn't be in last place. While it has a new name, trust that heatwave is essentially burnout mode. This one is the most diverse in that you can't takedown the AI, in fact they are protected from it. You have to build up your boost bar entirely, then you should hold the boost, and once depleted, it'll fill up again. If you use an unlocked car that's been especially tuned for it, each heatwave combo increases top speed of the car each time. Cars are unlocked by completing in one on one races with a faster opponent. Though, my personal favorite is the pursuits, which is a nice callback for doing road rage as a cop to meet a quota before the suspects escape for good.
Now Dangerous Driving isn't devoid of new systems or ideas. There's now the concept of persistent wrecks, which are burnt highway carcasses that can hurt you. In a road rage event, wrecked cars are just the casualty of the war. It does get you to second guess performing an intentional takedown on races and eliminators because you'll have wrecks from each opponent littering the track that can keep you from getting the gold with a wrong move. The AI can succumb to them, but you will find yourself needing to be extremely nimble to avoid them, for which the controls allow you to be able to steer your car with incredible accuracy that makes the cars still feel like they have weight. You'll also find every civilian be a good Samaritan, as oncoming traffic will flash their headlights at you. This is a very fresh feeling game all the way.
The once controversial "traffic checking" from Burnout Revenge makes somewhat of a return here. I found that I could only traffic check vehicles of equal or lesser weight vehicles, as trucks always seemed to cause me to wreck. Wrecking allows you to go into aftertouch to direct your vehicle into upcoming opponents in order to get an aftertouch takedown. This gives you a good head start for when you come back. Driving into oncoming traffic, drifting, and getting near misses all help you get boost faster. Where getting takedowns add to your boost bar, wrecks remove the chunks of boost bar you've earned. By going fast, turning hard without drifting, I've flown right off the track. It's horrifying, but I guess that's why they call it Dangerous Driving.
The game has Spotify integration like nothing I've seen before. You could play Spotify on your PC or consoles thanks to the apps themselves, but Dangerous Driving's implementation is just a little bit clunky. Once you tie your game machine of choice to the website with the pairing key, you can setup a playlist or what-have-you to play your music and then pause, play, next, or back your way through it. What this really means, is that you can queue up the Burnout 3: Takedown and Burnout Revenge playlists to fill the gap that the in-game soundtrack doesn't provide. It's a great feature that works incredibly well for a racing game.
The car classes are named generically: SUV, sedan, hypercar, etc. You at least know what vehicle will be like for speed and handling, but I'm surprised they didn't get names or something more unique. It's hard to know the difference between sedan, tuned sedan, and advanced sedan, as well. I learned that the sedan tops out at 197mph with boost, the tuned sedan tops out at 194mph with boost – but not comparison or charts to make this easy. There's scrolling text for each car, but it moves so slowly, and is generally light on the details, but gives enough to know what vehicle is best for what event. It's not long before you just know what each car does and know how to use them best.
Where I could complete the Danger Zone games in an afternoon, Dangerous Driving took me days of play. With no in-game or out-of-game tracking, I'd say it took roughly 15 hours to get gold medals on every event. Getting platinum medals on every event is going to be a different story, though. There's a lot of great locations that I'll want to revisit because of how well the events and races play out.
It's not all road rage and rainbows though, I do have my issues with the game. The paint selection is the same for every car and class, but you have to wait for the color to come around without. The lack of urban environments were definitely missed. The rural and open-ended areas were stunners, but something more city-focused would have been some real chaos. The worst parts are the bugs. There were times where I'd be in the lead, then suddenly see AI zip by and suddenly you're 11 seconds behind — what? Or the times you crash, and you'll be spawned right in front of a wreck or oncoming vehicle and crash again without any means to avoid it. Aftertouch takedowns are meant to give yourself an advantage during a crash, but I found that sometimes they don't register the contact on an enemy, and you're just left without boost. None of it is a real deterrent from enjoying the game to its fullest, but they're there, and ignoring them will be entirely subjective.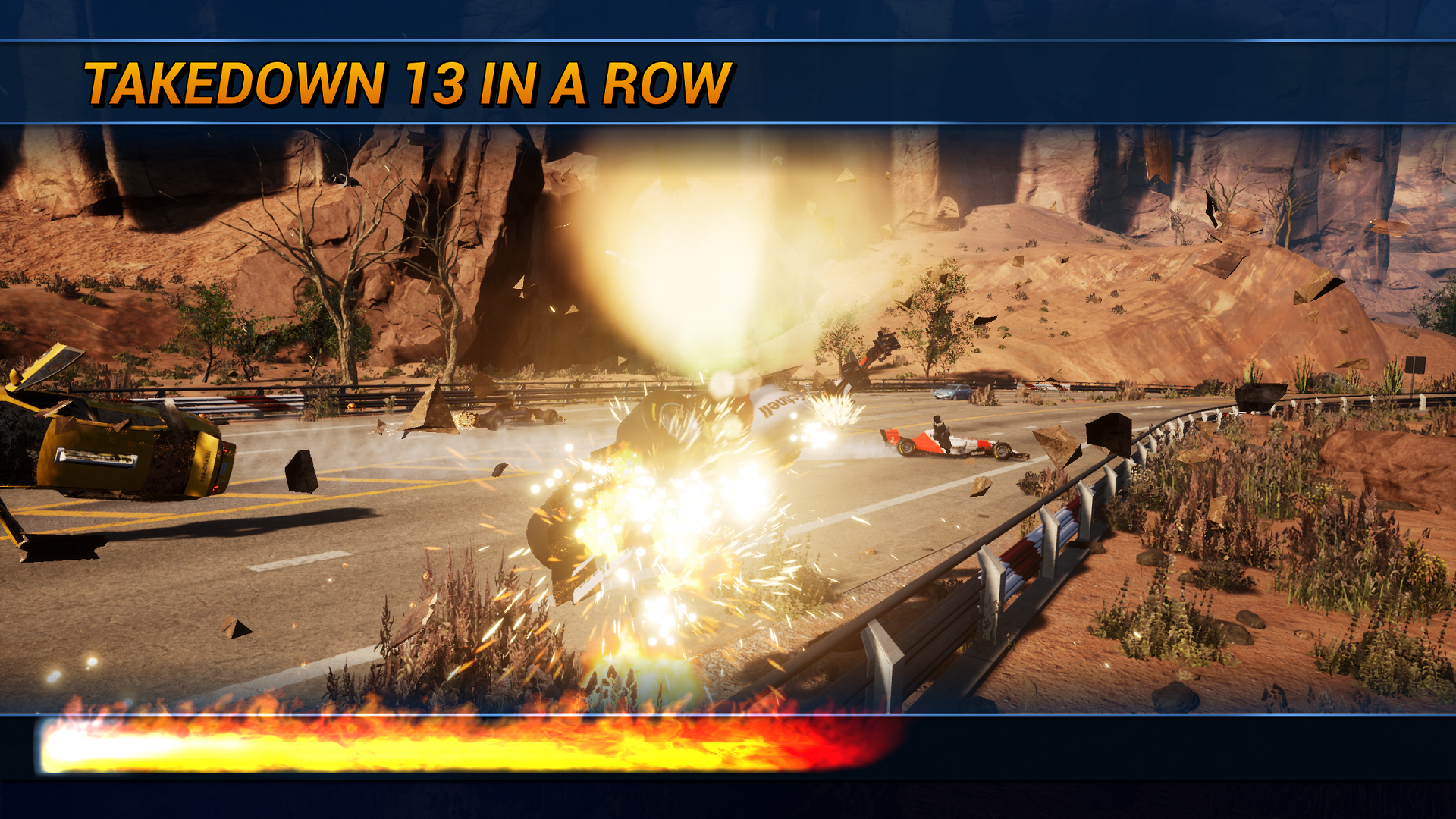 PC Specs of Review System:
– Microsoft Windows 10 Pro
– Intel Core i7 6700k @ 4.2Ghz (Turbo)
– NZXT Kraken X61 106.1 CFM Liquid CPU Cooler
– G.Skill Ripjaws V Series 32GB (2 x 16GB) DDR4-3200 Memory
– EVGA GeForce GTX 1080 FTW 8GB GDDR5X
– Seagate 2TB Barracuda SSD SATA III 6Gb/s Internal SSD Drive
To say that the game looks amazing is underselling it. Three Fields Entertainment has been using Unreal Engine 4 since their first game, and they've really got this engine down. It runs at my monitor's refresh rate of 144fps without so much as a sweat. The way that High Dunes Desert looks in the late afternoon with the sun resting on the horizon makes you feel the heat on your face as you race against the sun-soaked pavement. Then in contrast, the following race on Eagle Ridge Mountain at night feels cool thanks to the saturated color usage. The colors of this game utilize your sense of sight, sound, and even the illusion of touch.
I should note that the Epic Games Store is great for developers in terms of revenue cuts, but the experience of playing this game on through this storefront feels hollow. There aren't any achievements or leaderboards, so you feel completely disconnected from the internet in the best and worst ways. Now, for purists, this Burnout-like feels like a PlayStation 2 game in that way, but it's 2019 and this is not that system, and I should feel connected to other players. When its comparable systems like PlayStation 4 and Xbox One have leaderboards and achievements, it ends up feeling disproportionate.
Dangerous Driving is set to receive an online mode as the first monthly content update, to which this would greatly benefit from. Three Fields Entertainment comes from Criterion, and it's easy to see that it meant something to them. In one of the tracks, Sullivan Meadow is seemingly a nod to Craig Sullivan, who used to be Creative Director at Criterion. This is a labor of love, and I love this game. What could make this better is to marry the gameplay of Dangerous Driving and Danger Zone together to have races and crashes in one game, though I'm sure that's not far off.
Dangerous Driving is somewhat basic for a racer, but this offering goes at incredible speeds and has unexpected depth and nostalgia for a series that's found new life. On PC, you'll have to forego some modern features and connectivity over its console brethren. The amount of hours you'll spend in Dangerous Driving feels really good, and something you'll keep coming back to. Dangerous Driving has its flaws, but it's a magnificent return to form from a small team that knows how to make a Burnout game all but in name.
A pre-release Epic Games Store code was provided by the publisher for review purposes