Sniper Elite V2 Remastered sees the 2012 release completely overhauled, reworked for PS4, Xbox One, and PC. Rebellion has released two sequels in the series since this release, making this entry more noticeably lacking when compared to its successors. In my eyes, Sniper Elite: Berlin 1945 deserves the remaster treatment the most. For what Sniper Elite V2 Remastered is, is really good. It may feel basic, but it offers up a really defining-era shooter that makes sniping fun and interesting.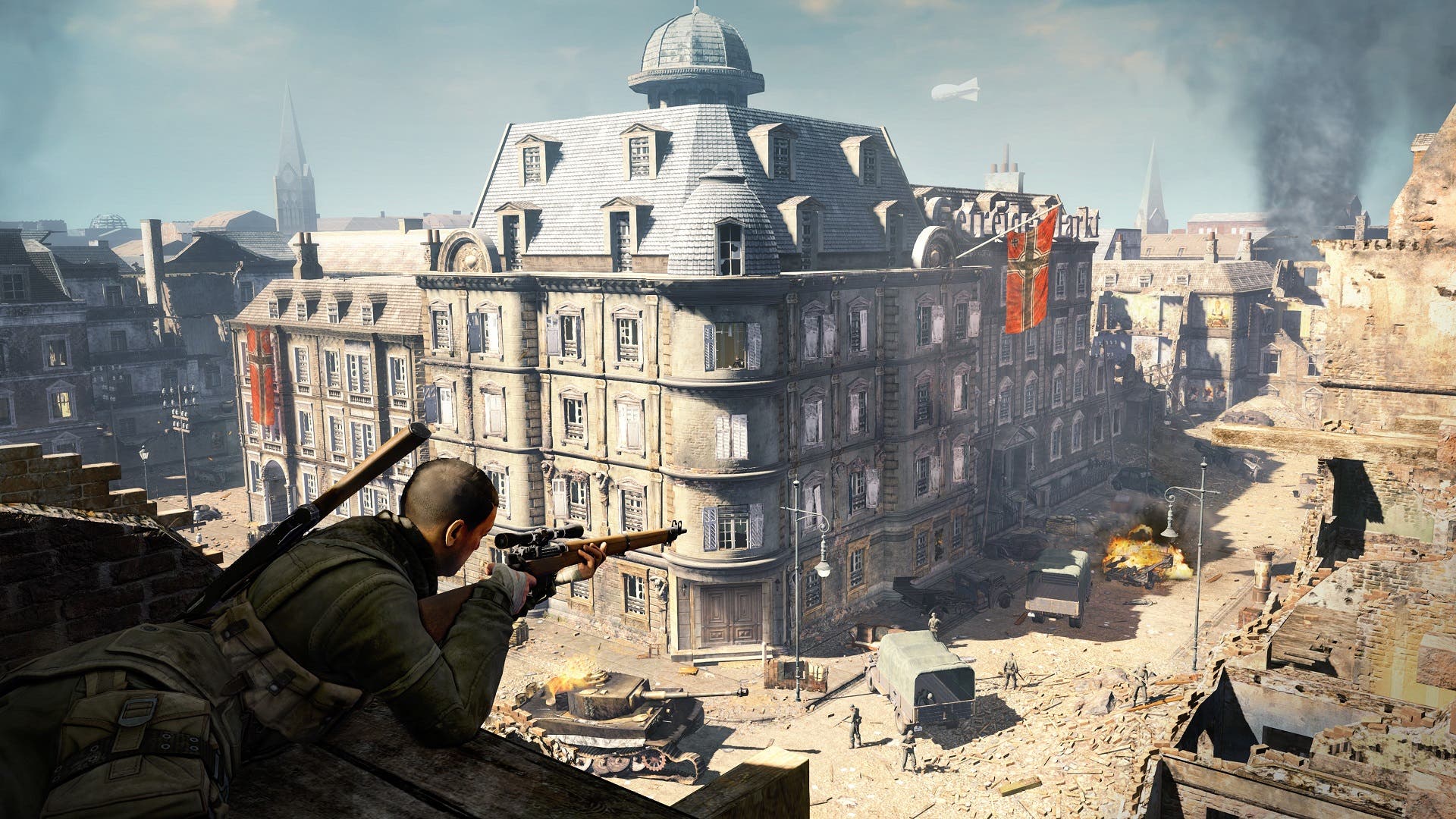 You play as Karl Fairburne, an American sniper who gets sent to Berlin to prevent the lauded V2 rockets from launching and further manufactured. This is happening at a time in World War II where Germany is on the losing end, and fighting the Russians at the same time. So there will be points in which you'll be fighting both sides of the conflict to make your way through certain areas in order to complete your objectives. Sniper Elite V2 Remastered is insanely linear compared to its contemporaries, where there's no side objectives to tackle, but merely the main thread to follow. There's ten story missions, and in playing the game for the first time through took me about eight hours. Playing this again, it surprisingly all came back to me and I completed it in about five hours. There's more modes and features to extend your time, but the game never overstays its welcome or gets stale.
Sniper Elite is meant to be played a stealth game by crouching or crawling, using sound to mask shots, and picking off enemies one by one. Though it's very likely you'll get spotted or make a mistake along the way, and you'll have to shoot your way out of an area and take cover. This is a more than acceptable way of playing the game. On its normal difficulty, it's hard to fire your rifle as fast as the later entries. You die rather quickly, and you'll be sent back to the last checkpoint. There's a scoring system that resembles the original game, where highest scoring shot and overall high score will be tallied at mission's end. If you don't care for this sort of thing, it doesn't gate progress or prevent you from doing anything, but merely a metric for your rating in playing the game the most ideal. I think that this game is the longest lasting bullet cam of the series, and it is the series' defining feature as you witness your bullets over long distances creeping towards their targets with penetrating efficiency punctuated by the x-ray camera showcasing its deadly consequences.
New with Sniper Elite V2 Remastered is a photo mode. Whether you find or even use this feature in other games is not relevant, but its inclusion is such a perfect fit for capturing enemies expressions as they face their own mortality like a World War II journalist is entertaining as it is troubling. The photo mode even features time mechanics as you move the action frame-by-frame to capture that perfect shot and adjust all the necessary sliders to get what you want. Those who've played the spin-off series, Nazi Zombie Army will find their favorites for use in both the single-player and multiplayer modes, which is neat but entirely throwaway.
What's old with the game is that there's only checkpoint saves, and no ability to manual save which is a feature of later entries. A staple of the Xbox 360 and PlayStation 3 era is the mandatory collectibles. Them being wine bottles and gold bars strewn about a level, the game tracks them so you'll be able to see if you've found them or not before exiting a level. Sniper Elite V2 was only getting started with its x-ray camera feature, so it lacks showcasing more of the internals o an individual, to include but not limited to the stomach, liver, and testicles. It's a series that gets better with each new title, but is worthwhile seeing where it really started.
The aforementioned bonus modes come in the form of Kill Tally and Challenge. Kill Tally is about racking up as many kills as you can. The challenge mode is actually a campaign extension, offering three new campaign missions that bring new weapons along with it. What was previously pre-order DLC in the original release is included, bring you the ability to kill Hitler in the "Assassinate the Führer" mission – which is another reason why you come to this series, and it never ever disappoints.
Sniper Elite V2 Remastered brings the multiplayer suite that was previously a PC exclusive to all platforms. Though, I was not able to play during pre-release, it supports up to 16 players now. And it has a whole host of modes that are expected, like Deathmatch, Capture the Flag, and Dogtag Harvest (think Kill Confirmed from Call of Duty's multiplayer). What was available at original release, but still one of my favorites today is Distance King. This is a strategic element to the multiplayer where it's about placement, distance, and a bit of a race to get shots to go as far as possible. The multiplayer is pretty standard, but all the same exciting when put into the Sniper Elite setting.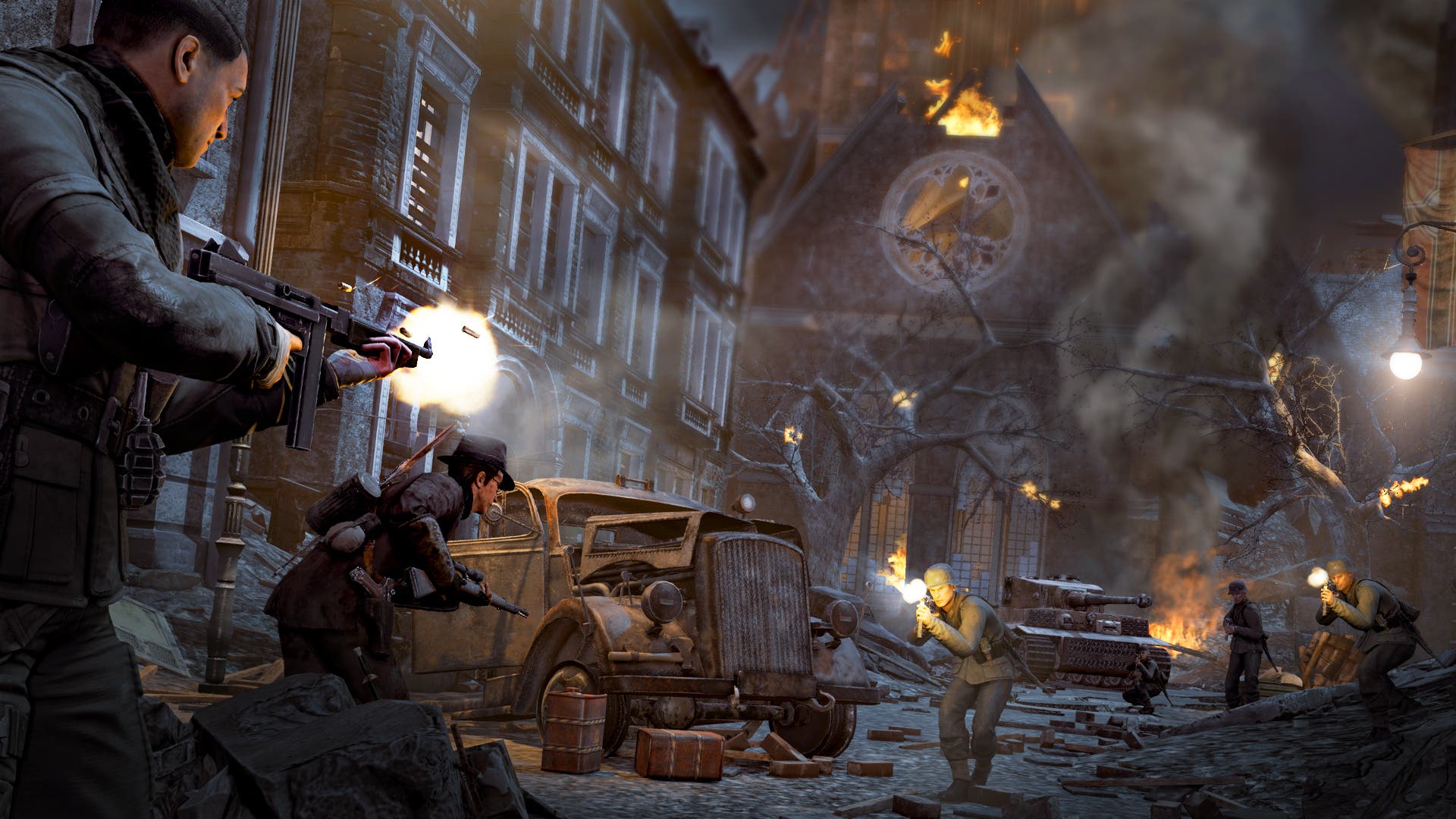 PC Specs of Review System:
– Microsoft Windows 10 Pro
– Intel Core i7 6700k @ 4.2Ghz (Turbo)
– NZXT Kraken X61 106.1 CFM Liquid CPU Cooler
– G.Skill Ripjaws V Series 32GB (2 x 16GB) DDR4-3200 Memory
– EVGA GeForce GTX 1080 FTW 8GB GDDR5X
– Seagate 2TB Barracuda SSD SATA III 6Gb/s Internal SSD Drive
There's been a lot of work done to improve this game over the original Sniper Elite V2. For me, there's a visual crispness that stands out the most, as the updated renderer engine allows for better anti-aliasing techniques to be used. It's also clear that shadows and lighting have seen improvements, or were otherwise completely redone. The water that runs down walls looks fantastic. Other improvements don't make it feel like a different game, but certainly make it look better, removing that "dated look" feel you get from playing the original. And it should come at no surprise that I was able to get 144fps (capped) at all times while playing.
Sniper Elite V2 Remastered has dated gameplay that's a stark reminder at how much the series has improved with Sniper Elite 3 and Sniper Elite 4. When examining this game as a purely standalone experience, Sniper Elite V2 Remastered is a solid game that benefits from improved visuals and a way for those who haven't experienced this series with a better way of doing so. This game's influence is one to be remembered, and is captured so well with this remaster.
A pre-release Steam code was provided by the publisher for review purposes