From Alt Shift and Humble Bundle comes Crying Suns, a tactical roguelike with a focus on story you'll be dying to see more of. You can pay compliments to how good the game looks, but the gameplay is the real star of the show. There's a lot of systems in play here that aren't apparent initially. This is a game that offers a lot of depth and replayability amidst the story it slowly reveals to the player. Crying Suns is successful in accomplishing all it sets out to do as a roguelike with an entrenched story.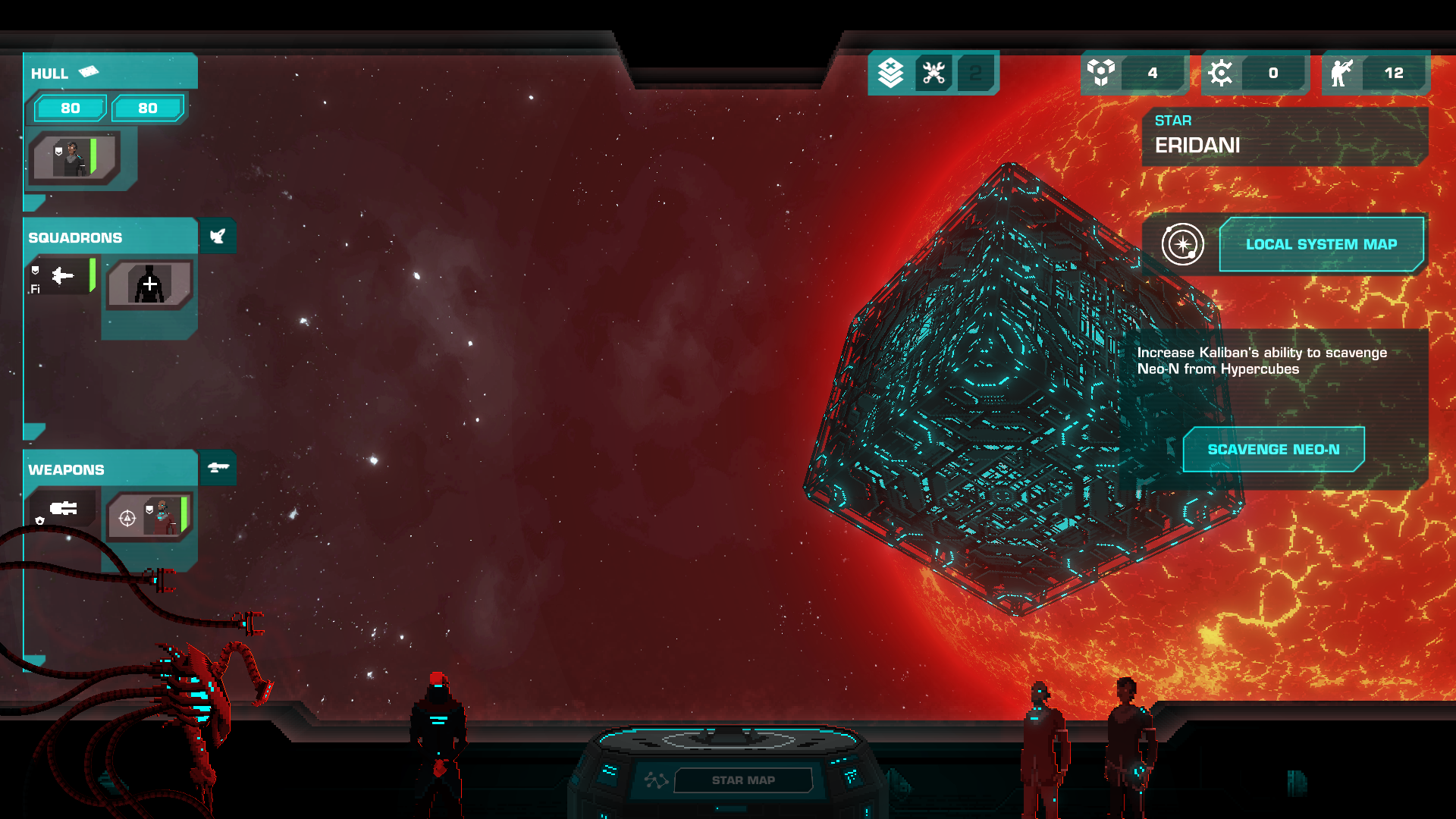 After being dumped out of a cloning pod, you meet an AI that's a last of its kind, and wants to flee with you to restore the machines that once prospered back to life. It's here where the game begins. You'll choose a difficulty: easy, medium, or hard. Next you'll select a battleship class to which you'll only have one to start the game with. With each completion of a chapter, you'll unlock more powerful battleships to use in new runs. Finally, you'll select officers from a pool that will be in charge of certain systems. From here, you'll begin your adventure to restore things to the way they were.
Outside of cutscenes and special instances, the entire game takes place on the bridge of your ship. As the space commander, you have to witness everything that happens, whether you're in control or not. Across six chapters of story development, you'll witness various events, make decisions, talk with interesting people, engage in battle, and apply upgrades to ensure your survivability to get to the end. Having everything take place on the bridge firmly plants you in a position of power, and helplessness. But these are the struggles that befall a commander.
Navigating this space is done by both systems and stars within a sector. Systems are the cluster of planet bodies that you'll navigate to investigate anomalies, visit shops, or pursue quests. Quests are where you'll move the story forward, and learn more about this fallen empire. The stars are where you'll jump from system to system, which expends one fuel to do. With a bit of FTL flavor, you'll eventually start being chased through these systems if you take your time. The procedurally generated systems feel unique and have a fantastic splash of color that make it all feel unique. Once you reach the end of a sector, there's a heavy boss fight in order to leave said sector to progress forward.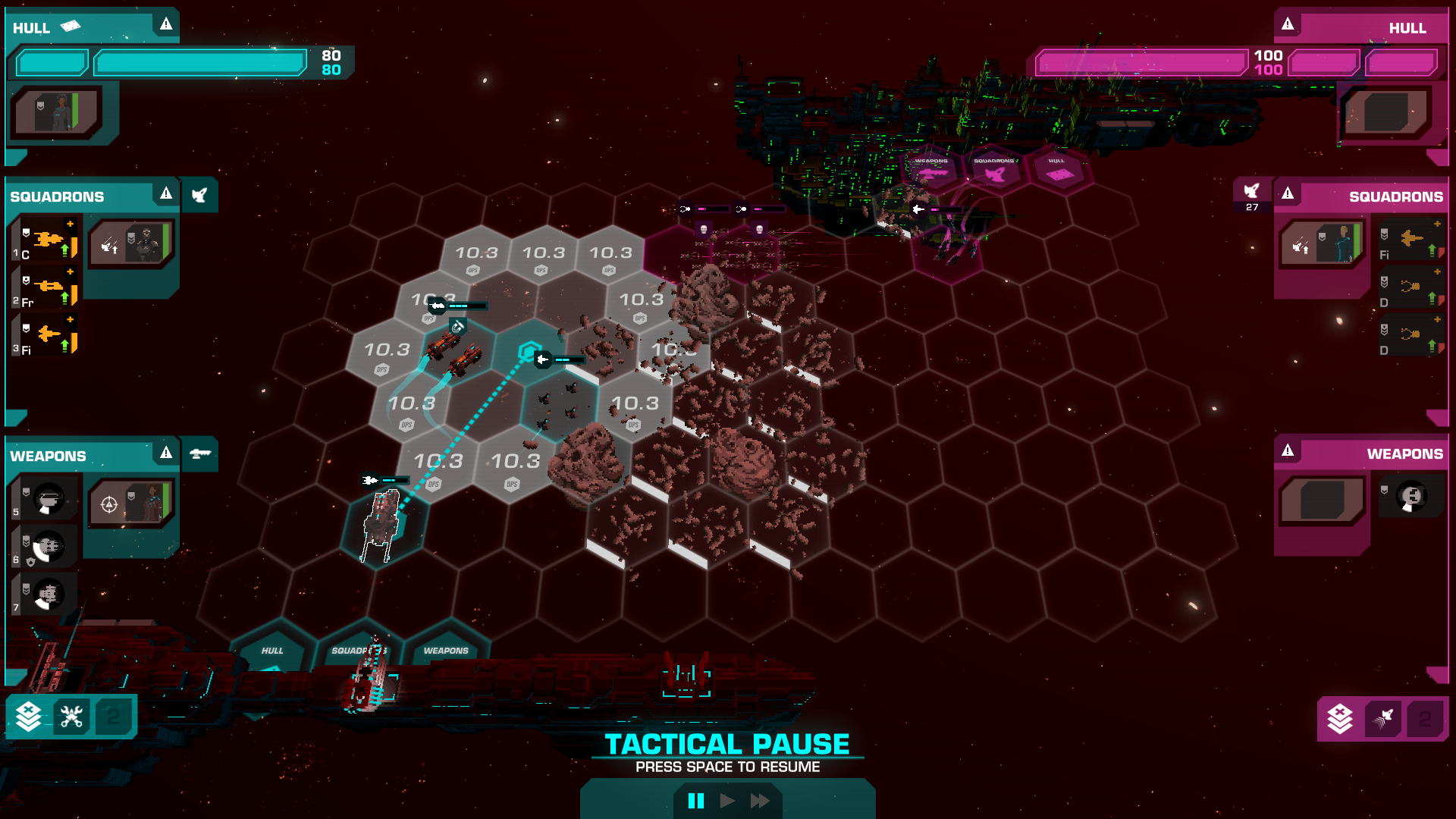 The battles themselves take place on a 2D plane, where you'll be able to position ships, ready your defenses, and plan your offenses. The game takes a tactics approach, with pausable combat. So you'll be able to scout your enemy, their capabilities, and plan accordingly. Officers can be placed in each system, like hull, weapons, or squadrons to boost their capabilities with buffs. Depending on the upgrades you've invested in, you'll be able to deploy a single or multiple set of squadrons onto the field. You can issue commands via waypoints so that they avoid space hazards and work their way to the enemy ship to do damage. Once you unpause, the game continues and your weapons start charging up, with each weapon having a unique timer. You'll then be able to target one of three areas, just like they can: squadrons, weapons, and hull. Once you've damaged them enough, you win the encounter. Later fights feature multiple tiers of hulls to chew through before a victory. And as a result of successful combat, to the victor go the spoils.
This is a seriously beautiful game. The artwork is stellar, and the particle effects especially during combat encounters is just so impressive. The lighting and shadows add depth to each scene. The UI is real clean, and reminds me of Endless Space. Having readability as a priority over thematic consistency is much preferred. I can't stop being in awe of Crying Suns' beauty.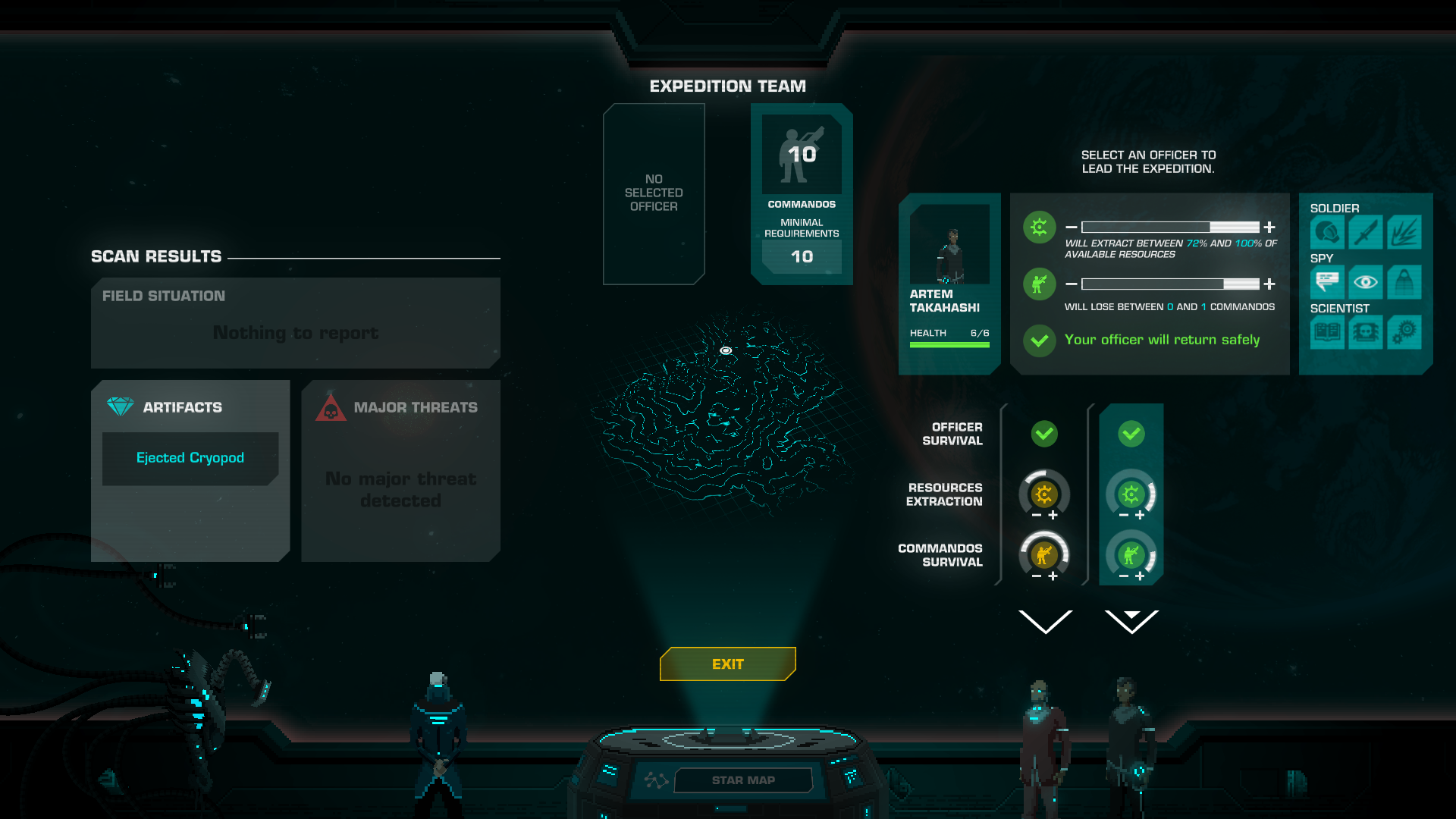 There are three main resources you have to have to ensure that you proceed: fuel, credits, and people (known as commandos). You need fuel to navigate systems, credits to buy upgrades and items from shops, and commandos for expeditions to recover more resources. These are easy to main, and even easier to lose. So each decision, action, or inaction you take can be very costly to your run. Careful consideration is always advised.
Among the events that can occur during a run, you can capture people and interrogate them for information, help civilians who are floating helplessly, or investigate anomalies which are almost always combat encounters. With a possible 300 story events, you'll want to interact and do everything you see. There will be planets you'll scan, and then send commandos to do a planetary expedition. You're always told the odds of that particular mission's success based on the officer in charge. And should things get too hairy, you can force a retreat at the expense of the items you're going for. They're fun to watch, can be fast forwarded, and you can't help but feel powerless as it happens.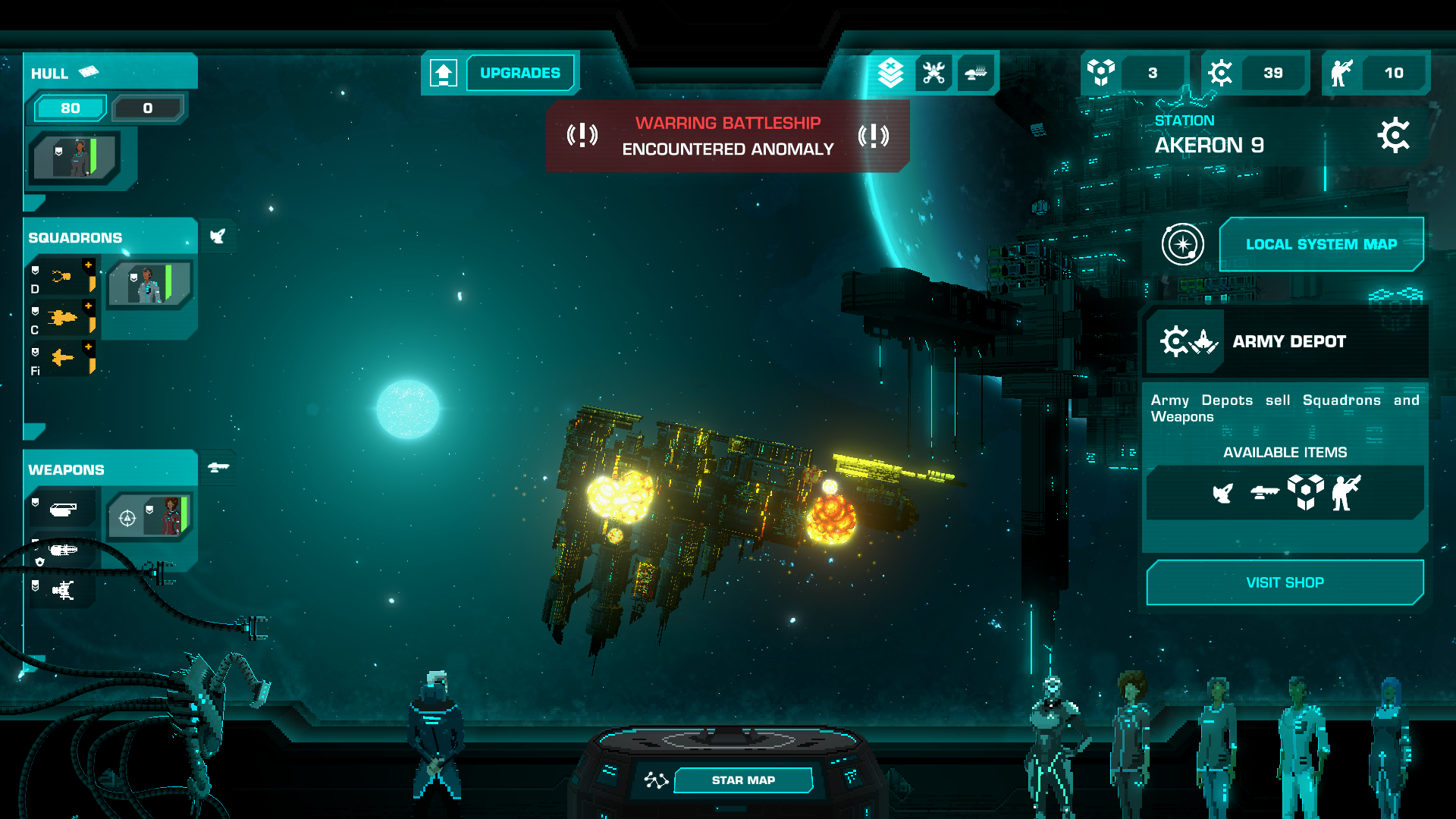 Death is inevitable in Crying Suns. You keep the knowledge you've learned upon death, which is to say that you won't be asking the same questions to gain understandings. And those understandings you already possess, improve your dialogue choices and options. The worst part about it, is having to start over. New options become available to you the more successful you are, but for such a story-heavy game, you wish it was a more traditional save and reload kind of game.
Perhaps Crying Suns' most underplayed feature is the dialogue system, it can be as important as the combat, even though it does take a backseat in terms of how the game weighs dialogue to combat. Conversations can reveal a lot, and even using your officers to speak to pirates can completely nullify what would be a fight. It's an incredibly powerful tool that you don't quite understand on your first run. But subsequent runs becomes more apparent.
Crying Suns is a hard game, and even if you don't manage a successful run, you'll have a blast with it. Everything you do is accentuated by the dark synth that plays with every aspect of the game. I do wish it was a more traditional story-focused game with saving and loading, as opposed to its roguelike design, but there are some decisions you make that would make this difficult. That said, I keep coming back for more. Crying Suns will grab you for its 2D pixel art and 3D tactical combat, but then you'll stay for the intriguing story left to uncover.
A pre-release Steam code was provided by the publisher for review purposes