News
Jan 21, 2020
R.B.I. Baseball 20 is now available for pre-order, soundtrack preview available on Spotify, and first screenshots released
From Press Release:
NEW YORK, January 21, 2020 –R.B.I. Baseball 20, the seventh edition of the classic video game franchise built by Major League Baseball, is now available for pre-sale, which includes details on expanded gameplay features, a first-look at screens, unique giveaways, and an exclusive preview of the game's soundtrack. Fans may explore all of these updates and more at the game's official website – RBIGame.com.
As the calendar turns to 2020 and with fans ready for the game's official launch, MLB will reveal additional specific details behind its development of newly revamped batting and pitching mechanics, including an exciting new "broadcast-style" centerfield camera angle, and significant visual improvements to players and ballparks – delivering MLB authenticity to the arcade-style game at levels never before seen for the franchise. R.B.I. Baseball 20 retains its great slate of gameplay modes, including Franchise, Exhibition, Online Multiplayer and Home Run Derby, offering players a diverse mix of baseball fun. 
PRE-SALE OFFERS
GameStop: Fans who purchase R.B.I. Baseball 20 from GameStop in advance will receive one of seven highly addictive Squeezy Mates collectibles including cover athlete Christian Yelich (Milwaukee Brewers), 2019 National League Rookie of the Year Pete Alonso (New York Mets), Walker Buehler (Los Angeles Dodgers) and four other top players.
Target: For fans who may prefer a traditional collectible, Target will offer an exclusive pack of Topps baseball cards highlighting R.B.I. Baseball 20's featured players. This select 7-card pack is only available via Target pre-sale. Fans will get baseball cards that reflect the 2020 Topps Baseball Series 1 design, which will be the 68th annual release for the series with a new look reflecting the unmatched quality of Topps baseball cards.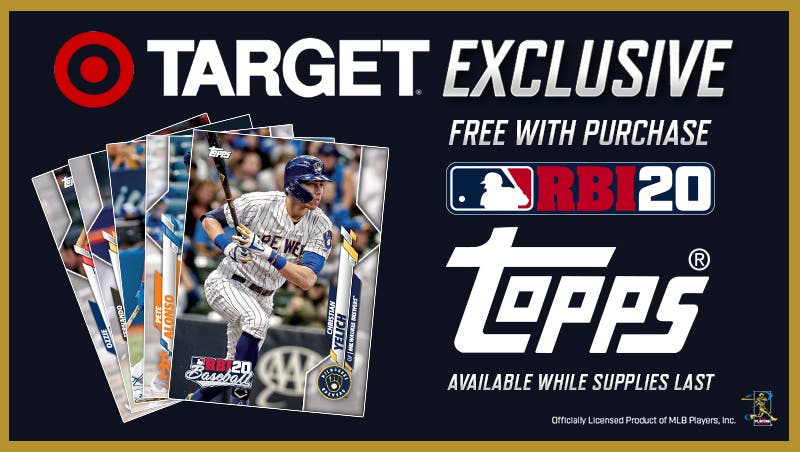 NEW SOUNDS
MLB has once again integrated a fun, energetic soundtrack to match the quick, entertaining and easy-to-play style of the game's franchise. Fans can click here and head over to Spotify to experience a 18-track preview of R.B.I. Baseball 20's soundtrack that includes music from award-winning artists OneRepublic, Andy Grammar, Glide Flores, and others. 
R.B.I. Baseball 20 is officially licensed by MLB and the MLBPA. It will be available in 2020 for the PlayStation®4 computer entertainment system, the Xbox One family of devices including Xbox One X, the Nintendo Switch system, iPhone, iPad, supported Android smartphones and tablets. The game will retail for $29.99 (U.S.) on consoles and $6.99 (U.S.) on smartphones and tablets. Launch dates for each platform will be announced when available.
For more information visit RBIGame.com, follow @RBIGame on Twitter, @RBIGame on Instagram, or @MLBRBIGame on Facebook.
---
Gallery: