News
Jun 15, 2021
Cyber Shadow update 1.04 brings the Easter Egg Challenge to get your name in the game's credits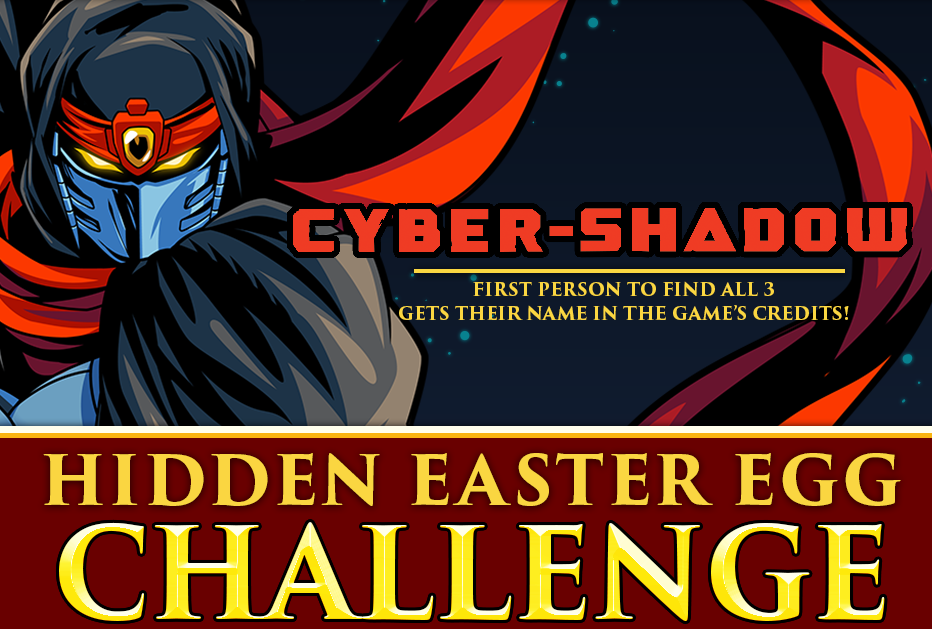 From Press Release:
June 15th, 2021 (Los Angeles, Calif) – Yacht Club Games has released the 1.04 update of their published title, Cyber Shadow.
In update 1.04, 3 Easter Eggs have been hidden in the game. Uncovering all three will unlock a special in-game skill worthy of a true ninja master! To help guide players to the Easter Eggs, Yacht Club Games will release 3 hints (1 hint per Easter Egg) for 5 weeks on their website and Twitter. 
Listed below are the first 3 hints:
Easter Egg 1 Hint: "Lightning but no rain? Guess we're technically underground, but the ceiling is so far off I can't see it."
Easter Egg 2 Hint: "Not many places left in Mekacity devoid of technology besides here. Not a sliver of circuitry or any metal-plated floors in sight."
Easter Egg 3 Hint: "My gyros can't keep up with this swaying… I think I'm gonna be seasick…"
The first player to collect all 3 Easter Eggs and obtain the secret in-game skill will receive the glory of having their name or alias listed in the credits of Cyber Shadow! To claim this prize, the Easter Egg hunter will need to send a description of how they found each Easter Egg along with a screenshot or video Shadow using the secret skill to Contests@yachtclubgames.com. For more information on this challenge, please visit: https://yachtclubgames.com/2021/06/cyber-shadow-hidden-easter-egg-challenge/
In addition to the Easter Eggs and secret in-game skill, Cyber Shadow's 1.04 update brings a slew of quality of life updates and bug fixes. You can read more about the Cyber Shadow quality of life updates and bug fixes, on Yacht Club Games' website. 
Cyber Shadow is available on Nintendo Switch, PlayStation 4 and PlayStation 5, Xbox One, Game Pass, Humble Bundle, and GOG. To learn more about Cyber Shadow, visit cybershadowgame.com.