Thrustmaster has been at the forefront of flight hardware, up until now releasing HOTAS (Hands-On Throttle And Stick) systems. For the first time Thrustmaster has, in partnership with Boeing developed a yoke system, and their first entry is a home run. This is the de facto way to play flight sims if you're going for complete accuracy in your flight sims. The Thrustmaster TCA Yoke Pack Boeing Edition is simply in a league all its own, highly customizable, and feels like you're flying a cloud.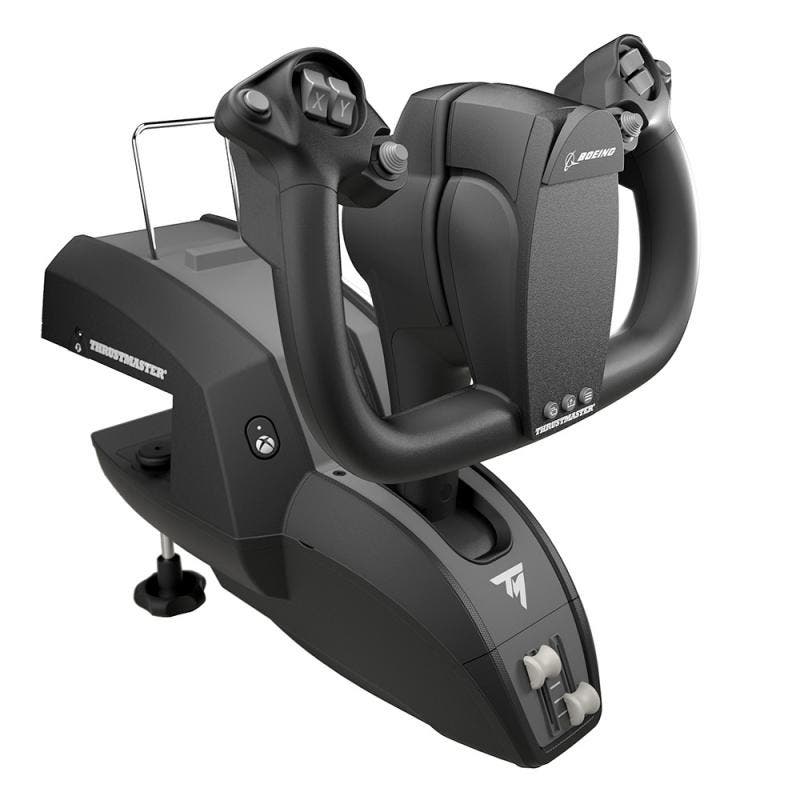 Setup
After unboxing the incredibly well-packed and protected gear of the retail box, you're treated to two main components: the yoke and the quadrant throttle system. There is some assembly required in terms of screwing the mounting brackets to each of the devices. For extra tension, there's instructions on installing an additional spring to increase resistance. Having done so, I highly recommend taking those steps. Once the yoke was fully assembled, I moved on to putting together the quadrant throttle. This is very configurable, as there's three axis slots. One can be used for air brakes, throttle, and flaps; or just brakes, and two for throttle. The choice is yours, and you can swap them at any time.
Mounting these to my all-wood desk was simple, and done in no time after hand tightening them. Once attached, you realize that both the yoke and throttle stick out really far. This isn't a problem by any means, though it wasn't as flush as I would have guessed or thought. That said, it feels really sturdy when attached, and it never felt like I would unseat it from its position. It's worth noting that there is a secondary quadrant throttle and rudder pedals you can purchase separately. Since they aren't a part of this package, nor were they provided; they won't be covered as part of this review.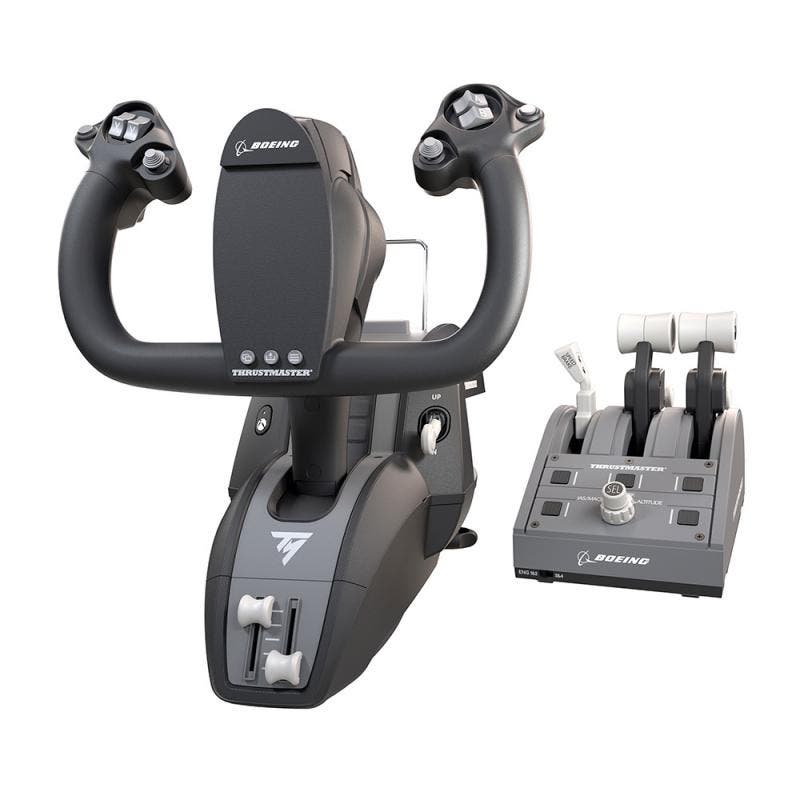 Usability
As someone who has extensively used their Thrustmaster T.16000M FCS HOTAS for all things flight and combat sims for years, switching to a yoke-based system was weird. Firstly, the yoke does not go in and out like we see on so many aircraft, but rather back and forth. While I cannot attest to its accuracy, it manages to recreate the feeling of a real yoke on a Boeing Dreamliner to the best of my ability. So while I thought this was originally a downside of the design, it is intentional, and is the most unique and satisfying yoke out there. The yoke rotates an impressive 150 degrees, and when letting it return to center, it even does the "yoke jiggle" you can see in movies and in real-life.
The yoke is designed for an Xbox Series X, so it does have button assignments that correspond to the face buttons on a controller. Here, ABXY are toggle switches in each direction. The triggers of the controller are triggers on the yoke, the bumpers are circle buttons that have perfect placement in the upper areas of the steering column. Then there are two hats which map to joysticks, the left one clicks, while the right is a smooth stick used for using the camera to look around smoothly. The yoke has an in-line throttle selector with two axis at the bottom to control your air speed. They're a little hard to reach, but work in a pinch if you don't have the quadrant throttle piece. This does have the Xbox menu, share, and pause buttons to round it out, which are more needed on the Xbox Series X|S. I know if you don't use Xbox, and are primarily on PC these inclusions might be bothersome. But Thrustmaster did not use any of the colors of Xbox either from the brand or the face buttons in here. Everything is a flat black, white, and grey color scheme here, as to not distract. The star of the show for me is the very clicky, tactile up/down toggle for landing gear, which looks and sounds just like the real thing.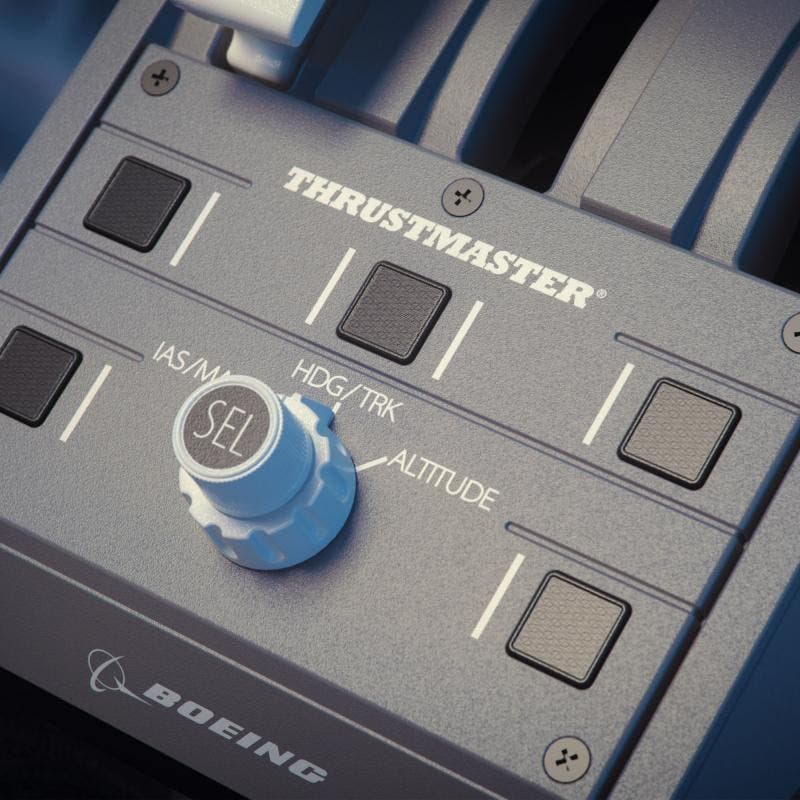 Usability (cont'd)
For the quadrant throttle, there's an impressive control panel here. Most noticeably, there's a selector switch pre-designated for IAS/MACH, HDG/TRK, ALT with slider knob and button press. Then there's six square buttons that can control things like engine on, engine off, lights, etc. These of course can be customized to what you want and will use, but their default actions were great.
As mentioned, the quadrant has interchangeable parts provided out of the box. There are two throttles, one flap selector, and one for speed brakes. How you set these up is for you. I started with ENG3&4 configuration (relating to the throttle positions for the engines) where the brakes are first, then the two throttle sliders. I may change this up and go for ENG1&2 instead, which is two throttles first, then flaps at the end. It's interesting that Thrustmaster opted for three axis and four options, it would have been nice if there were four axis on this, eliminating the need to make any decision.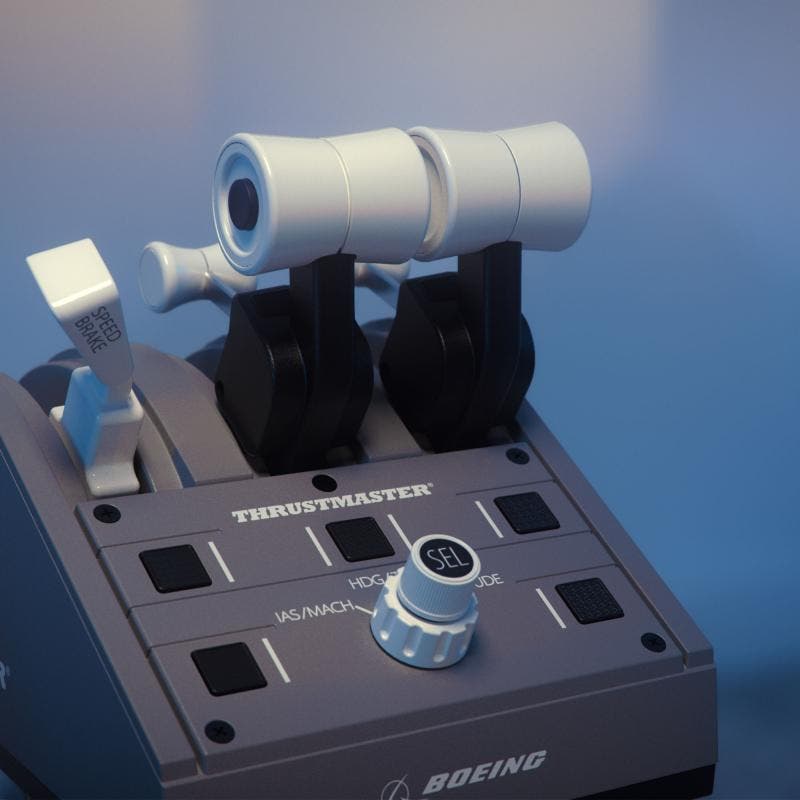 Usability (wrapping up)
Thrustmaster says this system simulates the floor-mounted yoke on a Boeing 787 Dreamliner. Not having flown one, or flown in one, I can't corroborate the claims, but I will take their word for it. I'm admittedly not a pilot, but I love the feeling of using this and pretending to be like one. smaller aircraft seem too responsive, while 747s and above feel not responsive enough. All this to say, it feels right – just because despite how it feels, it's an accurate to the weight and size of the plane you selected. This system will contrast most of the visuals and movement in a cockpit of most aircraft in Flight Simulator and X-Plane 11, that doesn't takeaway from how great it is.
There's some hard but well-built plastic that doesn't feel cheap or flimsy. The spring tensions, to include the one I installed extra, feels really great. In place of the fact that the yoke system doesn't have force feedback, this is a good alternative. Except for one light on the Xbox button, there's no LEDs, panels, or anything else that lights up. It's very much distraction free, but it does mean you can't do a night flight in complete darkness in your room, as you won't be able to see anything on the yoke or the quadrant throttle. On the upside, this system doesn't use any external power to use, which is probably a huge plus for many.
Games
I did test this briefly with Microsoft Flight Simulator on Xbox Series X, and it just works. In fact, it's almost scary how good it is there. On PC, I tested two games which are focused on flight simulation and have been my top choices, X-Plane 11 and Microsoft Flight Simulator (2020). Across the two games, it took some to a lot of customization to get going, but it was detected without issue.
X-Plane 11 was easy to setup, but it requires a full configuration of every button, axis, and switch. There's no auto-detection or profile (at least at this time) to load. You will need to define every input and axis in order to use it for travel, and once you do though, it works flawlessly. In this game, since there's more doodads to toggle, there's a lot more customization for what you're looking for the game to do. I've always liked how the game enforces a calibration to ensure the axis' are doing what they should be. But the fact that it's detected and works without drivers or configuration is a feat of design.
Microsoft Flight Simulator (2020) was a bit easier to setup. This one required some partial configuration to get going fully. Which meant having to unbind some things like the in-line throttle on the yoke, and bind how I wanted to use the throttle on the quadrant throttle. You're able to select from unbound or all available controls and bind them to where you want. I love how this system just works, and in its minimalist way, can get to flying without touching the settings panel if you don't want. For the game that this yoke was essentially designed for, I couldn't ask for better.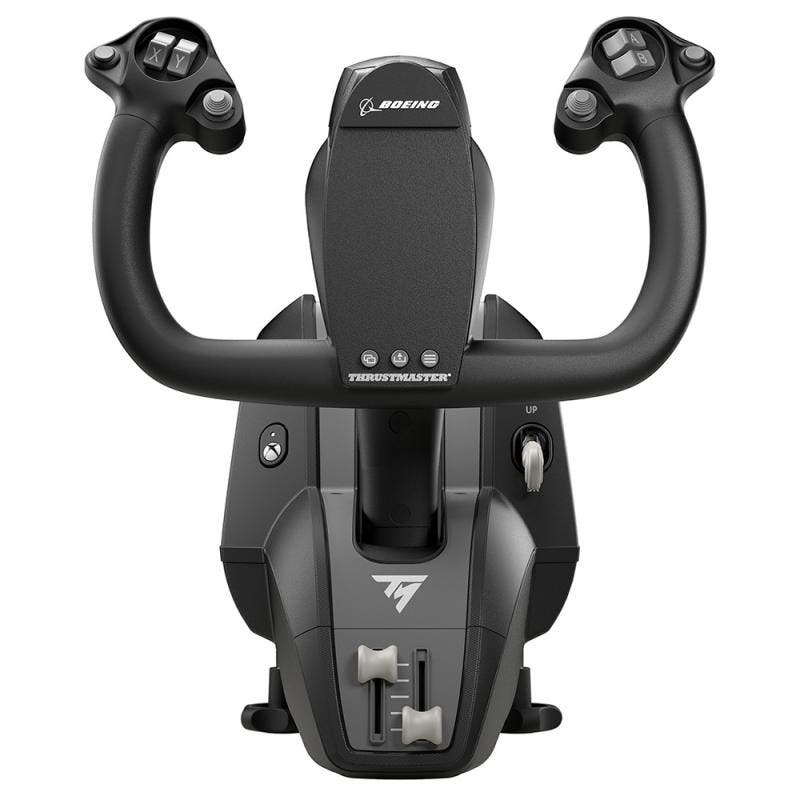 The Thrustmaster TCA Yoke Pack Boeing Edition will be available at retail on December 23rd for $499.99. This is a bundle that includes the yoke and the quadrant throttle (everything I've been talking about throughout this review). The complete package would be adding on another quadrant throttle (available same day as the bundle). Then there are rudder pedals you can purchase, where anything from Thrustmaster's already released ones will do. The standalone Yoke will not be available for purchase until March 10th, 2022.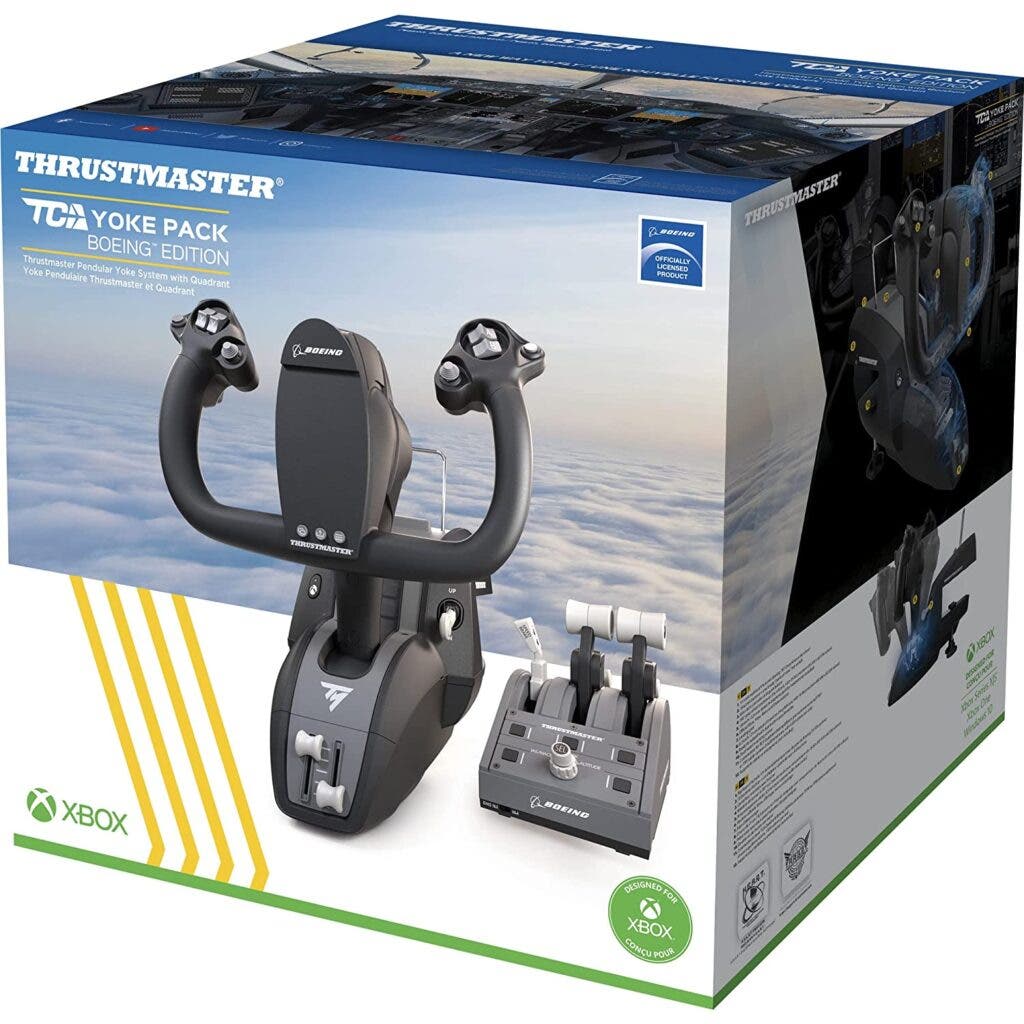 As someone who's used various HOTAS systems for decades, I can't go back for flight sims without a yoke system. This is simply everything I've always wanted that I didn't know I needed. This isn't going to be for everyone, and it is a bit on the pricier side when compared to others recently released. This is no doubt an expensive yoke and throttle system, but it's an extremely good one at that. Force feedback would only make this a better sell, but this is an excellent yoke system for pilots of any skill level. There's quite literally nothing else like the Thrustmaster TCA Yoke Pack Boeing Edition.
The TCA Yoke Pack Boeing Edition was provided by Thrustmaster for review purposes