I've been playing The Elder Scrolls Online on and off since it released back in 2014, and there's a healthy amount of content now. High Isle is the first time where I've become fully invested in playing the game. And this feeling is helped after many updates that have improved the quality of life, from even when I last played it. The Elder Scrolls Online: High Isle takes players to a whole new location, not just for the game but also the series, which is arguably it's most exciting element. Then you have the main quest, a story centered around the Bretons that should be a complete bore, but instead is intriguing tale throughout. High Isle is new and exciting, with this latest yearly expansion giving Elder Scrolls a place to flourish with a location never-before-seen in Elder Scrolls.
All players can start the main quest of High Isle right away, assuming your character has done the prologue quest after creation. Because The Elder Scrolls Online uses player-leveled world systems, there's no prerequisite you need to meet. The game will scale to your level for nearly everything, and it means that ease of access presents no barriers for entry. Whether you're 600 or 6 hours into the game, you can enjoy High Isle right away. There's easily 30 hours of content to experience here, but expect five or six hours to complete the main story, while solo.
High Isle takes place across an archipelago, so there's a naturally tropical and coastal vibe, with its inhabitants are shrouded in fog and mystery. You become entrenched between three kingdoms with their "Three Banner War". A new enemy, an underground cabal calling themselves The Ascendants are causing a ruckus and target all of them equally. There's some really good quests in the chain, like one where you have to done a disguise and infiltrate a prison island. While this can be a lot of fun, but there were a few bugged quests that really put a damper on things quickly. In one side quest, I was tasked to get past a magical barrier, and I got teleported through it. And while on the other side, the quest would not progress unless I solved the puzzle – which I could not from my side as there were other steps that needed to happen. The way to correct it was to teleport to the nearest wayshrine and do it again, which thankfully put things back in order. In the main quest, the final boss battle was bugged, not allowing me to initiate the final action that would trigger the last cutscene. It was only after relogging into the game (and restarting the quest) for this to work properly. Those issues aside, I really enjoyed the down-to-earth questline that was very political and full of mystery and betrayal, it just fit the islands so well.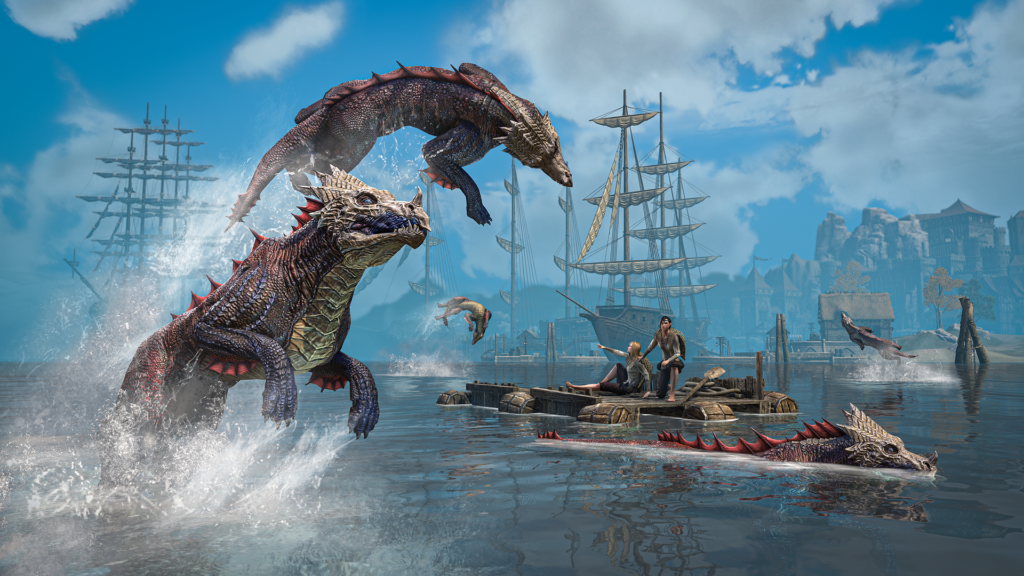 The serious coastal vibes are strong here, with equal parts rain and sunshine. This seems like this expansion might be a seafaring adventure, but you won't traverse the high seas. Though the archipelago has many boat accessible places that will get you around the island chain a lot faster and easier. I do almost wish there was a way to own a ship and crew, but those opportunities would be few and far between in comparison to the rest of the game. Sure there's lots of ports and ocean, but it isn't a pirate-ridden place. There's hidden treasures and crashed ships, but the folks here are high-society and hardly break the law. On the beaches where the waves crash against it, are caves to explore for loot or delve towards a boss fight. From the ocean to rivers, there's clear waters and cascading waterfalls. It's absolutely gorgeous to look at, all the time.
The two new companions you can add to your travels are entertaining, and easy to obtain in just a few hours. I first encountered Isobel, a dorky knight who's looking to make a name for herself and earn some long-awaited recognition. She's an infectious companion, saying things that are funny and simply entertaining, instead of some of the stoic ones you can obtain. Then you have Ember, a Khajit Mage that asks for forgiveness more than permission. Her lackadaisical and relaxed approach to life makes her a compelling companion to have around. Both are great inclusions, and you'll likely be with one of them for a lot of your time in the game.
The new volcanic vents world events where you get to fight off waves of fire and magma-infused enemies for rewards. There's all-new sets of armor and mythic items to attain, and that 30 hours of playtime quickly adds up in exploring the archipelago. Like other locales, there's a zone guide to help you discover everything there is to offer, a guided tour of sorts. It's not a requirement, but helpful when looking for the final wayshrines or something else in particular.
This being a sea-focused expansion, card games are a prominent way to pass the time, and make some coin. Introduced with this expansion is The Elder Scrolls Online's very own take, and an impressive one at that. Look, it's not Gwent, but it is the closest comparison I can make for a card game within a video game. They didn't just slot in The Elder Scrolls: Legends here, it's called Tales of Tribute, or Tribute for short, and it's as complex as it is exciting. There's a single row of cards, and it's up to you to either impress five patrons or earn enough prestige to win the game. There's three currencies of sorts to utilize: coin, prestige, and power. Patrons can side with you if you reach their requirements, or you can play the long-game to earn the 40 prestige needed to win. This is a deckbuilding game, so there are card collectibles scattered all around High Isle to find. The game can be played in PvE and PvP, so whatever your flavor of card battling is, can be found in Tribute. It's an unexpected, but welcome addition to the game that guarantees a visit to the isles.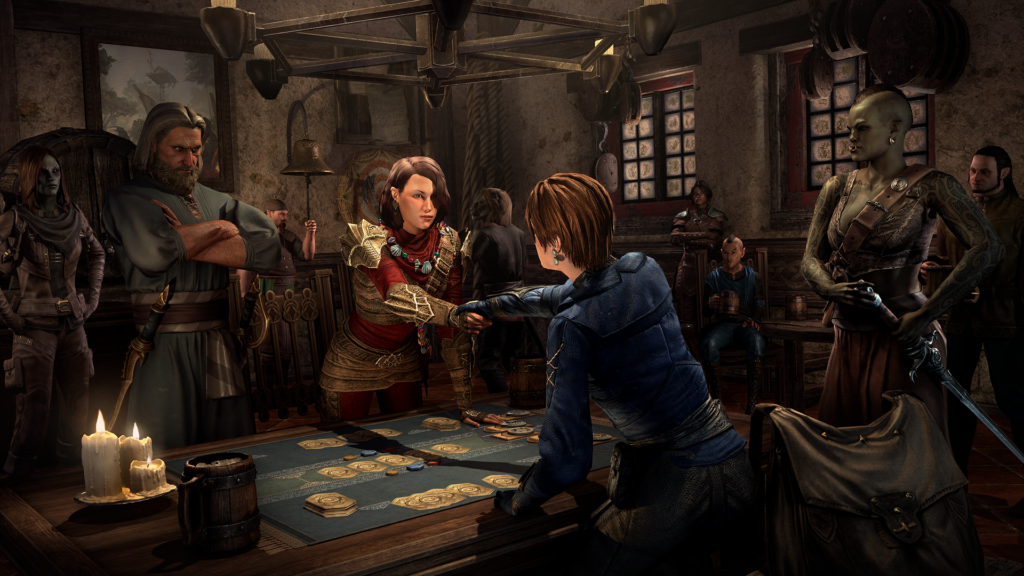 This being a wholly new location might mean there's concerns for performance, but it all runs and plays beautifully like anything else before it. Arguably, since this is a smaller area, it might perform better than other regions do. All to say, the game continues to look gorgeous with raging thunderstorms and stunning sunsets.
My PC Specs:

– Microsoft Windows 11 Pro
– Intel Core i9 9900K @ 5Ghz (Turbo)
– Corsair H115i RGB PLATINUM 97 CFM Liquid CPU Cooler
– Corsair Vengeance RGB Pro 32 GB (2 x 16 GB) DDR4-3200 Memory
– EVGA GeForce RTX 3080 Ti 12GB GDDR6X FTW3 ULTRA
– Seagate FireCuda SSD (500GB)
– Seagate BarraCuda SSD (1TB + 2TB)
– OWC Aura P12 NVMe SSD (2TB)
While the main quest is rather short in comparison, High Isle still doesn't disappoint: All the quests are satisfying, the island chain is exciting to explore, the new gear looks great, and a new card game on top of yearly expansion makes this a big offering. For the sixth expansion, there's never been a better time to play The Elder Scrolls Online. The greatest strength this expansion has, is that it doesn't have any baggage of being a place we've seen in a prior Elder Scrolls game, making it feel wholly fresh for everyone to play. High Isle ensures that The Elder Scrolls Online continues to be indispensable among the MMORPGs available today.
A Steam code for the High Isle Chapter was provided in advance by the publisher for review purposes