News
Aug 12, 2022
August 2022 EA Play Member Benefits for Battlefield 2042 and Apex Legends revealed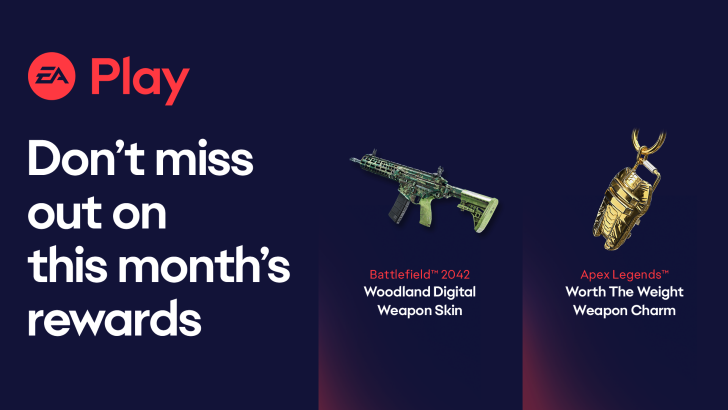 From Press Release:
This August, EA Play* members can unlock more cosmetic potential in fan-favorite first person shooters Apex Legends and Battlefield 2042 with special member rewards. Whether equipping their weapon with a new charm or skin, both Legends and Specialists can suit up to fight in style and hit the ground running with a unique flair to impress their allies and foes alike.
EA Play member rewards this month for both titles are focused on customizing weapons, and include:
Apex Legends 

Worth the Weight Weapon Charm (August 16 – September 12) – A gold version of the Gibraltar Shield weapon charm, equippable to your weapon of choice.

Battlefield 2042 

Woodland Digital Weapon Skin (Now – August 30) – Players can customize their favorite weapon with this skin, featuring bright green hues.
EA Play is a great way to get more from the games you love. Members can unlock exciting member rewards, special member-only content, play select new-release EA games for up to 10 hours, and get instant access to a collection of EA's best-loved series and top titles. Plus, members also save 10% on purchases of EA digital content, with a member discount.
For more details on all the EA Play member benefits this month, visit: https://www.ea.com/ea-play/member-benefits
To learn more about EA Play, check out Twitter, Facebook and Instagram, or visit: www.eaplay.com
*Conditions and restrictions apply. See ea.com/ea-access/terms for details.