From Press Release:
Tiny Thor, your favorite alliterative hero, is back, showcasing his skills in a brand new gameplay trailer.
In this retro-inspired 2D action platformer from German indie studio Asylum Square and Gameforge's new indie publishing label, IndieForge, players will harness the mighty power of mini-Mjölnir.
Declare "hammer time" on the game's enemies, using Mjölnir's bouncy capabilities to perform epic trickshots, throwing it against the map to take them out in increasingly inventive ways. Players are able to freely aim the hammer as well, providing additional control over how it ricochets and allowing them to get creative.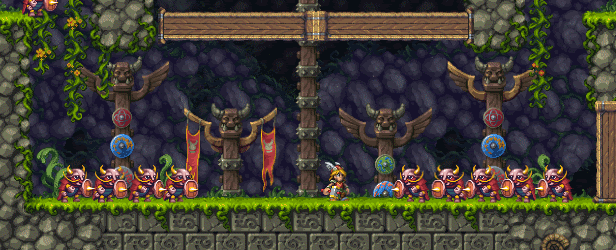 That's not all the tiny titular character has in his bag of tricks either, as the hammer can also be used to complete the clever puzzles you'll come across as you explore this hand-drawn world created by pixel artists Henk Nieborg (Spyro: A Hero's Tail, Contra 4, Shantae series) and Nauris Amatnieks.
Tiny Thor arrives on Windows PC via Steam, GOG, Epic Games Store and Nintendo Switch this summer. Fans can now wishlist the game and enjoy a free demo on Steam, too.
Expect to see much more from this diminutive deity in the run up to launch!