From Press Release:
TORONTO, MAY 3, 2023 – Capybara Games are happy to announce today that their critically acclaimed puzzler, Grindstone, is coming to PlayStation 5, PlayStation 4 and Xbox Series X|S today for $19.99, with a 20% launch discount.
Grindstone first launched on Apple Arcade in 2019, has since come to Switch and PC, and the team at Capy have been hard at work on creating free content updates for the game ever since. To date, Grindstone has amassed 500+ hand-crafted levels, and PlayStation and Xbox players get to enjoy them all on day one. Not only that, but Capy plans to continue supporting Grindstone with free content updates, on all platforms.
As a challenging but quick pick-up and play puzzler, Grindstone fits on one's home console library as a nice change of pace between bigger games that you can always come back to or for long stonegrinding sessions.
More key Grindstone features for unfamiliar console players:
500+ unique puzzle levels across 13 unique biomes filled with tons of enemy types, bosses and challenges – Including a Boss Rush mode and New Game +
Seasonal Events, Engaging Trophies/Achievements + 3 Daily Challenge Modes & Leaderboards – On top of its treasure trove of levels, Grindstone always has a new challenge for players to apply their stonegrinding skills towards.
Various options for player customization – Play as a hard working father & husband Jorj, or a tough-as-nails grandmother Jorja, unlock dozens and dozens of in-game cosmetics and items, and even make use of a High Contrast accessibility mode if needed
4K/60fps on PlayStation 5 and Xbox Series X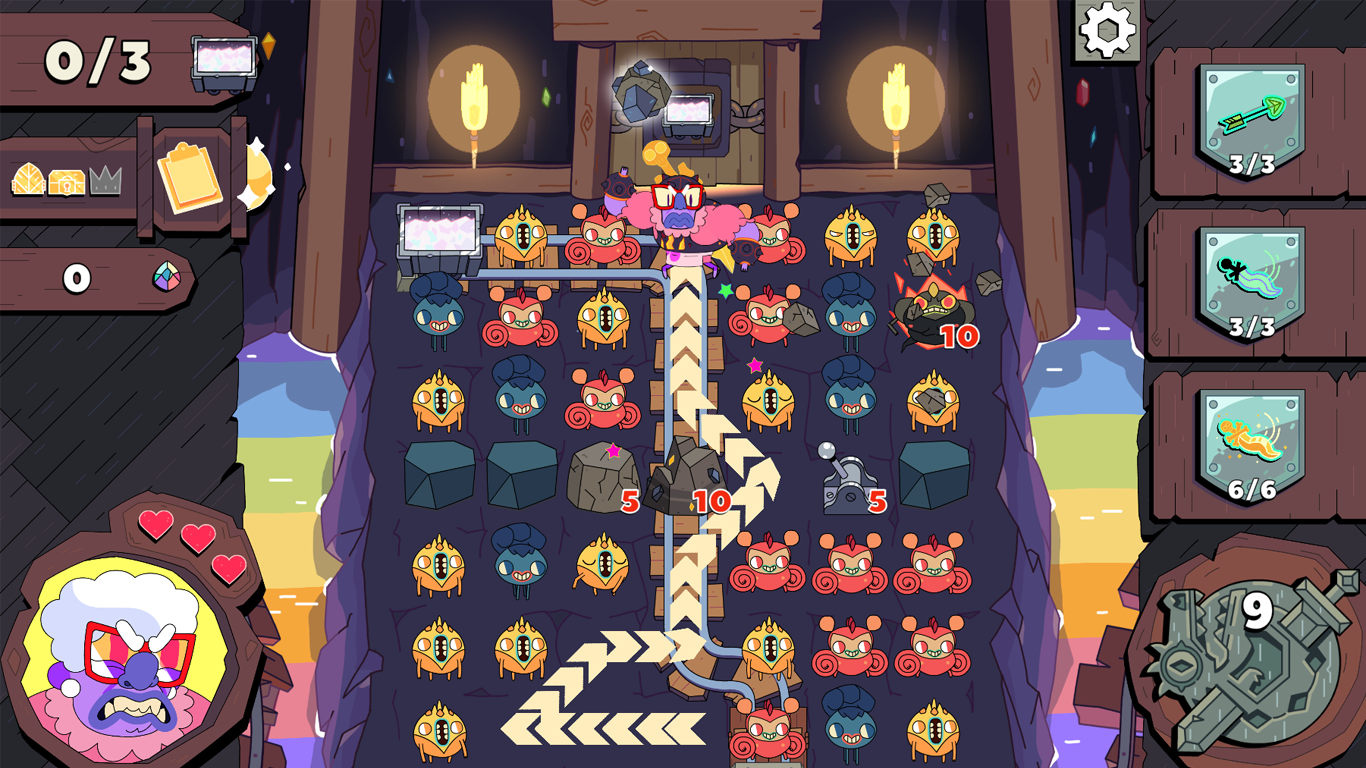 About Grindstone
Grindstone is a game of sword-slashing puzzle battles from the award-winning studio behind BELOW, Sword & Sworcery EP, Super Time Force Ultra, Critter Crunch and Might & Magic: Clash of Heroes! Grindstone first released on Apple Arcade in September 2019 to widespread acclaim, earning many awards and nominations. Grindstone has since come out on Nintendo Switch, where it has also garnered much acclaim and was one of the best reviewed Switch games of 2020. It's also on PC via Steam and the Epic Games Store.
Grindstone Mountain is overrun with vicious Creeps! Slay your way up its treacherous peak where fortune, glory (and death) awaits!
It'll take sharp puzzle skills and an even sharper blade to slice your way through the swarms of bloodthirsty Creeps dwelling within Grindstone's dungeons. Battle bosses, loot resources, discover long-lost blueprints for powerful gear, all while eviscerating the innards from your deadly foes! Over 300+ levels of intense puzzle-battling madness!
For more information on Grindstone, visit https://www.grindstonegame.com/. Follow Capy on Facebook, Twitter, and Discord.