From Press Release:
LOS ANGELES, CA – June 19, 2022 – Akupara Games is delighted to announce their collaboration with SquareHusky on their relaxing, farming-sim adventure, Everafter Falls. Rediscover the simple life while you farm, fish, forge, and fight to restore the peace in a cozy, comedic adventure. Featuring split-screen co-op, self-servicing drones, resource-harvesting pixies, a card-eating progression system, an adorable pet companion, dangerous dungeons to explore and much more! Everafter Falls is projected to launch in 2024 for PC platforms. 
"As a child, video games were my solace; my love for them was unquantifiable and defined my early years. But through various life experiences and after struggling with depression for a significant length of time, I had not played a video game for the better part of a decade. Luck found me however, in the form of Stardew Valley and my love was rekindled. I learned it was the creation of a single developer, and it was in that moment I decided to follow in his ambitious footsteps and create what is now Everafter Falls!" – Ou Te (Head Developer)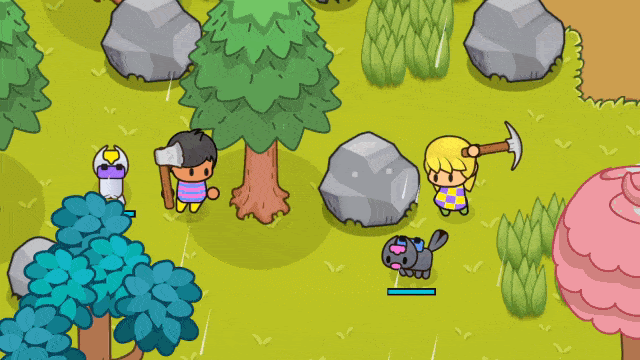 Everafter Falls is a cozy and endearing farming-sim where you'll find yourself farming, fishing, crafting, and mining in the quiet little town of Everafter Falls. Explore the dark and mysterious dungeons to unravel the mystery that lies within. So grab your loyal companion, your plethora of friendly neighbors, and strap yourself in as a fantastical adventure awaits in Everafter Falls!
Features:
Lifestyle Farming Sim:

Farm, fish, and forage a huge collection of items to make the most efficient yet cozy farm this side of Stardew.

Uncover the Mystery:

Help your new friends with their extremely important small-town drama through quests and conversation.

Enlist Your Friends' Aid:

Tackle your farm's toughest challenges with a friend in split-screen co-op!

Start your Collect-o-pedia:

Collect all the fish for the town aquarium, plant dozens of different crops, and munch down skill cards to level up your combat! 

Become an Expert:

 Equip helpful little drones to help automate your farm keeping things running even when you're down in the dungeons.
Wishlist Everafter Falls on Steam:

About SquareHusky
SquareHusky was founded by two passionate gamers: One a self-taught imaginative creator, the other an experienced musical artist. After rediscovering a childhood love for games, Ou is a self-taught game developer who has spent over five years working on Everafter Falls. Starting with Youtube tutorials and slowly building up the skills and confidence to release a complete game, he hopes to inspire other aspiring game developers to never give up. Tim Carlos is an American video game and film composer whose scores are known for their orchestral flair and powerful melodies inspired by golden age JRPGs. In 2020, his piece won the Asian Game Audio Summit scoring contest and his music was recorded by the Budapest Scoring orchestra. Since then, his music has been featured in games like Esperia ~ Uprising of the Scarlet Witch ~ and the upcoming Everafter Falls. For more information, visit: SquareHusky.com
About Akupara Games 
Akupara Games is an indie game publisher based in Los Angeles, California. Using extensive knowledge and experience in development, they support their developers through an involved and personalized pipeline to bring games to communities of players who are looking for their next enveloping experience. Their vision is to help bring stories to life and usher in the next line of gaming classics.
For more information, visit: AkuparaGames.com
###