Dungeons 4 marks the twelve years since the release of the first game, and the same developer Realmforge Studios has back again with what is undoubtedly the best entry to-date. With shades of Dungeon Keeper as its inspiration, this hybrid of builder meets real-time strategy game is a wonderful gathering. With new minion types, a lengthy campaign, and tons of possibilities, this is as irresistable as ever. Being evil has never felt so good, and Dungeons 4 has never been better.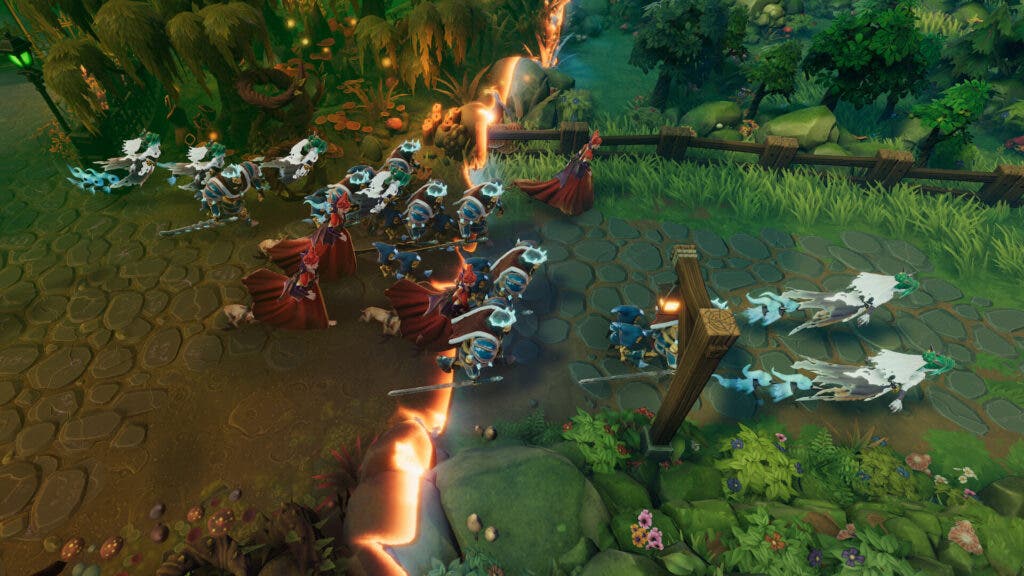 What I think separates this game apart from others of its kind is that it retains the mission-based structure of its Dungeon Keeper nature. This being the fourth game in the series, the tongue is planted firmly in cheek here. The story sets up the conflict nicely with you playing Thayla, the evil stepsister to her do-gooder stepbrother. This is a continuation of the events of Dungeons 3 , but I don't feel like there's a prerequisite to get what's going on here. This is a game where we play as the baddie, and it's so much fun in this role reversal, even all these years later.
Gameplay in this series, and Dungeons 4 is split into halves: the first half of the game is a real-time strategy game whereby you control the hero units and minions to work your way across the map. The introductory mission serves as a tutorial to this as the credits display on-screen. The second half of the game is a dungeon keep, where you'll be mining for gold, creating rooms that have specific functions, setting traps, and ordering your minions * ahem * "Little Snots" around. The follow-up mission is another tutorial that shows you how to build an effective base. There's even a bit of defense sprinkled in so you can properly set traps to slow down and even kill unwanted raiders. While in most games tutorials are bothersome, I felt like I was playing the campaign already.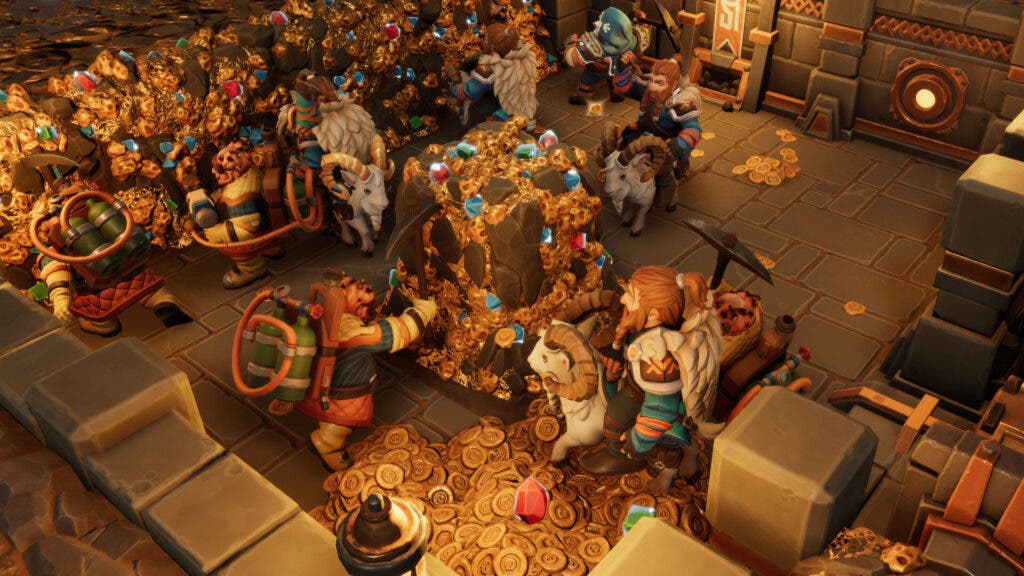 There's two types of income, gold and evil that you'll use. And as you build-up your base you'll be investing points and gold into research, this will include: dungeon, horde, demons, and even the undead. There's a cost to unlock them, then they also have levels they increase passive buffs to what they offer. Because your Little Snots and army gain experience and level up, keeping them has benefits so you don't have to re-invest that time into others to get them back up. The top bar contains quick access to the main menu, research, army, creatures, traps & doors, and construction. These are what you'll use when in your dungeon and building it out. It seems the number in the title of this game also relates to size, because Dungeons 4 is also four times larger than the previous game, giving you a greater amount of working space.
At all times, you'll be bouncing between two maps, the overworld and the underworld. You're able to switch effortlessly between them, to include two mini-maps you can use that make this even easier. In the overworld, you'll have some sort of objective to reach. Once you've built-up your army, it's time to unleash them onto the world. As you do, it's so much fun watching your evil corruption burn across the land. This is not only a cool effect, but it reflects your growth and taking over.
You play as Thalya, who is a character from the prior game. She is your hero anti-hero character who also receives experience and leveling up. New to this game is an ability-based perk system you can use to tailor Thalya to your liking. You don't have to do this alone, bring a friend and play the campaign or skirmish together in two-player co-op. Both players will be managing the same dungeon together, which can offload a lot of multitasking that overwhelm other players.
What I really enjoy, is that the game is mission-based. Meaning there's segmented levels with their own objectives and build progression. You can replay missions, change the difficulty, or chase any achievements you missed. The objectives keep you on-track, and always have a goal for you to chase. You'll easily spend 25 hours across the campaign alone, and each mission feels like a fresh and exciting challenging to take on.
While in the dungeon, you'll have a hand to pick-up those little snots and put them to work, or you can slap them to keep them in-line like it's Black & White . The camera is by default locked, but can be unlocked to be a free camera. I actually preferred the locked camera, and it felt good to use without a need to do much else with it.
I have to say that the UI feels built for consoles and TVs, so I wish it could be scaled for monitors. It would help ease the claustrophobic feeling when your dungeons have many rooms and characters walking through it.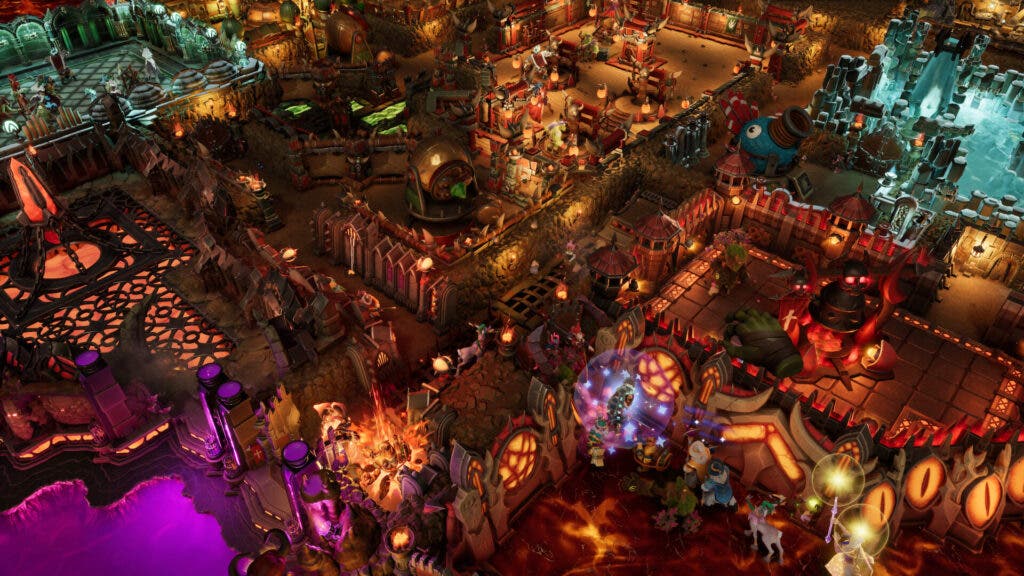 The overall art direction is vibrant and cartoony, which works and looks great. I will say that the visuals, especially in the early missions feel overly busy and at times muddy. There seems to be too much going on. In terms of performance, the options are slim, but I had no problems maxing out. There's no support for DLSS or FSR, but I was able to achieve around 108fps consistently while playing the game, both in and out of the dungeon. The game supports ultrawide support, and considering I still felt cramped, suggests there should be scaling options available.
My PC Specs:

– Microsoft Windows 11 Pro
– Intel Core i9 13900K @ 5.8GHz
– ASUS ROG RYUJIN II 360 ARGB AIO Liquid CPU Cooler
– G.SKILL TRIDENT Z5 6000MHZ 64GB (32×2) DDR5 RAM
– ASUS ROG Strix GeForce RTX 4080 16GB GDDR6X
– WD_BLACK SN850X M.2 (4 TB)
– LG UltraGear 34GP950B-G (21:9 Ultrawide @ 3440×1440)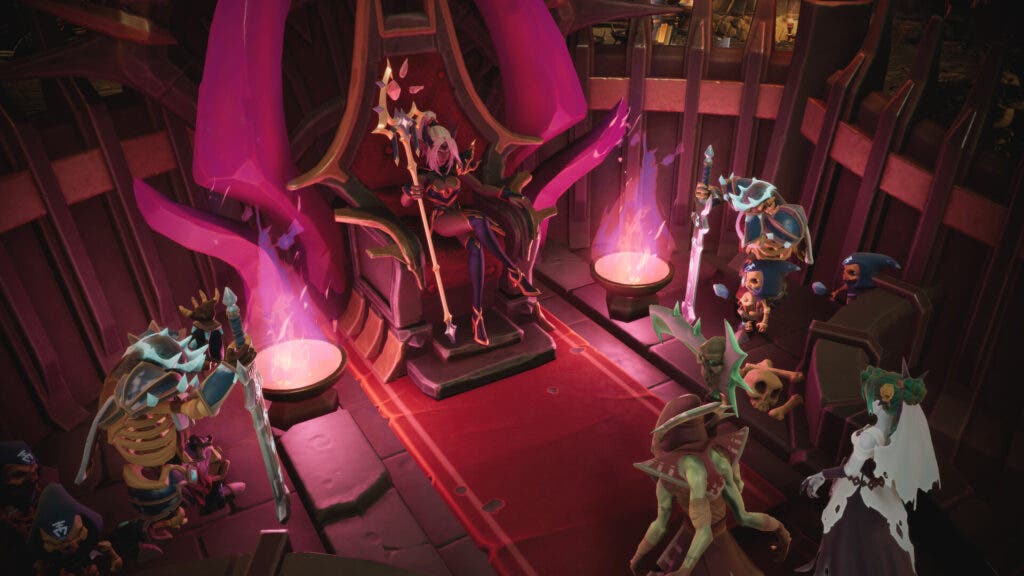 Dungeons 4 hasn't changed a whole lot, but it is far more refined. Realmforge Studios have really found their stride here. The game balances challenge with power fantasy that just works so well. It continues the wonderful escapades of underground excavation with the best of real-time strategy – and that's turtling to steamroll the enemies. Dungeons 4 does Dungeon Keeper legacy proud, and is a devilishly good time.
A Steam code was provided in advance by the publisher for review purposes