Dark Souls II confirmed for April 25th release on PC with New Screenshots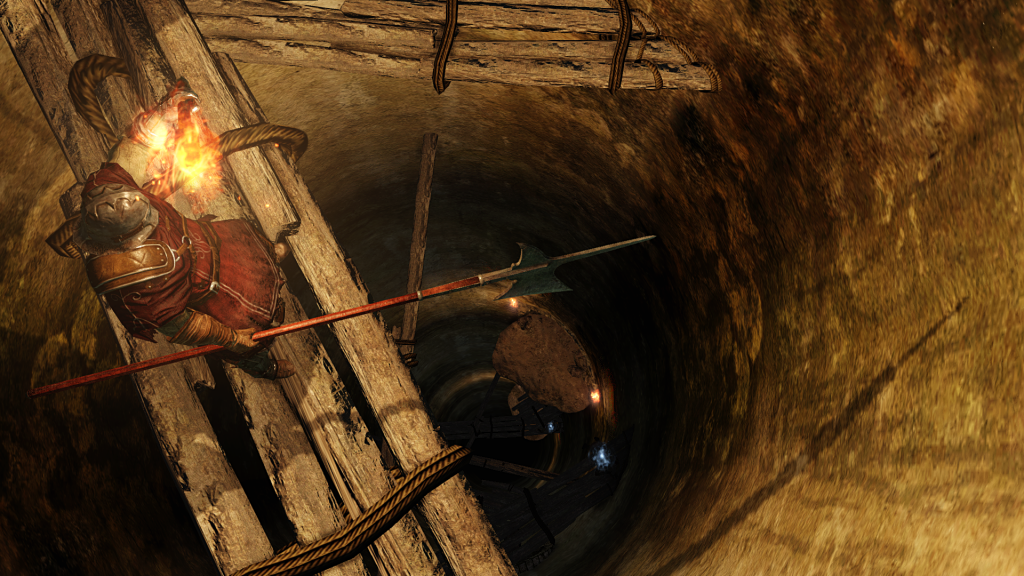 NAMCO BANDAI Games America Inc. today announced that DARK SOULS™ II for the PC platform launches in retail stores and for digital download via Steam worldwide on April 25, 2014. Dark Souls II is the highly anticipated, punishing sequel to 2011's hit Dark Souls, a game that has been cemented as one of the most challenging and rewarding experiences in videogame history. Players embark on a journey through a devastated world filled with death and despair where only those who are strong-willed and cunning will survive and achieve glory. Gruesome and bloodthirsty enemies await adventurers as they face soul-crushing challenges.
Dark Souls II for the PC platform will provide players the opportunity to further immerse themselves into a harsh and unforgiving world; it is also the only version featuring increased texture resolution with enhanced frame rates. Dark Souls II on PC will support both gamepads and mouse-and-keyboard control options.
In this devastated world, everyone needs a helping hand. Players can now pre-order the PC version of Dark Souls II from Steam, GameStop, Amazon, and ClubNamco or purchase the Dark Souls II PC Collector's Edition from GameStop, Amazon, and ClubNamco to gain early access to the powerful Black Armor Weapons pack; an in-game weapons cache that can possibly increase players' chances of survival. Five special weapons and shields are included in the Dark Souls II Black Armor Weapons Pack in addition to the normal array of starter weapons, giving players a possible edge on their journey as they meet relentless adversity throughout their adventure.
The items in the Dark Souls II Black Armor Weapons Pack for PC include:
Black Flamestone Dagger and Black Flamestone Parma – A dagger and shield encrusted in Black Flamestone both found in the Gutter at Black Gulch. Even though they are heavier than a normal dagger and shield, the Flamestone crystal's unique properties make the dagger extremely sharp and give the shield high resistance to damage.
Yellow Quartz Longsword and Yellow Quartz Shield – A straight sword and small shield hardened with yellow quartz both uncovered at the bottom of the Iron Keep. Even though these items can break easily due to their high level of corrosion, they are exceptionally light and their power to inflict damage has not declined.
Bound Hand Axe and Bound Wooden Shield – A brutal hand axe and shield found in the Undead Purgatory. Both items are wrapped in chains and thorns to cause additional bleeding on enemies. Both the axe and shield have diminished in overall slashing power but their ability to deliver pain has been deliberately increased.
Homunculus Mace and Homunculus Wooden Shield – A mace and shield with spherical protrusions found in Aldia's Keep. Although heavier-than-normal maces and shields, the hard protrusions greatly increase the striking power of the mace as well as the shield's defensive capabilities.
Transgressor's Staff and Transgressor's Leather Shield – A staff and leather shield entwined with an unknown and seemingly lackluster element; these items are found in the Dark Chasm of Old. They have become a catalyst for sorcery and hex, and they cause an effect known as Darkness.

 
Valiant PC players that choose to specifically pre-order Dark Souls II for the PC through Steam, GameStop, Amazon, or ClubNamco will also receive a plethora of digital bonuses including, the Official Digital Dark Souls II Artbook (PDF), Original Dark Souls II Digital Comic Book written by Rob Williams and Andi Ewington with art provided by Simon Coleby (PDF), the Complete Digital Game Soundtrack (MP3), and the Black Armor Weapons Pack (Access Code) for a MSRP of $49.99
The Dark Souls II PC Collector's Edition, available only through GameStop, Amazon, and ClubNamco will come with, a digital download code for the game, collectable metal case, 12" tall Warrior Knight figurine, exclusive hardbound art book, original game soundtrack, and cloth map for a MSRP of $109.99.
Early access vouchers for the PC Black Armor Weapons Pack will only be available by pre-ordering Dark Souls II PC from Steam, GameStop, Amazon, and ClubNamco or with purchase of the PC Collector's Edition of Dark Souls II.