Excessively large Divinity: Original Sin Collector's Edition available for purchase, only 1500 left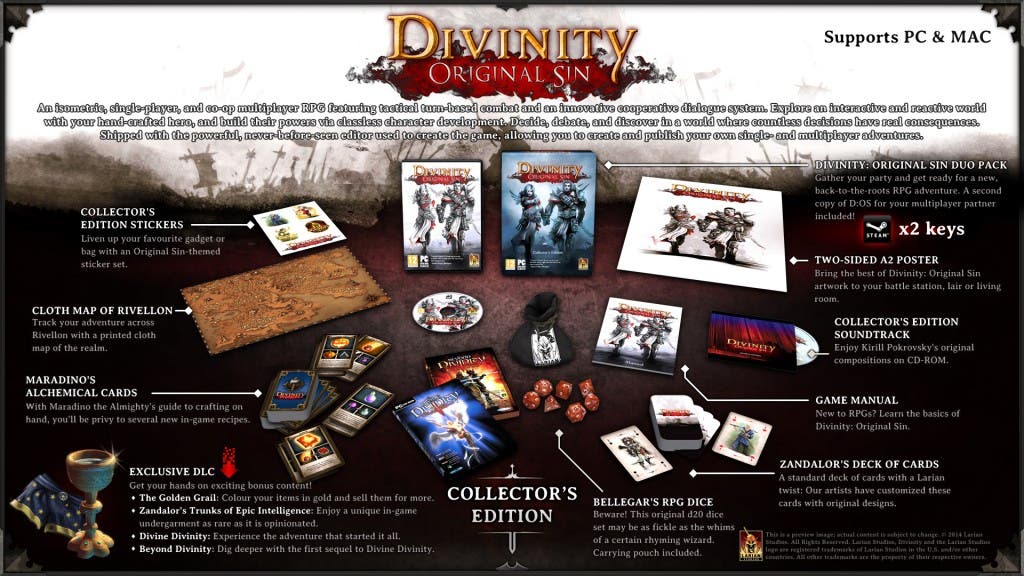 Of the 3,000 English-language units of the Collector's Edition, 1,500 have been claimed by Kickstarter backers. The remaining 1,500 are available for 69.99 EUR, exclusively at: www.larianvault.com.
With just a couple thousand physical copies available for purchase and absolutely packed with content, the Collector's Edition is a must-have for any Divinity fan – or any RPG aficionado – and is now available via the Larian Vault for 69.99 EUR.
Inside you'll find:
Two copies of Divinity: Original Sin for co-op adventuring
Digital copies of Divine Divinity and Beyond Divinity
Recipe cards to help you craft in-game
A cloth map of Rivellon
A two-sided A2 poster
A Soundtrack CD
An Original Sin-themed playing card deck
Premium-quality RPG dice set with pouch
A Sticker pack
See the image above for a full overview of what's in the CE, or just click here for more details about the Collector's Edition.