Sir, You Are Being Hunted does away with predictable AI behavior and enemy placement, forcing you to adapt on-the-fly each time you load the game. Memorizing patterns and behaviors must be done in the moment and can't be drawn on a pad of paper for reference. Throw in an open world to explore, having to scavenge and kill wild game to survive, slight horror elements, and you've got yourself a unique experience. Not everything is tea and crumpets, though.
At the start, you can choose to be a Sir or Madam, and will be addressed as such based on your choice. Following this, you can choose a profession. The default is The Aristocrat, who is left with nothing but his or her wits. The other variations include an officer, gamekeeper, inventor, and so on. The others didn't feel like a cheat, just extremely advantaged in the early goings when it matters the least. After that, you get to choose from the five biomes you will traverse. It's best to give yourself all five to begin with, as there's really no reason not to do this.
Stranded on an archipelago after an experiment goes terribly wrong, contains just the right amount of information needed to make things interesting. The game however, makes no further effort to explain what this place actually is. It's dark, ominous, and depending on the type of profession chosen at the beginning of the game, absolutely frightening. The horror all starts to sink in once you're told "Sir, you are being hunted".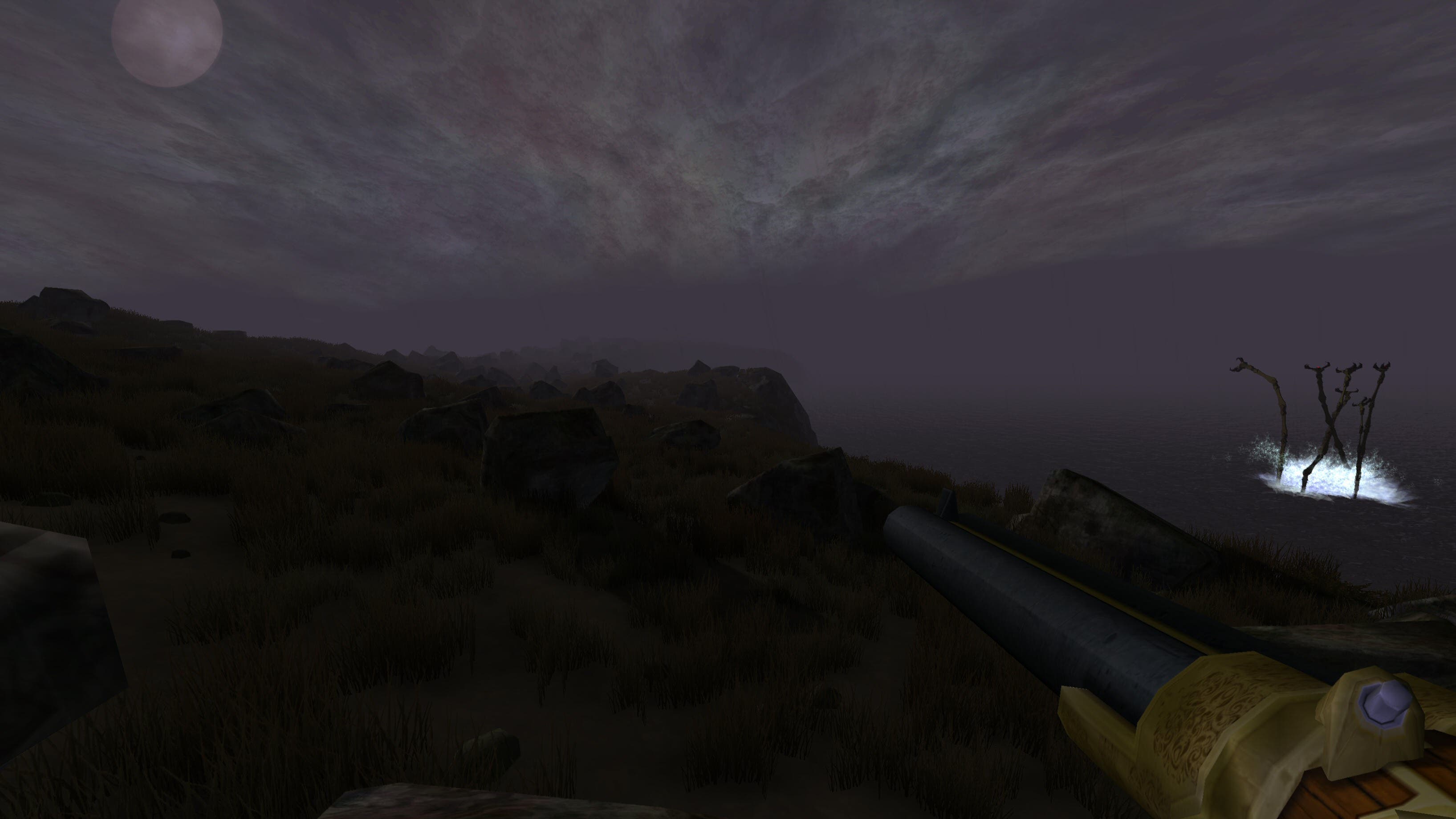 Equipped with a compass, in order to come home you must find and bring back fragments that have splintered and landed all over the archipelago. You must return to the central island where standing stones are, to drop off as many of the 17 missing pieces as possible. They are all different shapes and sizes, and will require you to play "inventory Tetris" several times to reduce trips to the central island as often as possible. Between the return trips and this being the only real objective to the game, gets quite repetitive. Finding these pieces are helped in three ways; blue fairies guide you to these fragments, a scanner found from scavenging, and white smoke emitting from well-guarded craters. It is told to you that the white smoke is from the intense heat from landing so hard. However, the game isn't without being a little dickish to have the industrial biome full of smokestacks that release plumes of the same colored smoke, and can be hilariously and frustratingly misleading.
Getting anywhere on each of the five islands isn't a walk through North York Moors. Gallivanting around will get you killed, you're being hunted after all.  All too often the momentum and flow is interrupted by having to crouch through waist high grass to not be seen from miles away by the robotic hunters. It is a stealth game, but the open world and flat plains and farmland gives little room to roam around a good pace without being seen. As fast as you want to be, just isn't permitted. You have to be methodical and slow, which ends up just giving the game a plodding pace.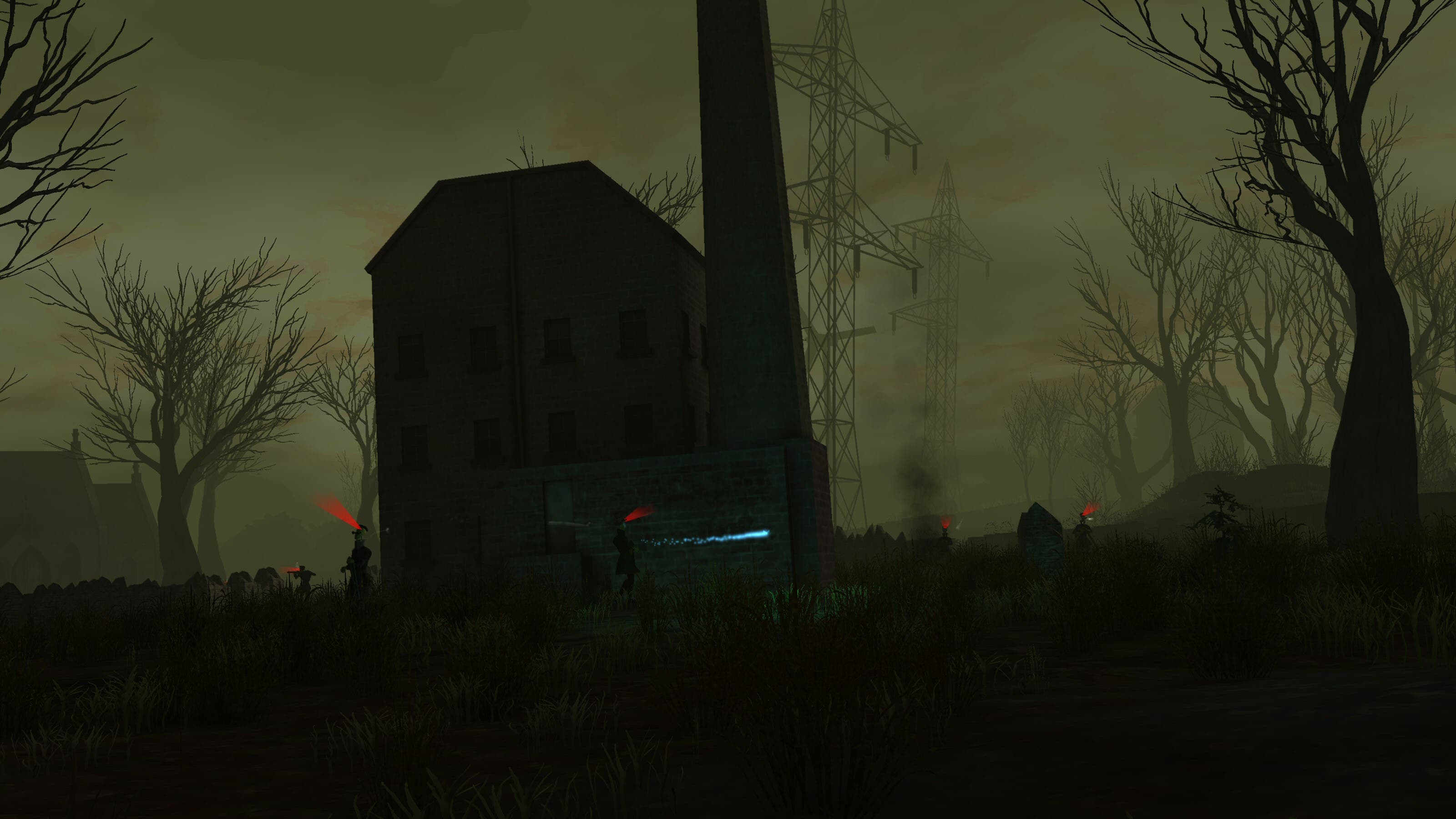 Enemies start off pretty simple with shotguns and travel in pairs. Not long after finding more fragments do you see an increased presence, then you'll see blunderbuss-wielding robots, robot dogs, lanky ogres, and even jet-powered horses all trying to find you. There's even a robotic scarecrow that will follow you through the field, but never alert anyone, just haunt you every time you turn around. Unless making line of sight with you, aren't actively looking for you. Most of them are protecting items or specific locations you're expected to go rooting around at. Once spotted, deafening shots ring out and you have a decision to make, fight or flight. If you choose to fight, combat isn't the game's strongest suit. Guns sway wildly and hit with some accuracy, melee weapons do a lot of damage, but require being up close and personal while dodging gunfire. Should you run like hell, simply hiding behind a building won't stop them from coming to check to see if you're still there. The robots are smarter than you will give them credit for. They'll call for others to join in on the search and flank you, breaking line of sight is key and standing still is one of the best ways to escape unscathed.
As stated, the game is procedurally generated. Where even reloading a prior save can change the enemy placement. If you can return to the standing stones or a boat, you'll be able to save your game there. You are invited to replay the game, but multiple playthroughs diminished by the tedium involved with the collection and navigation. Death itself is a pretty steep penalty, as it can cost you anywhere from ten to thirty minutes depending on what you've done and accomplished since the last time you saved.
Unaffected by death and loading a save, is the location of loot on enemies and in buildings. This is handy if you are able to remember where you found a weapon or particular item. Loot can be obtained by killing robots in self-defense, or searching homes which are unenterable buildings disguised as crates. Loot comes in the form of food, traps, and weapons. Along the way you'll come across a lot of junk and useless items. The humor really comes through when you find a slide trombone that you can use to distract, among alarm clocks and toy trains that can be left unattended allowing you to slip away unnoticed.
Your HUD contains elements you must always be paying attention to, your health and vitality. Health is an overall well being. Being shot or bitten will cause you to bleed and lose health. Only by tearing up rags can you stop the bleeding, but health cannot be raised. Your vitality will do that, the higher the number, the faster your health will rise. Once vitality reaches zero, you will be starving and your health will slowly trickle down. Bunnies and other animals can be killed for food and burned at campfires, provided you have the matches to start the blaze to begin with. Cooking the meat is the only way to keep your vitality up.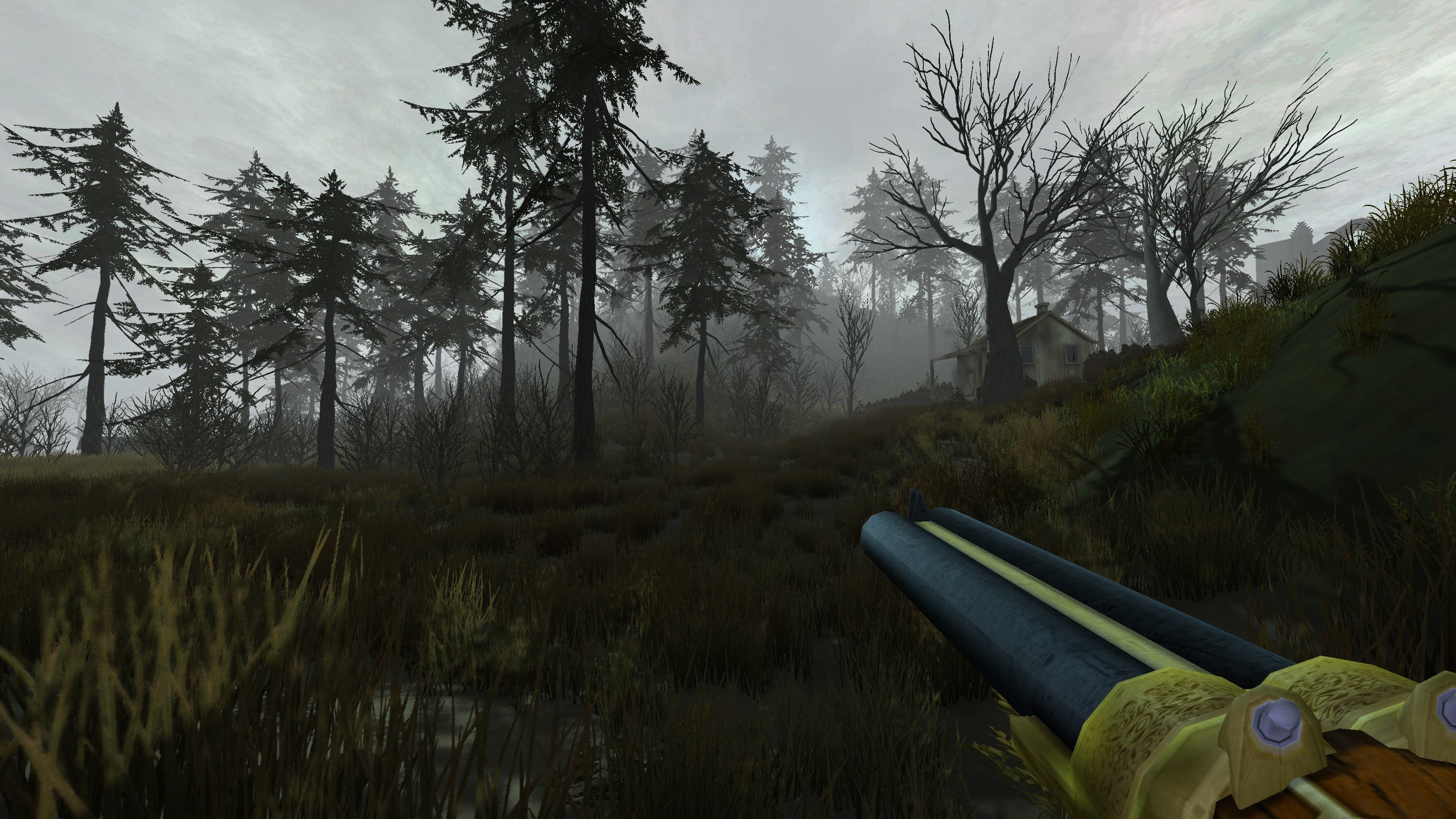 Sir isn't without its ability to create unique storytelling moments. For instance, I made my way through a forest, and saw a campfire. I had just killed a rabbit for food as my vitality was dwindling. I started the fire, and cooked my meat. As I just wanted to sit and relax, I heard the rustling and robotic voices coming closer. I had given away my position, loudly in visual form. I had done the equivalent of yelling on a mountain and caused an avalanche. I essentially packed everything up and ran around them. I realized that in this unintended distraction, I had lured these robots away from the artifact they were guarding, allowing me to take it with no resistance.
While not stunning visually, Sir's aesthetic is pleasing and overtly dark and humorous all at the same time. Sunlight desperately tries to peek through the dense fog. The magnified moon emits light in the night sky as clouds whisk past. And the trees lack any leaves, giving off a deathly vibe and overwhelming cooling sensation of an autumn night as you traverse each individualized biome. There are faint similarities to Dishonored's city of Dunwall and the colors seen there throughout the game.
The experience contained within Sir, You Are Being Hunted is one worth having. Unfortunately, it's only worth having once due to the game's repetitive structure and uneven pacing. Which is a shame given the game's procedurally generated terrain, enemy placement, and structures. While this is certainly the type of game where "it's all about the journey, not the destination", I wasn't pleased with the abrupt and unresolved ending.  It's entirely possible to have a lot of fun, be a little scared, and laugh quite a bit while playing this game. Truth is, there's nothing quite like Sir, You Are Being Hunted.
A Steam code was provided by the developer for review purposes