MX vs. ATV Supercross Riders List Revealed

Just a few more days (5 to be precise, but who's counting) until the release of MX vs. ATV Supercross on October 28 – time to take a look at all the Motocross stars and legends you'll be competing against in the game.
A total of 65 of the world's best riders are revving their engines in the starting blocks and raring to compete. The most popular on the list is shooting star James "Bubba" Stewart, JS7, who has had a meteoric rise since his professional debut in 2002, and is now at the very top of his game. Ken Roczen joins the list as the best rider in decades, having won the 2011 Motocross World Championship and reveling in victory as the youngest world champion to date.
David Knudsen, Licensing Manager at MX vs. ATV developers Rainbow Studios commented: "We're thrilled that so many popular riders are making an appearance in our title. Not only are there all the familiar faces we've known for years, but also the many new and talented riders who are making their first appearance in an MX vs. ATV game."
The large selection of riders is not all that makes MX vs. ATV Supercross stand out from the crowd. 17 tracks await players in a fast-paced Motocross spectacle that offers several championships, local and online multiplayer, and enhanced vehicle physics. Players can supe-up their own set of wheels with various original parts (more info on that will be released soon) and all riders come, of course, clothed in their original outfits and can be customized.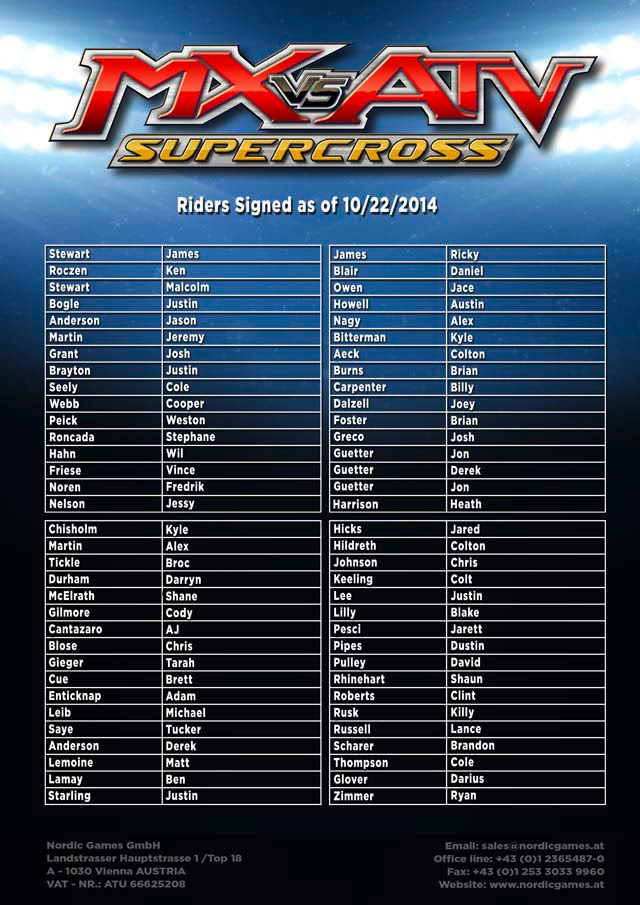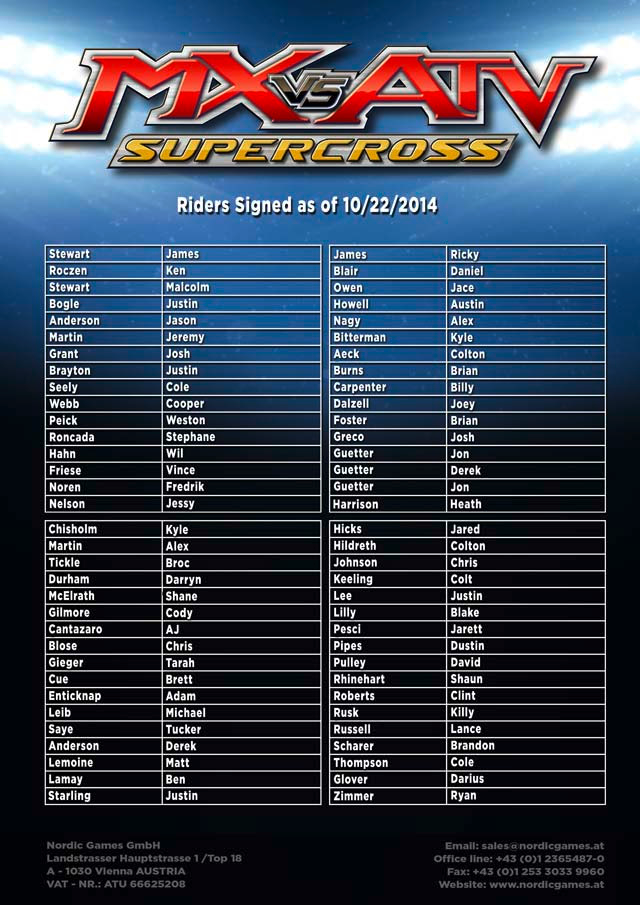 MX vs. ATV Supercross goes on sale for PlayStation 3 and Xbox 360 on October 28 2014.